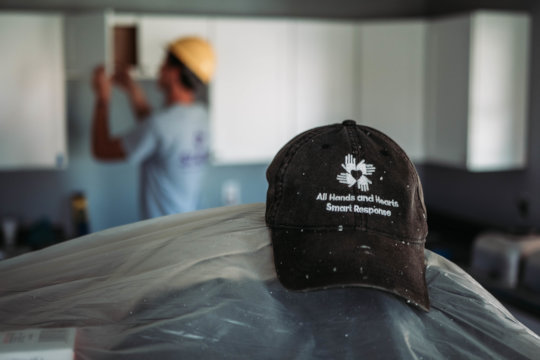 Dear Friend,
I am sad to say this will be our final report, covering the bitter-sweet closing of our Hurricane Harvey Relief Program after more than three impactful years. We are so grateful that you have followed our progress, and for the generous contributions you made which helped make it all possible. Here is a (brief) summary of the work our teams completed:
Phase One: Houston and Coastal Bend Response August 2017 to January 2018
Our teams completed a 16-week response program in Coastal Bend and an 18-week response program in Houston. Scopes of work included tree removal, debris removal, muck and gut and mold sanitation.

Phase Two: Houston and Coastal Bend Recovery January 2018 to March 2020
We transitioned to a long-term recovery program, concentrating site supervisors and volunteers on high-quality interior repairs. While much of this work was focused on homes, we also helped to rebuild community infrastructure, such as the Rhodes School for the Performing Arts in Houston (enabling the return of more than 700 students to a safe space to learn).

Phase Three: Developing COVID-19 Adaptations March 2020 to October 2020
In March 2020, we made the decision to demobilize our teams and suspend our volunteer-powered operations due to COVID-19. We hired local contractors in Coastal Bend to complete critical unfinished work and deliver on our most pressing commitments, where possible. Our teams developed new operational standards and a new volunteer model called DM12 to promote a safe environment, so that we could resume our mission.

Phase Four: Completing Commitments in Coastal Bend October 2020 to March 2021
After a seven-month suspension of our volunteer operations, we were delighted to welcome volunteers back to program in the Coastal Bend region of Texas where we continued focusing our efforts on high-quality interior home repair.
We also began our Site Supervisor Training program during our time in Texas, a capacity-building program in which volunteers with little construction experience were paired up with a skilled site supervisor for three months to learn all of the skills needed to lead our sites. This program started in early 2018 and by February 2020, we had graduated 106 site supervisors (48 in 2018, 55 in 2019, and three in 2020). Twenty-eight are still employed with us!
Our Total Impact To Date:
- 10+ million dollars invested
- 4,767 volunteers engaged
- 1,234 jobs completed
- 4,318 lives impacted
Our hearts will always remain in Texas and with the incredible people we had the privilege of serving since 2017. From the entire All Hands and Hearts team - THANK YOU!