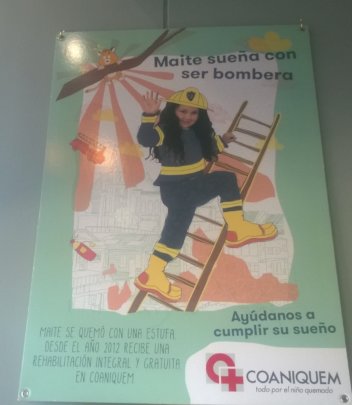 The burned children receiving treatment at the COANIQUEM rehabilitation centers in Chile have dreams.
Dreams of being accepted.
Dreams of being strong and successful
Dreams of overcoming their physical trauma and scars
Dreams of having real careers and futures!
The loving staff at COANIQUEM provide holistic care, including surgery, therapy, psychological and social counseling, family support, - and the chance to dream.
Recently, a group of volunteer design/art students from Pasadena, California, visited the Santiago facility and engaged the patients in their goals with posters and encouragement.
See the poster of Maite, who wants to be a firefighter! Seems like an appropriate occupation, considering her serious experience with burns.
Maite may change her mind as she grows older, but for now, she is happy to be looking ahead with positive support and a happy attitude. All part of what will serve her well as she continues her treatment.
You can help support the treatment of children like Maite - and help them keep dreaming!
Thank you!