In May of this year Azul and Sebastian completed their rehabilitation treatment at COANIQUEM in Santiago, Chile, leaving lives dominated by pain and disfigurement and entering ones full of hope for the future.
Their experiences are typical of children whose treatment lasts for years, as their bodies grow and scar tissue must be monitored.
All treatment is provided free of charge. Treatment includes surgery as needed, psychological and occupational therapy, housing for a parent during the child's treatment, and on-site schooling.
Children from throughout Chile and other Latin American countries come to COANIQUEM for this special treatment.
See the pictures and reports attached to learn of the success stories made possible by COANIQUEM.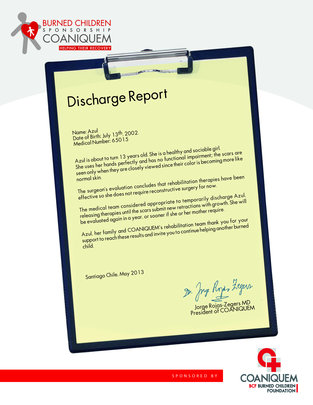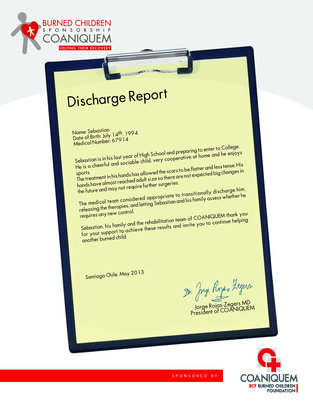 COANIQUEM Burned Children Foundation supports the treatment of severely burned children from throughout Latin America. As many as 8,000 children per year receive free rehabilitation treatment at the three centers in Chile.
Recognizing the value of preventing childhood burns, COANIQUEM has long conducted educational programs in Chile. Our program is now launching a campaign in four Central American countries. Partially supported by the government of Chile, UNICEF, and our foundation, and using material developed by the Art Center College of Design in Pasadena, California, the prevention campaign will be conducted in Guatemala, El Salvador, Dominican Republic, and Costa Rica.
Childhood burns in the developing regions are usually caused by household accidents such as hot water or oil, electrical shocks, hot irons or stoves, etc. Children and parents can learn how to avoid many of these accidents.
By supporting COANIQUEM, our donors will not only be helping those children already suffering the results of burns, they will also help reduce the incidence of burns. Experience during this campaign will be used for more extensive prevention activities throughout Latin America.
We love helping those children who need treatment, but how much better to prevent this childhood trauma! Join the effort!
The child burn victims being treated at the COANIQUEM rehabilitation center in Santiago, Chile, send their holiday greetings to those who help support their treatment. Each child creates a picture, which is mounted on a report and sent to project sponsors.
Additionally, each child's medical progress is reported several times per year to sponsors.
See the sample holiday greeting and medical report attached.
Sponsors are encouraged to follow the child's progress and to renew their support for treatment on an annual basis.
The children are treated free of charge. In addition to the medical treatment they receive, they receive psychological and/or occupational therapy and educational instruction during their stay. One parent or guardian also stays at the center during the child's treatment, with free room and board.
Attachments:
WARNING: Javascript is currently disabled or is not available in your browser. GlobalGiving makes extensive use of Javascript and will not function properly with Javascript disabled.
Please enable Javascript
and refresh this page.