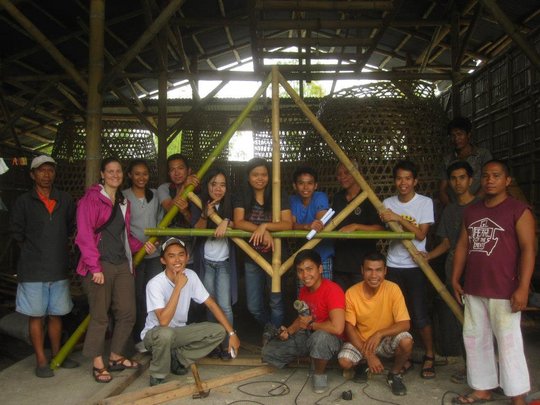 Project Summary
Malaunay currently has one permanent daycare serving over 30 preschoolers. Already too small, the room was flooded with three feet of water during the storm. Estudio Damgo, the first design-build course offered by a Philippine university has planned a new daycare for the village. Our building will play an important role in the children's future. It is a permanent place that they can call their own; a welcoming space to begin their educational journey.
Goal & Objectives
To provide all Foundation University architecture students hands-on experience applying innovative design and construction to lead and complete a sustainable, replicable and community-based project.
To provide architecture students first hand experience with client relations, design and construction. Thereby increasing their marketability post-graduation.
To provide the chosen community client a well-designed, long-term asset that supports wellness, economic viability and environmental sustainability.
To engage local community (academe, business, government and civil society) in good design through the provision of a structure that showcases cultural relevance, innovation and sustainability.
Current Phase: Construction, November-March 2013
Last week, fourth and fifth year architecture students took one day to visit the Philippine Bamboo Foundation to see the process of farming and treating bamboo for construction and learn how to construct bamboo trusses. By day's end, the students had completed one truss sample (shown in picture). The daycare should be receiving its first batch of treated bamboo early this week.
On-site, despite rain and mud, the student work crew worked on plastering the one concrete wall and finished digging the septic tank. Last Friday and Saturday the architecture students were joined by 11 College of Agriculture volunteers. One of the volunteers stated, "The [daycare] project of Estudio Damgo will greatly increase the sanitation and health of the children of Malaunay. And it shows the creativity of Foundation University architecture students too.'' One instructor also said, "I like that the students are getting hands-on experience in both design and construction on a real project for a community that needs the services."
This week, students will tamper rammed earth benches and non-load bearing walls. And on January 24, the first community meeting of the new year is scheduled to discuss the progress of the project and collect feedback on proposed murals to be painted with the help of Foundation University Fine Arts students. The parents of the children who will soon go to school in the new classroom are most grateful for the hard work of Foundation University students.
Funding Status
Construction Costs 350,000 pesos
Funds Raised 500,344 pesos
Surplus Funds 150,344 pesos
Some surplus funds will be use for new classroom furniture like chalkboard, desks and chairs, etc. The remainder of funds will be reserved for next year's Estudio Damgo project, to be determined during summer session in preparation for next year's senior architecture students to lead forward. Estudio Damgo is an ongoing course for senior architecture students at Foundation University. Every graduating class will have to complete a new community project. Many thanks to our donors for making this possible!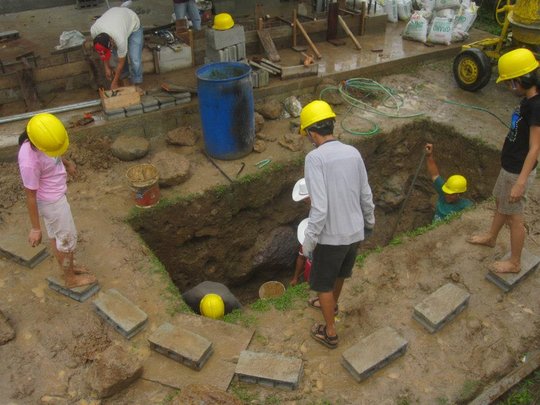 Links: