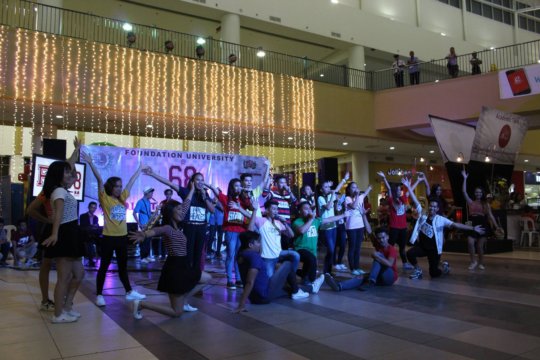 Music and the arts has proved its worth, through the years, in developing the students' creativity and critical thinking.
Apart from that, students who join choirs, bands and other music groups, get to have more chances of enhancing their social and emotional skills.
But the most important gain for students in joining music groups is discipline and character-building.
The University's scholars who are members of the choir and the band not only acquire proper training in voice, reading sheet music and playing instruments, in the case of band members, but they are also taught the much needed value of discipline in order to achieve precision during performance.
Performance is determined with the kind of practice the group pursues. Good practice will result with good performance while bad practice will of course lead to not so good results.
Aside from discipline, the scholars get to experience how it is to balance their time for academics and co-curricular activities. They get to allot time for studies and set aside time for their regular practices. With the experience, they will have a glimpse of the real world after college, when they have to juggle things.
Scholars during their practice under the baton of the band and choir director, get to acquire the values of cooperation and humility, as well. This will help build their character. As a performance art, there is always room for improvement and the director's constructive criticisms will, in a way, help improve the performer and will test how grounded the person is in receiving such feedback.
Also, cooperation is learned when one listens to a fellow soprano, alto, tenor or bass and try to get attuned with each other in order to achieve the united voice, suitable for choirs. Humility is taught in choirs and bands in affording respect and following instructions from the director of the band or choir.
Music and the arts contribute several gains to scholars in their holistic growth. This can be viewed as an essential preparation for the real life outside the University where they will not just share their talents but also deal with different kinds of people in their furture work endeavors.