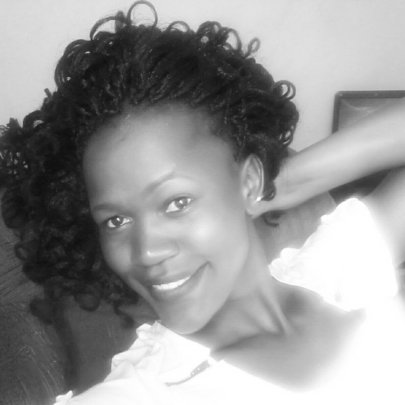 The GET UP program was designed to aid girls that struggle because of the cultural norms in Kenya. Winnie is an alumnus who had the door opened to a new world because of the Umoja Project. Winnie benefitted from our early program when we provided support for girl children but before we formally called it GET UP. Her letter clearly outlines the intention of GET UP and the impact we hope to have on their future.
Winnie October 31, 2017
In my last two years of Secondary (high) School, 2008 and 2009, I received tuition support from the Umoja Project. In January 2010, I began a one-year contract as Administrative Assistant, a position offered to one of the Umoja graduates each year once they finish secondary school. Through the post I was able to gain skills and experience that have enabled me secure different posts in the job market. The post also provided me an opportunity to give back to my community through psychosocial support programs and other programs offered by the project especially targeting the girl child and even the OVCs generally. After serving as an Umoja Project Assistant, I was privileged to visit the USA, Indiana for 4 months, to represent the project in different stakeholder meetings and also share my stories. The opportunity helped me gain an experience that contributed a lot to strengthening my desire to work hard, dream and turn the dreams into a reality. Through the visit, I was also able to gain college sponsorship through North Minister Presbyterian Church. They paid for my entire college tuition and through that I was able to complete my undergraduate program in Business Management, Marketing Major. I have explored different field of the job market, while still a student an even after graduating from college. I am currently working as a research consultant, a job that exposes me to different environments and creates opportunities for me to network and grow professionally. My experience with Umoja Project has given me an upper hand in securing most of the jobs I get, since the skills I gained are always relevant. The project has done so much for me that I could not possibly explain. I have gained empowerment, a weapon that allows me to survive any environment. In my day to day life, I am able to interact with people from every background, most of whom I would never have come close to. I stand tall each day knowing that I have gone through a process; I have seen love, grace, peace and unity and I have been able to come out strong and of great value to my community and my country.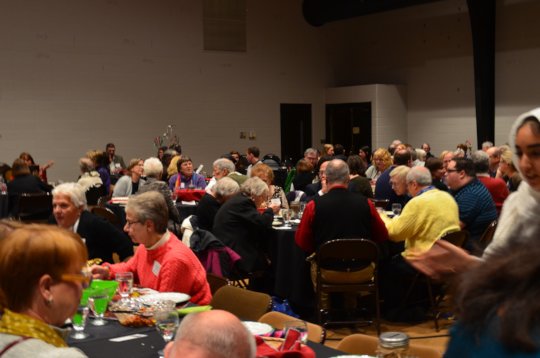 Global Interfaith Partnership just finished our #FoodForThought2017 campaign which raised money for the school lunch program for 2018. The campaign consisted of an online fundraiser and our Interfaith Thanksgiving Dinner. Together the two events raised more than $45,000 to support our school lunch program. The second annual Interfaith Thanksgiving Dinner received 220 guests. The menu was Kenyan inspired faire with drummers to help us enjoy the evening. The market place and a silent auction to added to the fun and offered a chance for a souvenir of the event. Save the date for next years event on November 18, 2018.
The Umoja Project has 3,200 students enrolled in 18 different primary schools that receive lunch every day. Child headed households receive food for weekends and school holidays. We believe our impact is closer to 3,500 students because we have so many children who carefully pack part of their lunch every day to take home to younger sibblings. A picture below shows a student with her lunch divided. Can you imagine getting one meal a day and sharing it? The Umoja Project has seen the number of children finishing primary school increase dramatically since the lunch program has started. We will be working on raising funds for the 2019 year with money received from GlobalGiving.
Meet Alice who serves as a mentor in The Girls Empowerment Team of the Umoja Project (GET UP) program. GET UP addresses girls' needs through programs focusing on health education, positive relationships, life skills and girls' rights. GET UP leaders like Alice who writes below about her involvement in our program are trained to mentor these middle school and senior students in a two day retreat each year. Over 500 middle school female students participate in the GET UP Jr 9 times each term. Over 100 high school and college students participate in the GET UP Sr events every year like the one day retreat held on June 24, or the 4 day retreat held from July 31 to August 3rd.
Alice states, "Pregnancy that used to make our girls drop out of school is now history, thanks to GET UP mentorship." The support provided by the mentors and the support the girls get from each other help them excel in school. GET UP meetings introduce these girls to successful female professionals that they can use as role models when dreaming of their future. The GET UP meetings also provide sanitatry napkin supplies, another key factor in keeping adolescent girls in school. A special THANK YOU to the Sunrise Book Club in Indianapolis for funding the cost of those hygiene supplies every year.
Attachments:
WARNING: Javascript is currently disabled or is not available in your browser. GlobalGiving makes extensive use of Javascript and will not function properly with Javascript disabled.
Please enable Javascript
and refresh this page.