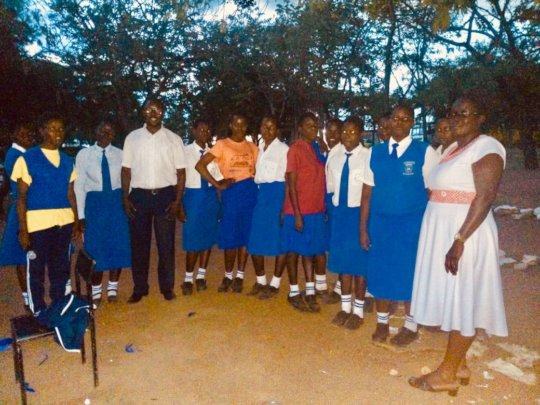 Each year since 2012, Global Interfaith Partnership's Umoja Project has provided the Girls Empowerment Team of the Umoja Project (GET UP). GET UP was born to help bridge the gap between male and female students in the Umoja Project and to offset the cultural challenges of a girl child growing up in rural Kenya.
The GET UP program teaches girls about relationships, dealing with peer pressure, caring for her body, healthy habits, managing menstruation, self-worth, the value of education, career planning and more. Most importantly, it gives these girls from 5thgrade through college a safe place to discuss the issues and concerns of their life. Mentors and counselors can provide the caring support in place of the parents that they have lost. The GET Up program is divided into two groups GET UP JR for Class 5-8 (middle school age) and GET UP SR for Form 1-4 (high school) and university students. The content of the lessons and level is age and level appropriate. The program also uses alumni from the Umoja project as lecturers and mentors so that the girls can be inspired and find hope in seeing someone who grew up in a similar situation and have now finished university training. During my June visit, I was able to view a Kenyan nurse give a talk about sexual health and it was truly the best talk I have ever seen on the subject. She made the audience laugh without detracting from the seriousness of reproductive health. All the teachers and mentors in the project are Kenyan.
Since the program began in 2012, we have seen girls finish school at a higher rate, increased performance on end of primary school KCPE exams, and drastically lowered pregnancy rate. The Umoja Project used to have 2-5 students get pregnant and drop out of school every year. There has only been 2 in the last 5 years.
Our students in Kenya are working hard to complete their education in spite of ongoing challenges. Umoja students have lost one or both parents and often care for younger siblings or ailing relatives. Most lack basic necessities, such as food, clothing and hygiene products. Yet, they are often top performers at school. In 2017 at Marera Primary school, for example, there are four Umoja Project students in the top six: the position one and three for the boys and positions 2 and 3 for the girls.These students cite the support of Umoja Project for giving them hope and encouragement through difficult times. The girls say the GET UP program gave them the extra support they needed to compete against the boys.
Here are some quotes from Mawego Girls School's Umoja scholars related to the GET UP program:
Anytime you step out you never know whom you are going to meet. It may be an old friend. It may be someone you are going to marry or a stranger who is going to change your life in an unexpected way. I stepped out and met Umoja and GET UP really changed my life - Annette, Form 4
To obey us better than sacrifice. It is through obedience that GET Up has instilled in us the we have reached this far. – Candy, Form 4
Light comes to the task when many share in that task. – Melvin, Form 4
GET Up provides the light so that we may tread carefully into the unknown. -Monica, Form 4
Thanks to our Global Giving donors, Sunrise Book Club, and St. Luke's afternoon book club we are able to continue to offer this most valueable program.