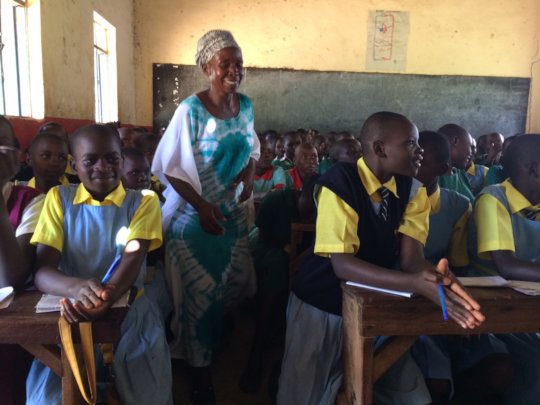 Every summer interns from Duke Divinity school visit the Umoja Project and work in the project for 6 weeks. Courtney Sanford loved the experience so much in 2017 that she came back for a second summer in 2018. During her visit she got to experience both the Get UP Jr and Sr Programs in the first week of her stay. Below is a letter telling us about that very first week:
The day after I arrived, I went to Saint George's Sianda Primary School. I was joined by a group from North United Methodist in Indianapolis. We did a home visit and met the staff of the school which is supported by Umoja Project.
Thursday we spent the day with the high school girls at their day-long retreat. It was great to see some of the project assistants that I spent so much time with last year at this event. The ladies heard from teachers, nurses, and lawyers about study habits, reproductive health, decision making, and their rights.
Friday we spent the day at Ogada Primary school. I visited a girl named Margaret who was in 7th grade. She was in position one in her class with 368 marks. The average is 250 which means she will hopefully have a good chance of being be sponsored by Umoja in high school. It is moments like these that I am proud to be working with the project.
Saturday, we attended Junior GET UP which is for the middle school girls. The room was completely full as the girls sang, learned about healthy relationships, and learned about love.
A few days ago we were walking home from school and next door neighbor's children greeted us. They disappeared and came running back with roasted maize. They probably didn't have much, but they showed us radical hospitality by sharing what they did have. The next day, they disappeared again and came running with roasted maize and a mango. I wanted to cry because the children were so generous and giving. The people of Kenya continue to teach us about love and hospitality. We are thankful to be here and thankful for your love and support.
Love,
Courtney