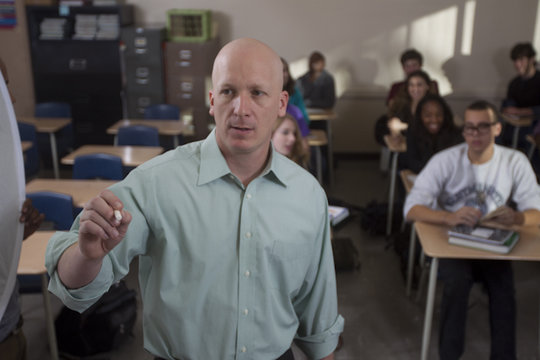 Our strategy for stopping homophobic bullying in schools is to equip educators to intervene effectively. To do this, we need to offer a training experience that is engaging, relevant and memorable. Otherwise, we are just wasting everyone's time.
Educating educators is not easy work. They spend a lot of time in various types of compulsory training and have high standards.
Because you are our partners in this project, we want you to know what teachers and administrators think about us.
98% of teachers found Creating Bias-Free Classrooms an

effective

way to learn new teacher strategies for challenging homophobia.
100% of administrators found Creating Bias-Free Classrooms an

engaging

way to learn about homophobia in the classroom.
97% of teachers

recommend

Creating Bias-Free Classrooms to other educators.
Some representative comments from teachers
"I have to say, I was not looking forward to the class and left very fulfilled. The scenarios really shed light on possible real time situations that have or could occur in any class, any age group, any gender, or any creed. The session made me look introspectively into what makes an effective teaching environment in regards to safety, fun, and teaching."
"I honestly was not sure what to expect going into this session but can strongly say that I was pleasantly surprised. The instructor did a fantastic job of drawing my attention into the program by offering a great amount of information, supported by thorough yet simple explanations, which made the intentions of the program crystal clear. Needless to say, I look forward to attending my next ENCOMPASS session!"
"I was pleasantly surprised by the theater element of the training. Seeing a classroom acted out in front of me illustrated issues better than a lecture could ever have. It made the material so much more interesting and alive. Then having the actor/teacher implement our suggestions where all actors had to improv made it real since it was unscripted. I think the theater format is the best way to deal with this material, and I can now see the reason for it. It is easier for me to remember biases I should be looking for since I can remember scenes and not just words."
"I was SUPER impressed by this training! I thought all the presenters and young actors did an amazing job. I wish all teachers had an opportunity to attend these trainings, they are so valuable."
"One thing I will take from the class is the focus on making your classroom safe for all students. I always knew it was important to do so, but watching the play made it easier to be able to detect when it may happen in your classroom. I want to make sure my students know that they are safe in the room and can feel like they can participate at any time."