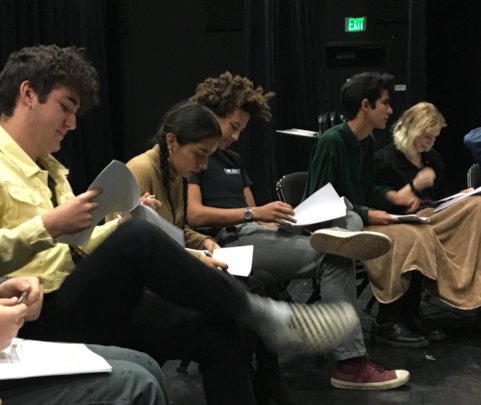 We are prepping and excited for our upcoming Stop Homophobic Bullying training. For the first time, this training will have open registration for any educators interested in making their classrooms safer and more inclusive.
Usually the training is offered through schools or programs as part of their teachers' professional development, but this opportunity will help spread the work to teachers working at schools that either don't have the resources, or the commitment to this issue.
"There are teachers who care deeply about making sure their students feel welcome, safe and included, but many don't have the opportunity to really explore how school might be for members of the LGBQ community," says Kevin Blake, one of the program's coordinators. "This training gives them that opportunity."
Additionally, we will be bringing this program to a school next month to train their entire staff. We are able to offer this training to the school that otherwise would not be able to afford it, thanks to the contributions from our supporters, like you. Thank you.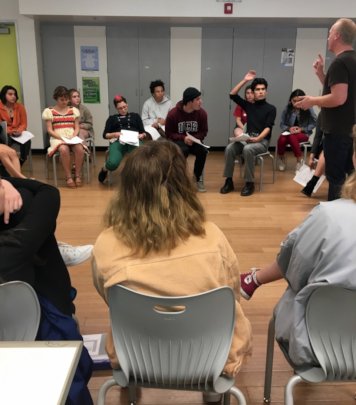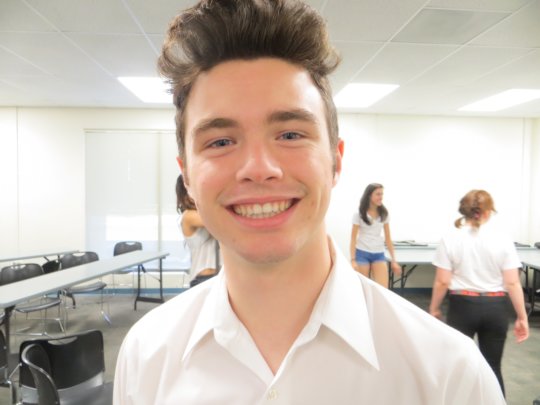 Teachers who participate in our program tell us about the impact that our trainings have had on them and how they manage their classrooms; however, teachers aren't the only ones who benefit from our trainings. Indeed, our student actors do as well!
There is no better example of this than Isaac, one of our former student actors who had the unique opportunity to take what he has learned in his time with our program and implement it in his own career path.
Isaac is a now a college sophomore studying Gender and Women's Studies and hoping to become an elementary school teacher. Isaac visited us last week and described his first teaching experience:
"This past summer, I was a teaching fellow at Breakthrough New York: Bronx and I had the fantastic opportunity to co-teach Biology to two classes of fifteen seventh graders from under-resourced schools in the area. The entire summer, whether I was in the classroom or creating lesson plans, I constantly thought back to my experiences with Creating Bias Free Classrooms in an effort to ensure that I was making my classroom as safe and welcoming for my students as I possibly could. The world that we live in is unjust and cruel, full of prejudice and systemic oppression, but in teaching, I see a way to mitigate that. My time as a high school student in this program and as a college student in Breakthrough New York have allowed me to witness the truly liberating potential of education. Looking forward to a career in teaching, I am grateful for the experiences that have gotten me to where I am today and have given me the tools to be as thoughtful of a teacher as I can be."
It is great to hear his story and know that the impact of this program is expanding not only from the teachers we train, but also from the students who help train them.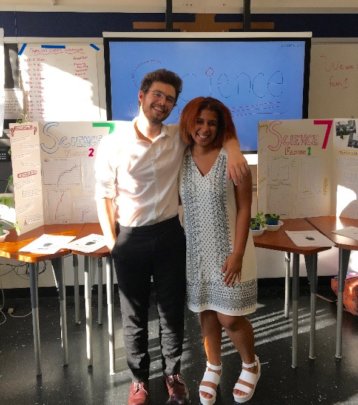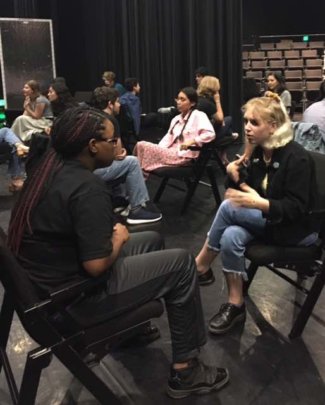 Our new students have been learning and developing the skills they will use to bring our Stop Homophobic Bullying training to teachers. These young artists explore both scripted and improvisational acting techniques that will be instrumental to the impact of our program.
They have also been exploring and sharing their own personal relationships with homophobia in an environment of trust and respect. Their perspectives and thoughts on the issue are a powerful part of these trainings, offering teachers invaluable insight into what their students might be experiencing and feeling.
Additionally, we are exploring opportunities to bring our Stop Homophobic Bullying training to Teaching Programs at the University level. We are very excited about the prospect of incorporating this program into the curriculum for students on the verge of becoming teachers. This focus on issues of student safety and inclusion within Teaching Programs will not only serve their students as these teachers begin their careers, but it will also signify that these are priorities within the profession.
Our young artists are excited to bring this program to teachers, both current and future, and to have an impact on the lives of countless students.
Thank you for your support.
WARNING: Javascript is currently disabled or is not available in your browser. GlobalGiving makes extensive use of Javascript and will not function properly with Javascript disabled.
Please enable Javascript
and refresh this page.