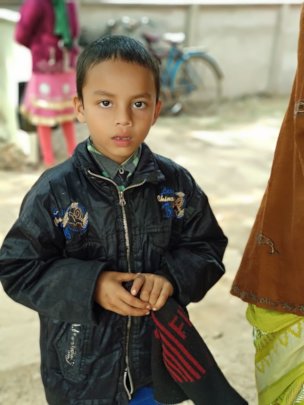 Tarik, an 8 year old boy lives in a village near our rural healthcare centre at Kusumgram. Like any other kid he is a naughty young fellow who keeps running and playing all around his village. "He can never stay at one place for long, everyone at my neighbourhood refers him as a bird" says Rubina, his mother.
However, a few months ago Tarik had become less active; the reason being severe pain in his legs. "I couldn't play enough with my friends. The moment I played for more than five minutes my legs started aching" said Tarik.
Though Tarik's parents wanted to take him to best doctors but being poor farmers they were monetarily constrained and felt helpless. "Seeing Tarik sitting alone and watching other kids play made me feel more pathetic. I wanted my son to be happy and playful again but did not know how?" says Tarik's father.
"I discussed this matter with on of my friend in the village, who informed me about Rural Health Care Foundation and advised me to take my son there" said Tarik's father. "Without delaying, I took my son the very next morning".
To my surprise, there were hundreds of poor people like me in the queue. The more I talked to the fellow patients, I found out how Rural Health Care Foundation has brought positive changes in their lives. Quality doctors, better medical treatment and free medicines were the three things people were discussing. The conversation with other patients gave a light of hope before even visiting the doctor.
As our turn came, the general physician Dr. Adhikari observed Tarik, made him do few exercises and took his complete medical history. After diagnosing him completely he prescribed him with calcium tablets and asked me to make him drink milk regularly along with and other food containing calcium and minerals. The doctor said that Tarik had started developing calcium deficiency which was weakening his bones. He assured me that there was nothing serious at the moment and with proper food and medicines he would start his playful life in no time. Moreover, I was asked to bring Tarik again for a follow-up after 15 days.
Following the doctor's advice I started giving Tarik proper diet and medication. Fortunately, I could see his condition improving just after 10 days of treatment. He had stopped complaining of ache and felt quite energetic like before. I could see my son improving which the doctor confirmed when we went for the follow-up.
It has been three month since Tarik visited our centre for the first time. Today Tarik still comes for follow-up with his father or whenever required in case of seasonal flu. But today he is a joyful kid who plays as he used to without getting tired or pain. The prescribed medicines helped him to get back and start living a normal life. Tarik and his family visit our centres whenever they suffer from any medical issue.
However, Tarik is one among many who needs similar help and to provide such help our organization needs support from our donors. Each donor can change a life of a person in need.
It has indeed been overwhelming to receive funds that have allowed us to set up and operate seventeen primary health care centres (15 Rural Clinics and 8 Urban Clinics) in and across West Bengal, India, reaching out to over 1.7 million people. Each centre runs four departments namely General Medicine, Optometry, Dentistry and Homoeopathy. At the cost of INR 70 ($ 1), patients are provided diagnosis and free medicine for seven days. The centres also provide free spectacles to those in need. Besides this, each primary health care centre, in collaboration with other organizations, facilitates free cataract and cleft lip/palate surgeries for those in need.
The task at hand is huge and our intention over the last few years has been to spread out and serve as many people as we can, by establishing more such healthcare centres. The need in the current times is to scale up our existing operations to other districts of the state. In order to operate and set up new centres, we require constant funding. The funds would be used for purchasing medical equipment, hiring medical as well as support staff, staff at the Head Office, setting up infrastructure at the clinics, purchasing medicines etc.
Since the Government run medical facilities are sparse in these rural areas, news of patients benefitting from the treatment received at our clinics spreads to the neighboring villages, resulting in constant increase of footfall of patients at our clinics. We therefore feel the need to reach out to more such areas addressing the needs of more patients.