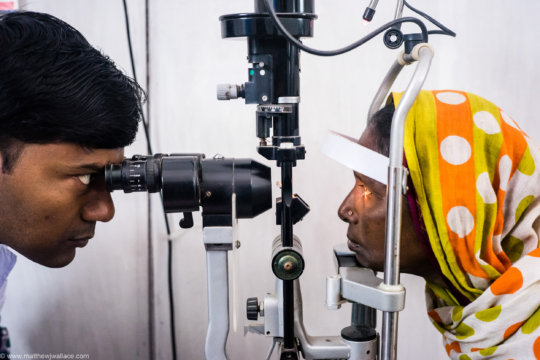 Hamza, a 42 year old local resident of Mayapur, works at a small handicraft shop in her village. She was highly fond of stitching and knitting, however because of the severe headaches that she was suffering from, she was not being able to work with the required focus and precision. Her headaches and blurred vision not only hindered her work, but also led to difficulties in carrying out her daily chores.
"The kind of work I do needs lot of precision and focus. Knitting and stitching is a craft that not only requires hand-play but concentration. However, due to my headaches and putting continuous strain on my eyes, I was unable to carry out my work accurately" says Hamza.
Her supervisors had started rebuking her for the errors she was making and she feared that she might be fired if she kept on making mistakes. With three young children and being the only earning member in her family she had the sole responsibility of their livelihood and of her children's education. Affording expensive check-ups was not possible for her with such a low income. Then she decided to visit our centre for a check-up as the fee we charged was nominal and within her reach. Our health care clinic being well-equipped with qualified professionals guided Hamza and assisted her with a proper eye check-up. She was prescribed with eye-drops, medicines and a pair of spectacles as her eyes were acquiring a high positive power. Adhering to RHCF's vision she was provided with spectacles at a subsidized rate along with required power glasses.
Today, Hamza works without any difficulty and her love for handicraft continues. The spectacles and medication has helped her regain her accuracy and now she is working very efficiently. She regularly comes to visit our centres whenever she or her family needs medical assistance. Moreover she has been able to convince several other women who are facing the same difficulties to visit our centre.
We at RHCF believe in touching lives of the underprivileged and making it better with good health. Hamza is one among such several lives and these achievements have only been possible because of the tremendous support and funds that we receive. It is the funds that have allowed us to set up and operate seventeen primary health care centres (11 Rural Clinics and 6 Urban Clinics) in and across West Bengal, reaching out to over 1.5 million people. Each centre runs four departments namely General Medicine, Optometry, Dentistry and Homoeopathy. At the cost of INR 60 ($ 1), patients are provided diagnosis and free medicine for seven days. The centres also provide free spectacles to those in need. Moreover, each primary health care centre, in collaboration with other organizations, facilitates free cataract and cleft lip/palate surgeries for those in need.
The task at hand is huge and our intention over the last few years has been to spread out and serve as many people as we can, by establishing more such healthcare centres. The need in the current times is to scale up our existing operations to other districts of the state. In order to operate and set up new centres, we require constant funding. The funds would be used for purchasing medical equipment, hiring medical as well as support staff, staff at the Head Office, setting up infrastructure at the clinics, purchasing medicines etc.
Since the Government run medical facilities are sparse in these rural areas, news of patients benefitting from the treatment received at our clinic spreads to the neighbouring villages, resulting in constant increase of footfall of patients at our clinics. We therefore feel the need to reach out to more such areas addressing the needs of more patients.