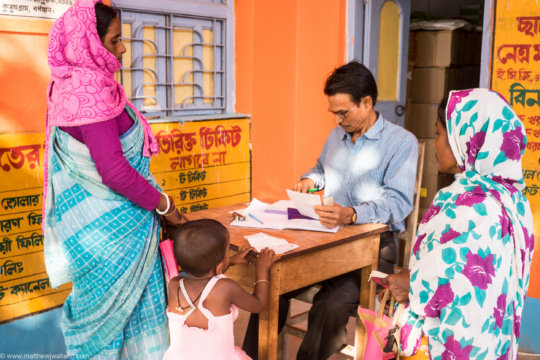 Noori, 38 a homemaker resides in Harahaitala. A lovely wife and mother, Noori has always conducted her roles and responsibilities well enough for which she credited her good health.
"I feel myself blessed with good health, I have never fallen seriously ill since childhood until the past two months" said Noori. "For the past two months I have been suffering from severe cold and cough, leading headache and joint pains"
With three young children it becomes difficult for Noori to carry out the household chores and take care of the family. Hence she wanted to get treated as quickly as possible, however as her husband is rickshaw-puller and earn in wages affording expensive check-ups was not possible for her with such a low income.
"Fortunately, I came to know about opening of a new primary clinic of Rural Health Care Foundation near our area. My neighbors had visited the clinic and advised to go there for my treatment because not only RHCF has very good doctors but they provide weeklong medicines free of cost"
It was then that she decided to visit our centre for a check-up as the fee we charged is nominal and within her reach. Our health care clinic being well-equipped with qualified professionals guided Noori and assisted her with a proper check-up. Though with the symptoms our doctors doubted that she might be suffering from tuberculosis, yet they prescribed her with cold and cough medicines and asked her to follow up after three days. In case there would be no change she was suggested to go for tests that would confirm her condition.
Providentially, Noori started recovering and during the follow-up she told the doctors that she did not have headache and joint-pains since she has been taking-up the medicines. Hence, it was quite clear that Noori had prolong cold and cough which was creating other physical problems and she fortunate enough not to be suffering from tuberculosis or any other acute disease.
Today, Noori has completely covered and back to her normal life. She regularly comes to visit our centres whenever she or her family needs medical assistance. Moreover she has been able to convince several other women who are facing the same difficulties to visit our centre.
Continuing our service to the society, RHCF opened its new centre at Haraharitala on 25th July 2017 with aim to eradicate the lack of healthcare services and reaching out to the poorest community. This is a slum area located in the suburbs of Kolkata, with most population being daily wage earners. Hence RHCF decided to set its new centre at this location so as to touch the lives of the underprivileged and make it better with good health. Noori is one among such several lives and these achievements have only been possible because of the tremendous support and funds that we receive. It is the funds that have allowed us to set up and operate eighteen primary health care centres (11 Rural Clinics and 7 Urban Clinics) in and across West Bengal, reaching out to over 1.7 million people. Each centre runs four departments namely General Medicine, Optometry, Dentistry and Homoeopathy. At the cost of INR 60 ($ 1), patients are provided diagnosis and free medicine for seven days. The centres also provide free spectacles to those in need. Moreover, each primary health care centre, in collaboration with other organizations, facilitates free cataract and cleft lip/palate surgeries for those in need.