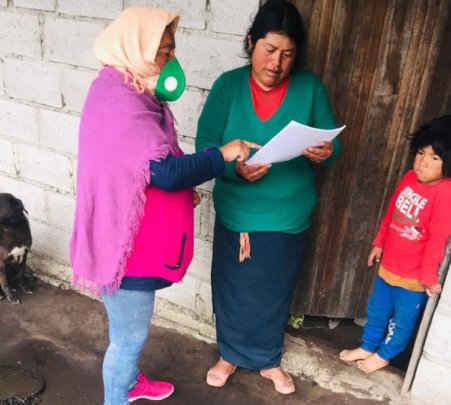 I hope all is well and you are keeping safe during these unprecedented times. Despite all schools in the region being closed since March due to Covid-19 our local teachers have been busy getting homework to the children's houses on a regular basis. Due to the extreme poverty where we work there isn't internet so all this is done on foot, with obvious precautions taken.
With the school still closed in Ecuador due to Covid-19 our local teachers are heading up into the mountains to the communities (3,500m/11,500 feet) once a week to set homework and answer any questions. Despite the country lock-down the potato harvest still goes ahead. We are also trialling family vegetable gardens as part of our sustainable Plan Huerto. These will allow the families to have constant produce (therefore food) as well as extra to sell. Following beliefs passed through the generations the families in the communities burn certain plants and herbs including eucalyptus, laurel, rue, marco and incense by their doors and windows in the late afternoons to protect their homes from illness.
We continue to make face masks in our Plan Corte sewing machine project at Lake Atitlán, Guatemala to provide for the elderly and most at risk. As Guatemala makes wearing face masks obligatory due to Covid-19 our Plan Corte in Lake Atitlán so far has made and distributed 1,000 double-layered washable masks to the elderly and 300 families who cannot afford them. We plan to continue producing more to make sure that anyone who needs a mask has one, especially the elderly and physically disabled, including amputees due to diabetes.
Teacher planning was constant in Honduras, trying to come up with ways to keep the children learning from afar and isolated whereas in Perú, with the country shut down until at least the end of June due to Covid-19 our students have to home-school which is difficult without internet and whose parents cannot read or write.
Latin America is now the hotspot for the global pandemic so we could be weeks away from re-opening though that doesn't mean we have paused our work. If anything, we are more concentrated on coming out the other side and prepared for the future. This includes making hand-sanitizers, thermometers and soaps available for every child and teacher each day when they are finally allowed to come back to school.
To help us through this crisis, GlobalGiving will be holding their July Bonus Day on Wednesday 15th July with the following matching options.
A donation of $100-$499 will be matched at 15%
A donation of $500-$749 will be matched at 30%
A donation of $750-$1,000 will be matched at 50%
Fly The Phoenix will also be planting one tree per $10 donated in our effort to help offset the problems of deforestation and the effects of climate change as trees help reduce carbon dioxide from the atmosphere. So every $10 donated on 15th July means one more tree planted. Please note, this tree matching is done directly through Fly The Phoenix and not through GlobalGiving; please send any questions around the tree matching campaign to info@thephoenixprojects.org (and not GlobalGiving!). Brilliant!
During times like these we understand that charitable donations are generally nudged lower down in household budgets as belts are tightened to prepare for an uncertain immediate future so we thank you for anything you can donate.
Bearing this in mind we have come up with an idea where we can all help each other. We recently started a small sewing project in Guatemala to help single teen mothers and they are producing double-layered facemasks with an opening to insert a filter if required. All proceeds from the sales of the masks will go towards materials and postage, income for the mothers, help for the elderly, reforestation and support for our local teachers across Fly The Phoenix. Please do contact me on info@thephoenixprojects.org if you are interested in receiving more information on how to receive these masks.
Please do stay safe during these unprecedented times and be sure in the knowledge that we will do all we can to keep the projects running successfully now and in the future, thanks to your brilliant donations.
Cheers