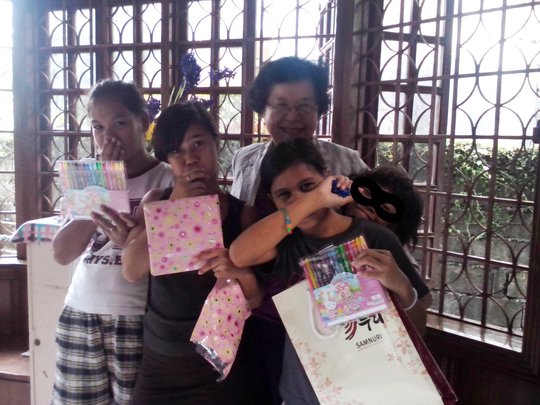 One more month – and then, it's Christmas!
Every year, Tahanan Sta.Luisa conducts a Christmas Program / Family Day to the girls and their relatives (if possible). This is regularly arranged so the girls are able to celebrate the holiday season with their loved ones.
Usually during this month, individual or group donors would ask the girls a list of what they would want to receive as gifts this Christmas. And what they answer will amaze you – they almost always ask firstly that they will have a Christmas food package that they can give to their families. They all do not ask for any new personal items (like clothes) before making sure they have enough to give to their family. Indeed, their selflessness is very inspiring.
During the Family Day, the girls are presenting song and dance numbers to their visitors. After that comes the lunch or snacks with their relatives – and updating each other with what's happening with them. The last part of the program is the gift-giving – when the girls are giving their gifts to their families (the ones they requested to receive as a wish list). We will update you with what's happened during this year's Family Day next month.
On other notes, one of TSL's donors, Korea Foundation for Women visited the center on the first week of November. Ms. Lee Hae-ri, Chief Manager and Ms. Hyoung Cho, Chairperson of Korea Foundation for Women, were very delighted to meet the girls; and they enjoyed their stay in Manila.
Lastly, TSL recently ties up with Lamido through its "Lamido4Charites" campaign. Lamido sells TSL products and ships it for free. All sales will proceed to the center / the girls who made the personalized accessory. To see the products, please visit this link:
http://www.lamido.com.ph/seller/tahanan-sta-luisa/
Happy November, everyone!