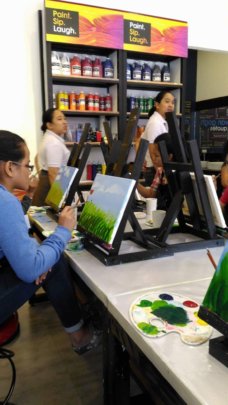 Angel is nervous and excited all at once. Finally, she is now fulfilling her dream to finish college and get a good education. As a freshman taking up Bachelor of Science in Education at the Polytechnic University of the Philippines, Angel knows there will be bigger challenges ahead.
"Gusto ko pong gamitin yung mga natutunan ko sa Tahanan Sta. Luisa sa pagharap sa mga pagsubok. Ayaw ko pong sayangin ang pagkakataon na makapagaral (I wish to use all that I learned in Tahanan Sta. Luisa so I can face the challenges in school. I don't want to waste this opportunity to learn)," the 18-year old said.
MISERABLE LIFE ON THE STREETS
The road to getting to school was a difficult one. Before she was able to walk the walls of her school, she was roaming the streets of Metro Manila to earn a living.
"Miserable po ang buhay noon. Kailangan ko pong kumayod sa lansangan. Tinulungan ko yung nanay ko na magtinda ng tubig at mangolekta ng dyaryo bote," (My life was miserable then. I had to spend my day in the streets, looking for a living. I helped my mother by selling bottled water and reusable materials," Angel said.
But the earnings from the streets was not enough to make ends meet, so she had to work as a sales lady to get extra income. Angel and her family were living in Quezon City then.
"I was the eldest of five siblings. We had different fathers. I never knew who my father was. My mother was into drugs and she could not take care of us," said Angel.
Angel admits the pressures and struggles were often too much to handle. To get some relief, she was lured into smoking cigarettes and marijuana. She was a consistent honor student until Grade 5, but her vices affected her studies.
WAY OUT
Luckily, Angel became part of Childhope Asia Philippines' street education program. Street educators and social workers were guiding her and encouraging her to get a good education and plan her goals. She was grateful for the opportunities coming her way.
"I longed to live in a shelter because I knew that if I stayed on the streets, I will not reach my dreams. I had to think of ways to get my family out of poverty," Angel said.
A social worker from Childhope referred Angel to Tahanan Sta. Luisa --- a recovery center for street girls who have suffered trauma from physical and sexual abuse. She was excited for her new home and new hope.
ENDLESS PURSUIT
"My life now is far different; a lot of adjustments were made. And because of the genuine love and care of the people around me, I survived daily," Angel said.
At Tahanan, social workers, teacher, and house parents take care of Angel and other street girls Tahanan is a home where the street girls are given their basic needs. The program seeks to empower street girls by giving them opportunities to learn, heal, and love.
Slowly but surely, Angel was able to deal with and confront her trauma and pains. She focused more on the positive, and on pursuing a better future for herself and her family. It helps that the support system is strong.
"In Tahanan, the social workers are supportive and mindful of our needs. The house parents are there to listen when we are sad. Our Alternative Learning System teacher helps us in our academics, and in our spiritual needs," Angel said.
Angel is determined and she knows what she wants. She is bent on making sure she gets better by the day.
"My inspiration to achieve my dreams is my siblings. I realize that I am the only one who can help them. I have talents and skills to develop, I promise myself to enhance them with the help of Tahanan Sta. Luisa family. I believe in the saying that I can't give what I don't have. So, I must help myself first," Angel said.