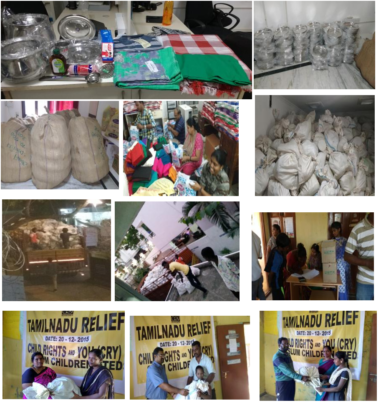 The SCSTEDS team did a comprehensive analysis and identified the neediest families in the area. The focus was on families that have lost everything in the rains and not received any other relief.
In the first phase, kits were distributed to 600 families on the 20th December, 2015.
The packing of 600 relief kits for the households / families and transporting to the STEDS office was completed by the midnight of the 19th December. The project team ensured that the material were stored with atmost security at the project office.
The response from the beneficiaries was a very positive one and there was a great deal of joy at the kind of materials received. They felt that it was a comprehensive kit which would certainly help them to restore the basic needs within their homes and help them get back to cooking safe food for children. All of them shared their heartfelt gratitude to CRY and STEDS for the much needed support.
The second phase of 400 families will be done in May, after the Tamil Nadu state elections, as distribution of these items was in violation of the election commission norms. A separate report on the same would be updated post distribution.
The CRY operational area, Vyasarpadi has been largely affected by the recent Chennai floods. The area was submerged in neck deep water for the first 5 days and it continued to see stagnant water for many days. Power supply was restored in Vyasarpadi only after 8 days on Dec 9th. Mobile networks were all down for 4 days thus cutting off all forms of communication and transportation. People have lost all their belongings including important documents like PDS cards, school certificates, etc. Childrens' school books and other materials are also completely washed out. While 4 cases of death are known, the death toll is yet to be analyzed in the area. The current situation is a warning for epidemics of water-borne illnesses and disease outbreaks. Despite the deplorable situation of the families in those slums, very little help has reached them from the state authorities.
CRY has been involved in providing the following support to the families and children in those communities:
Household Kits : Household Relief Kits and Hygiene Kits were given to 600 families in those communities. The kit included clothes, food and utensils
Medical camp: Sewage water has flooded homes in this area, and there is high risk of disease such as dermal fungal infections, acute coryza, Nasopharyngitis and viral fever. Medical camps were organized on Nov 22nd and Dec 12th . where in 198 children & 156 women(approx) received medical attention.
CRY will continue to work towards providing relief to 1750 households in the area and restoring normalcy in the lives of affected families and children.
SCSTEDS Report for Global Giving
Initiatives and Impact in year 2014
Health:
Immunization camp held in all the 6 slums and 635 children under the age of 5 years were immunized
Conducted door-to-door visit of household in the slums to motivate the parents to enroll their children under 5 years in the ICDS centers and enrolled 78 children into the centers
(ICDS or Integrated Child Development Services is a government scheme that monitors development of children between the age of 0-6 and provides supplementary nutrition and ante-natal care to children and mothers.)
Height and weight of 551 children are being regularly monitored at the ICDS centers to indentify cases of malnutrition.
59 mothers were enrolled in the ICDS centers to ensure that they receive supplementary nutrition and folic acid tablets.
Activated one pathological lab in the Primary Health Center where free health services are provided by the government
Education:
Through constant monitoring of schools, improved pass percentage of children of 10th class which was 81% last year and grown to 92% this year.
Mid day meals are being provided regularly and with proper sanitation in cooking.
Facilitated construction of separate toilets in high school which will help retain adolescent girls in schools.
Enrollment campaign organized in all the 6 slums and 84 children who had dropped out of schools have been re-enrolled into schools.
A petition has been filed to the transport department and the corporation commissioner asking for a separate bus for the children to go to school during school hours
Organized special tuition classes for the children who are struggling in school.
Children who showed slow progress academically are enrolled into STEDS football team and they are being motivated to focus and concentrate through sports.
10 children from children's collective have got admission in Art college and one child in an Engineering college through sports quota.
The collective children also represented state team in various football tournaments and have excelled in them.
The project is being temporarily withdrawn from Global Giving to focus on Chennai flood relief efforts.
WARNING: Javascript is currently disabled or is not available in your browser. GlobalGiving makes extensive use of Javascript and will not function properly with Javascript disabled.
Please enable Javascript
and refresh this page.