Mayurbhanj is one of the largest districts in Odisha and is famous for its places of interests, mining & agricultural options and lush forest areas. However, in spite of all the opportunities, Mayurbhanj has been categorized as one of the country's 250 most backward districts. In this district lies Dilleswar village of Ranipokhari Panchayat and Kaptipada block. Rini Sahu (name changed), a 15 months old daughter of Milan and Kaveri Sahu, lives in Dilleswar. Rini also has 5 siblings. The Sahu family is marginal farmers and depend on daily wages to fend for the family.
In the month of July'17, CRY along with its grass-root partners like VCRO and others, launched a campaign to fight malnutrition across 5 districts of Odisha. When the intervention team reached Dilleswar village, they started monitoring children and noticed Rini weighs only 6 kilos; she also had been suffering from Malaria. Without wasting a day, the intervener, along with Anganwari workers consulted with Rini's parents and informed them that Rini is suffering from Malnutrition and she should be taken to NRC urgently. At first Milan, Rini's father, was hesitant as moving Rini to NRC will mean her mother will also need to be there with her and their family's daily wage will suffer. He also stated that he couldn't even afford a proper transportation cost. The interveners' team not only continued the consultation but also arranged for a car so that Rini and her mother Kaveri can travel to NRC.
Rini was taken to NRC and stayed there for more than two weeks. She regained her health gradually and came back to her home. The intervening team further consulted the Sahu family so that they grow their own kitchen garden and feed proper meals to their family. Seeds and saplings were distributed in the village.
Today, if one visits the Sahu family, they can notice healthy growth of papaya, banana, greens and other vegetables. Rini is more than 8 kgs now and plays happily with her brothers and sisters. She also owns a teddy bear which remains by her side always. "We did not understand how grave the situation was. We almost lost her and the solution was not so difficult, yet we struggled." Says Kaveri, teary eyed.
5 children have a chance at healthy start to life. They are protected from malnutrition and related health issues.

YOU have made this possible and helped change their stories.

Story of hope:

In a small village in the district of South 24 Parganas in West Bengal, 7 month old Anwesha (name changed) plays happily watched over by her doting parents. She is a beautiful and healthy baby and is a source of much joy to her fruit seller father and her mother. Baby is regularly taken in for check ups at the local ICDS center and all her immunizations are up to date – protecting her and ensuring she has a healthy start to life.

However, it was not such a pretty picture for many babies, in this village ten years back. The families living in the village mainly belong to minority groups and had very little awareness on the necessity of health check ups and immunizations. Superstitions passed on through years – made the community believe that immunizations or any extra care provided to either young babies or pregnant mothers – interfered with their destinies and therefore should be left alone. There was a strong belief that the destiny of whether the baby or the mother survives is predetermined and immunizations or medical attention cannot make a difference to that. Therefore families and immediate care givers thought that these processes were a waste of time, effort and energy.

In the last ten years, CRY – Child Rights and You through project SSDC, has been slowly but surely working with these communities to help do away with these superstitions and make them understand the necessity of medical attention and immunizations. While constant interactions and discussions and knowledge sharing with the communities helped somewhat, it was the actual proof of babies being born healthy and surviving the first year of their life that has helped the community come around – bit by bit. It has been an uphill climb but– a change has come about in the age old traditions.

Expectant mothers have now begun to approach health workers for regular check ups, nutrition, medication and immunizations. Anwesha's mother was one such woman. The ASHA and the Anganwadi worker in turn kept a close watch on her during her pregnancy and the post natal period. The workers would not only visit her at home to check her status but would also remind her about her immunization schedule. Sometime, they would themselves accompany the young mother for her check ups and immunizations. They left no stone unturned to ensure that Anwesha's mother had a healthy pregnancy and a safe delivery. This automatically led to her baby being born in a safe surrounding with proper medical help at hand. The baby's immunization schedule was also started immediately and the process of follow ups were continued to ensure both the lactating mother and the new baby's health.

Baby Anwesha and many more in her generation living in that little village have been given a chance at a healthy start and a brighter future.

These are the kind of stories that your contribution can help enable.

Some of the work that YOUR support has enabled for nutrition across India:
Babies are born safe and healthy – care of expectant mothers and institutional deliveries are a key in our projects
Immunizations are started immediately and continued till the cycle is over – regular follow ups are made to ensure babies are regularly brought in for vaccinations
Malnourished children receive immediate care to prevent permanent development damage – our team regularly works with service providers to identify children at risk and provide support and care till they are out of danger
ICDS centers are activated and children receive supplementary nutrition, pre primary education etc – ensuring ICDS networks are strengthened and proper service delivery is of paramount importance in our work
Sensitize communities and change attitudes – interact with communities to dispel myths and superstitions and help them make their lives and their children's lives better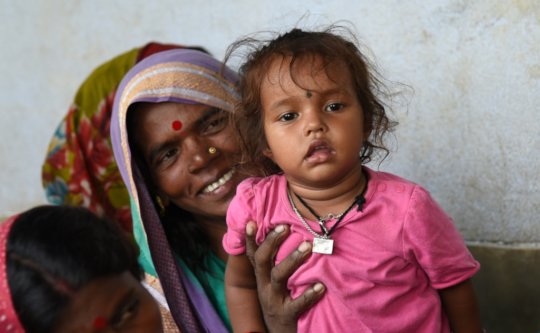 When little Meena was born, she was so weak and frail that her pulses could hardly be felt. Her family, one of the hundreds of impoverished families living in the remote village of Pokhardiha near the Jharkhand – Bihar border, thought she was dead. They were going to bury her, when Lila, the very vigilant Anganwadi worker of the village rushed to her rescue.She not only taught the new mother how to take care of the little one, but kept a routine check to make sure she started growing up healthy.
Enter her centre at any point in time during its working hours and you will hear cheerful laughter and singing from the children. From pre natal and post natal care to effective pre-school education, Lila doesn't let the ball drop when it comes to her work. She used innovative methods to teach the children. She makes home visits to every household that has a child. She keeps track of every child in that village.
Lila is one of those thousands of Anganwadi workers in our country who get meagre amounts as honorarium and are certainly not obliged to work beyond their duty hours or what they are entitled do. But they do.
YOUR support helps these miracle workers do what they do best and save the lives of countless children!
WARNING: Javascript is currently disabled or is not available in your browser. GlobalGiving makes extensive use of Javascript and will not function properly with Javascript disabled.
Please enable Javascript
and refresh this page.