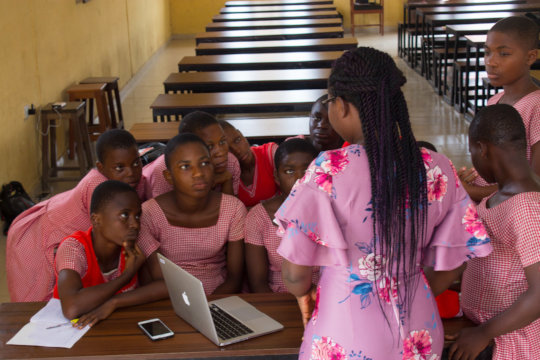 Victoria is a 16-year-old, student from Oron Local Government Area of Akwa Ibom State. As an adolescent in Junior Secondary School (JSS2), she watched her schoolmates drop out of school because of teenage pregnancy, and she became very burdened and unhappy. In 2015, worried and more concerned by the increasing menace especially as it grew bigger in her community, she thought of discussing the dangers of teenage pregnancy with her younger siblings.
Victoria has four younger siblings, and she was determined not to allow teenage pregnancy to be her story or that of her siblings. However, she lacked the knowledge required and skills to pass on the information, and in addition to that, she was also shy. In her words, "I could not express myself".
Year after year she procrastinated on her idea and could not share the information to help her siblings - she felt her siblings would one day become a victim of teenage pregnancy simply because she didn't know how and what to say.
Two years later, In 2017, when Victoria moved to Senior Secondary School (SS1), her dream of being able to educate and guide her younger siblings on Sexual Reproductive Health was close to becoming a reality. She was enrolled for the LEAP Africa iLEAD programme in her school. iLEAD is a leadership, life, employability and entrepreneurship skills programme designed to prepare students in public secondary schools with the skills they need to transition into higher education, paid jobs or entrepreneurship. Victoria was one of 90 students selected in her school and one of 450 students in Akwa Ibom state to participate in the iLEAD programme.
The programme is designed with 'a train the trainers' approach where select youth corps members were posted to the participating schools in Akwa Ibom State like Victoria's school to train and mentor students. The programme is also designed to be experiential and experimental; young people are allowed to own and drive their learning process.
In 2018, a year after Victoria had gone through various training on leadership and life skills, she felt confident and equipped to commence conversations with her siblings. With support from her assigned iLEAD mentors and class teacher, Victoria had her first public speaking engagement on teenage pregnancy – her audience was her younger sibling. Soon after, other girls in the neighbourhood got to hear about her teaching and they reached out and indicated interest, she then started a 'teenage pregnancy class'. Through the 'Change Project' component of the iLEAD programme, Victoria had gained requisite skills and knowledge in implementing impactful projects in her community. She realized that she could do more with her personal project of educating other young girls and that she could leverage on the strengths of her classmates too.
By the end of her SS2, Victoria's dream of becoming an advocate against teenage pregnancy within her community had witnessed a ray of hope. Having experienced the possible impact of her efforts on her sibling friends and other girls, she was ready to scale.
Victoria and her friends went on to set up a programme in their school called the "Female Leadership Circle". With a well-articulated vision, she stated: "Our aim is to educate and inspire young girls; equipping them with information on sexual health, teenage pregnancy, rape, sexual anatomy and many more". With adequate support from the school principal and teachers, they currently provide weekly training to over 150 students across the Junior Secondary School classes (JS 1 - JS 3).
Victoria's aspiration is to provide girls in her school with sanitary pads upon graduation from Secondary School. Her long-term goal is to establish an orphanage home that takes care of girls. According to her, a good number of her peers who have gotten pregnant have either lost their parents or never knew their parents and are at the mercy of guardians or men who offer to provide them financial security.
Apart from her vision for girls, Victoria envisions becoming a food technologist. Assisting her mother to harvest maize and vegetables, with the hope that she would not have to touch the hoe and cutlass in future.
Right now, Victoria holds herself in high esteem; she knows her dreams are valid! In her words: "I am a world changer. I know my mission - I have a passion for the girl child. I can make a decision and choose a career path not looking at what others are doing or saying".
I have embraced a worthy vision for myself; my speech is graceful and intelligent; I am ready to serve humanity. I choose to use my influence positively at all times and in all situations. I have the wisdom to make good decisions. I need more hands to join me to put an end to teenage pregnancy".