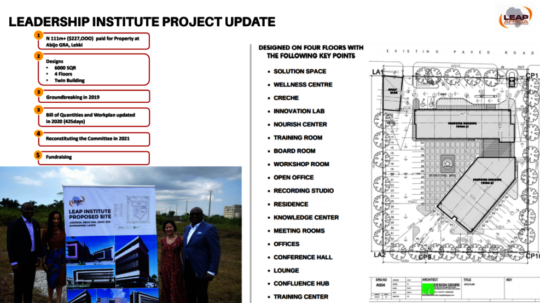 Dear Donor,
We hope you are keeping safe, even as we all continue to glide through the realities of the pandemic.
Since we announced the ground-breaking of the LEAP Institute in 2019 in Lagos, Nigeria, there has been quite a significant shift in approaching the launch of this Leadership centre for Africans.
With the outbreak of the COVID-19 pandemic, we have recently redesigned the approach to the LEAP Institute's offerings to reflect a blended approach. Essentially, LEAP Institute will now offer both virtual and onsite services.
LEAP Africa's Virtual Leadership Institute is a proposed hub of excellence for advancing the knowledge and practice of youth development and transformative leadership, engaging practitioners, researchers, and policymakers on the African continent. It is poised to be a world-class institution that would drive cutting-edge thought leadership and advocacy on youth development issues.
According to the World Bank Youth Report, young people cannot transition in five key areas; Education, Employment, Healthcare, Social mobility and Active citizenship. The LEAP Institute exists to bridge the research and existing learning gaps in five thematic areas affecting young Africans. LEAP Institute will provide evidence-based research and solutions shaped by African realities and unlimited reach by leveraging digital technology. Ultimately, the Institute will contribute to the Global 2030 Agenda by equipping youth enablers to support the youth population's positive contribution.
To achieve the vision for the LEAP Institute, we are seeking partnerships in five key areas:
Technology – Online learning software/learning management system, data management systems, internet and communication tools
Strategic collaboration in the areas of institutional and legacy support
Technical expertise and partnership with programme delivery organisations
Resources on entrepreneurship, employability, citizenship and peacebuilding
Sponsorship for youth enablers to access training in any of the courses, fellowships, programmes offered by the Institute.
The estimated cost to set up the virtual Institute is N250M ($623 441). The LEAP Leadership Institute is a legacy for Africa and Africans, and we are seeking your collaboration to make it a reality. We appreciate your support and acknowledge your donations in the past. We call on you to partner with us and invite more people to join us on this journey of raising ethical leaders that will transform Africa. Together we can do this!
"Legacy is not what I did for myself but what I did for the next generation". Vitor Belfort. Together we can do this!