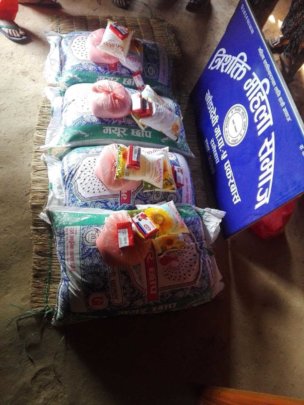 The starting months of the year 2020 proved to be a crisis not only to one country but the entire world. The horrid impact of Corona Virus spread across the world and the terror hit Nepal in March soon after it got out of control in India. The nature of the virus confused everyone and left people in Nepal including Tewa unable to continue normalcy of activities as planned within the organization.
We had started grantee mapping of selected grantees from all over Nepal. Through phone calls, we asked them their current situation because of Corona and what kind of support they might need from Tewa. Through the grantee mapping, we realized that Covid-19 has affected the daily lives of our grantee partners both their personal and professional lives. Among our three mentee organizations; two from Ramechhap and one from Makwanpur, the common need was immediate relief support for minority groups.
Right when the Covid-19 took its toll in Nepal and the nationwide lockdown started, it affected the lives of people. The daily wage earners were the hard-hit because of earning deprivation. Tewa had started immediate relief distribution and raising awareness about Covid-19 through flex and hoarding boards, radio jingles, and pamphlets through our grantee partners in distinct parts of Nepal. We supported three of our mentee organizations with immediate relief support such as rice, lentil, and oil, salt, and nonperishable vegetable. The targeted beneficiaries through these grant support are people from the marginalized communities and those affected by the flood. A total of 77 households was benefitted from this grant support. The beneficiaries were laborers whose earning depends on daily income and works on a brick kiln.
We couldn't continue our Mentorship Program because of ongoing lockdown but we are trying our best to connect with our mentors and mentee organizations through virtual platforms. Every now and then, we organize a meeting and get an update on their personal status. Our Program officer helps them out on giving them suggestions to take care of themselves and their mental health. It is prime time that we take care of ourselves and stay positive during this ongoing chaos. The regular virtual meetings have supported our mentees and mentors to get connected with each other and relieve their stress. Tewa has been trying to support people in need at a time through any potential support it can provide.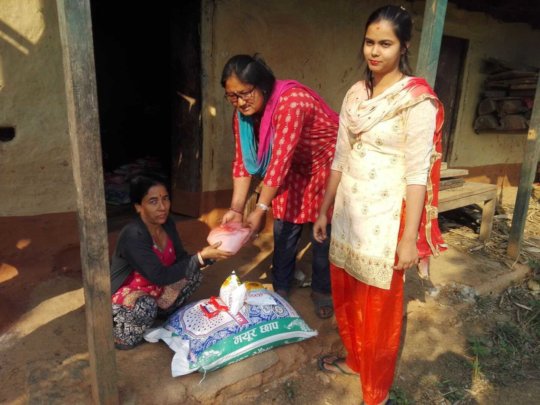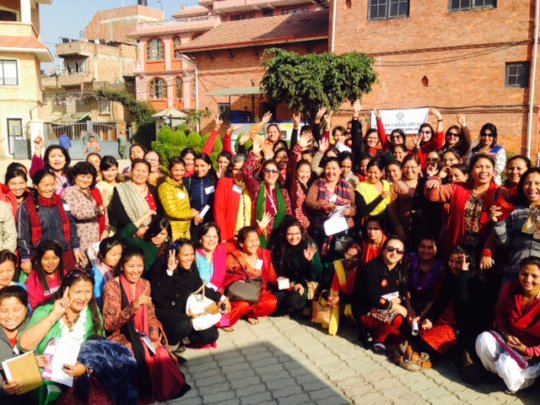 Tewa is approaching its Silver Jubilee Year in 2020 reaching a major milestone. For the past 25 years, we have been promoting community philanthropy. Community philanthropy or the act of giving is mostly linked to culture and with a religious purpose. But Tewa has tried its best to shift this practice and encouraged people to donate for women and support them. Tewa as a women's fund in Nepal has been trying its best to support women from a different intersection.
As we take a new leap and are stepping in our silver year, we have decided to raise funds on a large scale through our local and international allies. We decided to publish the 4th Edition of Priyajanko Samjhana ra Kadarma (In memory and honor of the beloved ones). The first edition of the similar publication was done in 2000 A.D and named Mahila Ko Samjhana ra Kadarma (In memory and honor of the women) We approach potential donors who are willing to honor their beloved ones and dedicate a page for them. A short message and a picture of the honoree are requested to be published in the book. Each page dedicated to the loved one/s is charged for around 500$. We approached more than 40 individuals who might be interested in this publication. Out of which 18 individuals showed interests and honored 20 individuals who are/ were close to them. Donors honored their parents, children, close friends, grandparents, siblings who were close to them. In total, we raised around 10000 dollars from this publication. 5000 $ will be donated to one of the women's organizations in Nepal while the rest of the amount will be added up to our local fundraising amount.
This is a simple example of how the local fundraising is taking place and people are trusting. The shift had changed in the aspect of giving as well as strengthening the voices of women from the grassroots level. Donations like these, no matter small or large, help us make an impact on women's lives by supporting their agenda. So far, we have supported more than 500 women's organizations through 715 grants.
With an aim to empower women working through informal groups or within an organization, Tewa introduced Mentorship Program back in January 2019. The major objective of this program is to strengthen grantee partner's organizations while ensuring shared leadership and organizational development. Through monthly mentoring sessions led by the mentors, the mentees (members of the organization/group) are groomed to work as a formal establishment and enhance their leadership skills. The first Mentorship meet-up was organized by Tewa on January 2020, after a year of the program implementation. A fresh concept, introduced to the core programs of Tewa, Mentorship program still functions as a pilot project. The annual meet-up provides a platform to the mentors, mentee and especially Tewa team, to understand the implication of this organic program and craft the journey ahead. A total of 38 participants, including eight mentors, partook in the annual meet-up on January 28-30, 2020 at Tewa. Mentees from ten different districts came together to share their experiences so far and participated in intense sessions to learn about organizational development and leadership. This program helped our mentees to learn about organizational development and ensure sustainability of our organization. Through mentoring sessions between mentee and mentor, this program helped to grow us individually and develop our leadership skills. It's a program that provides platform to learn about women's rights through monthly sessions. In an individual level, this program has allowed our partners to introduce their organization, its objectives and its members at community level. The members have learned and are encouraged to take their organization to new heights. The members have learned the importance of organization's sustainability and are willing to ensure it. An idea like monthly saving has facilitated the members to collect and contribute few sums for the organization. Increased coordination with local government and stakeholders has aided in organization's smooth operation. Members are more confident to put forward their opinion and work collectively as a group. They are also aware of their respective roles and responsibilities within the organization/group. The official documentation process is a matter of concern and the members are working to develop strong records in days to come. The sessions have encouraged the members to pull active members in their committee and lose inactive/discouraging members. At the end of the training, the mentors and mentees jointly prepared a way forward plan which was further described in terms of timeline, resources to be used, skills available and its impact on personal/organizational development. The current plan included focusing in maximization of local resources, support mentees to engage and work with local stakeholders, prepare necessary guidelines for the organization, support each member to actively participate in organizational activities, contribute in developing strategic plan of an organization etc.
WARNING: Javascript is currently disabled or is not available in your browser. GlobalGiving makes extensive use of Javascript and will not function properly with Javascript disabled.
Please enable Javascript
and refresh this page.