An organization in Makwanpur District, Mahila Uthhan Tatha Sip Bikash Kendra is one of our mentee organizations. Mentorship program in this organization started in early 2019. There was a need to strengthen this organization due to many obstacles it was facing. We found that the organization needed strengthening in official documents related to renewal of the organization, no timely meetings or AGM conducted, and the communities almost forgot the existence of it.
With all these problems, mentorship program was aimed to provide a push to this organization. The mentor and Tewa helped in every way possible to support this organization. When the mentorship program was started in this organization, the mentor started with having constant meeting with the members of mentee organization. Together, they also reviewed the vision, mission and objective of the organization which gave clarity to their overarching goals. The process also included reflection on positive and negative aspect of the organization which helped the organization to plan their activities likewise. Members were encouraged to participate in their own programs and engage in their community activities.
After few years of implementing this program, we saw some drastic change and growth in that organization. The organization focused on planning, and implementation of different programs as required in the community. The organizations structure was revised and everyone started to have meetings and discussion frequently. This strengthened the internal communication of the organization. The local level government and communities have started to acknowledge the work of our mentee organization and in collaboration with local government, the organization is organizing different programs. The organization has also started to get funds from other international organizations and also started to think of being self-reliant by saving up certain sum. This organization focused on empowering women through different livelihood programs to strengthen their financial situation.
These small initiatives from an organization has proven to be of very important. If any organization is willing to do better, they just need a little push and support. Tewa has always been there to support the initiatives and address the need of community level women's organization.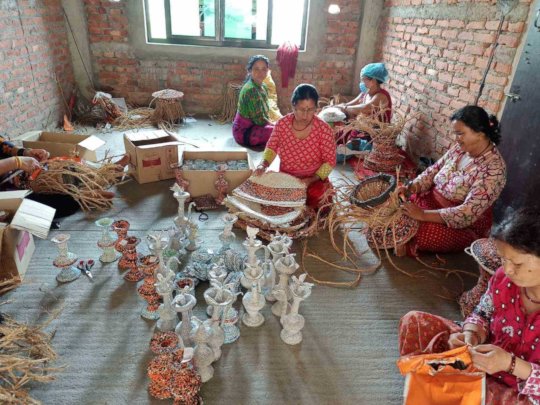 Tewa has always aimed to support the initiatives of women's organizations. The grassroots level women identify their needs to which Tewa financially supports with micro funds. One of our grantee partners from Lalitpur, Siddhipur Mahila Sashaktikaran Samaj has been working towards women's empowerment by engaging them in income-generating training and awareness-raising programs. One of the projects proposed by this organization is related to environmental justice. The activities included in this are to create awareness about plastic pollution and its impact on the environment and advocate for reducing the use of plastics. The other activity is to develop the skill of recycling waste plastic for handicraft production. Both these activities have benefitted women from that community. This organization has initiated the reuse of single-use plastics by providing training to 20 women. These women learned about the traditional handicrafts making from these plastics. The participants also learned about the management of plastics and shared with others in the community regarding the proper plastic proposals. Out of 20 women who learned to make traditional handicrafts, two of them have become trainers and ten of them have already started selling the products to support their income. Another training on making cloth bags was taken by 15 women. Of which 4 have become trainers. This has supported the livelihood of the women and supported them to become economically empowered.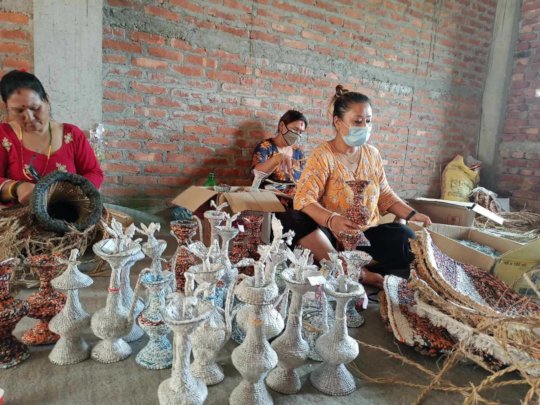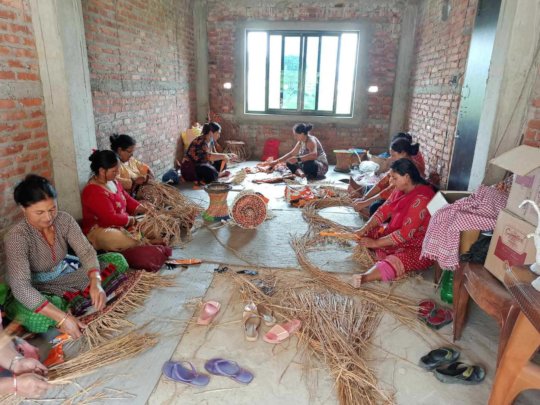 Inclusive Forum Nepal (IFN) is a non-governmental organization established on 26 March 2000 by members of the gender and sexual minority group. Along with conducting various programs for the human rights and interests of gender and sexual minorities, Inclusive Forum Nepal aims to establish in the society the members of the community who have faced discrimination prevalent in society, domestic violence, oppression and shaming inflicted by their own families, as well as those spurned by the society, and enable them to live independently and as equal citizens. Inclusive Forum Nepal has been conducting programs for members of this community that focus on their sexual and reproductive health, development of life-skills and support of their independence, while also collaborating and cooperating with organizations with the game goals.
During the nation-wide lockdown which started from 24th March 2020, many people had different problems. Daily wage workers have had trouble in income generation, which made it hard for their availability of food to eat. But for Trans* people with minimum working salary have had trouble finding hormonal medicines. IFN realized that Transgender men facing serious psychological and mental distress due to inaccessibility to hormonal therapy. All of them showed irritation, agitation including some of them showing suicidal tendency. Therefore, IFN with the support of Tewa's discretionary grant provided hormones to the total of 22 transgender men over the period of the lockdown. This restored their mental and psychological health.
WARNING: Javascript is currently disabled or is not available in your browser. GlobalGiving makes extensive use of Javascript and will not function properly with Javascript disabled.
Please enable Javascript
and refresh this page.