Resource mobilization is a core work of Tewa. Regarding the resource mobilization, we are spreading the concept of local philanthropy and encouraging our partners, supporters and volunteers to adapt it. Volunteers program was initiated in 1997. We initiated this program with the idea to provide a platform for them to engage with each other and also simultaneously support our local fundraising program. We start by providing three days training to interested volunteers' and then they raise fund during their mentoring period. We exchange our thought, knowledge, time and skills through this program. Along with this program we also involve our volunteers in our local fundraising activities. Volunteers have been taking the responsibilities to spread Tewa's work and the concept of community philanthropy. Also, we are supporting us to connect potential volunteers to Tewa. Apart from this major training, we also organize many talk programs, discussions on current issues, and also organize visits at grantee partners to our volunteers for cross learning. Whenever feasible, we send volunteers in other trainings as well to help build their capacity. Till date we have 800+ volunteers are involved at Tewa and most of the volunteers are directly and indirectly supporting Tewa. Most of the volunteers are funders of Tewa and some have also become our grantee partners.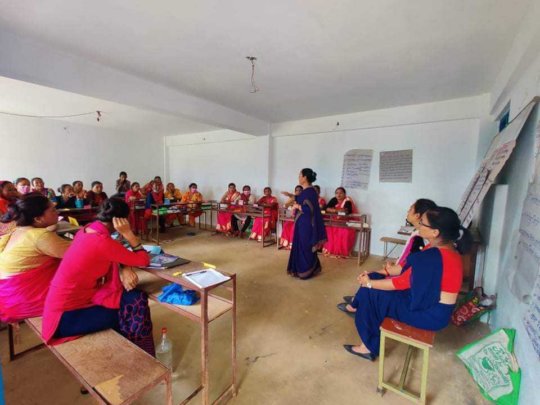 Under the mentorship program, we encourage our mentee organizations to come up with any training that would be useful to them. During the meeting, we realized different mentee organizations needed training on different topics. As per the discussion with Executive Director and Grant Making Manager, different training programs were provided to mentee organizations with a motive to strengthen their capacity. Training programs were conducted in five different districts (Gorkha, Dakshinkali, Makwanpur, Ramechhap, and Sichupalchowk) which were led by mentee organizations. There were 80 women participants of 10 mentee organizations. Similarly, the "COVID Awareness Program" was conducted in 3 wards of Makwanpur.
Different types of training were provided in each district as per the need. In Gorkha, report writing and proposal writing training were provided. In Sindhupalchowk, training on "Legal Awareness, Leadership Development, and Organizational Improvement" was provided in coordination with "Janjaati Mahila Uthan Kendra". In Ramechhap, training was provided on "Accounting and Administration Management".
Similarly, Makar Ganesh Mahila Krishi Sahakaari Sanstha took a lead to provide training on "Legal Awareness and Gender Equality" in Sidhupalchowk. This specific training benefitted 25 women from the community. The training helped the participants boost their confidence, raise awareness, and uplift self-esteem. After the training, some of the women in Sindhupalchowk felt the need to raise their voice against family members and husbands for injustice and different forms of violence; physical, mental, and psychological, they were facing. They didn't realize the fact that what they were facing was wrong. They wanted to even go through legal procedures if needed. The training had helped women to raise their voices. They have received pro bono legal service to get property from their partner. This training helped them realize that they shouldn't be facing violence from a partner or their family. Training which is conducted after identifying the needs/demands of the participants and mobilizing local resource person becomes more effective, supportive, and productive.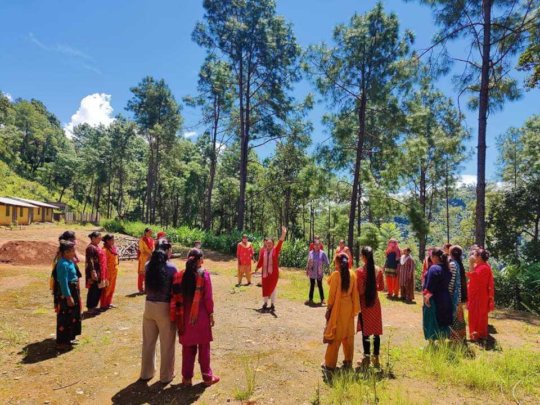 Tewa had initiated Peer to Peer (P2P) fundraising campaign last year in 2020. The concept was to create chains of people to donate for Tewa by mobilizing the network. This campaign encourages the existing donors and people in network to tap on to potential donors for support. The campaign was adopted because of the current pandemic. It was difficult to raise funds as economy in all aspect were affected and we decided to utilize our network. As Tewa's value is about promoting and encouraging community philanthropy among people, we have always been encouraging our partners to raise funds locally in their communities as well.
During the visit to Illam, eastern part of Nepal at Sahayatra Nepal (Name of the organization), Executive Director and Grant Manager of Tewa shared about this campaign with the grantee partners. The topic came into discussion when our grantee partner asked about the ways to make an organization self-reliant and sustainable. After sharing about how Tewa has been raising funds through P2P and mobilizing its network, the organization members were surprised and excited at the same time. After some time, the members of the organization came together and had a discussion on way forward. They really liked the concept and with mutual understanding among the organization, decided to give it a try. The chairperson of Sahayatra Nepal, Hem Kumari approached one of her friend in Kathmandu, who is also associated with British School. After sharing with her about the idea to raise funds for women's empowerment and her sustainability of the organization, her friend also decided to support them. Her friend approached other possible potential people who might be interested in this cause. After gathering 3-4 people, they formed a committee and decided to support women of that particular community through Sahayatra Nepal. They had already raised NRs 2 lakhs ($ 2000) and are planning to donate to this organizations. Moving ahead, in collaboration with these people, the organization is planning to organize different fundraising program in the community to raise funds. Along with this, the organization is also planning to organize different programs focusing on women development.
This was a great news for Tewa. The way we had always wanted to create a ripple effect of our work, slowly our partners are adapting to it. Tewa can really see the changes among people to support women led organizations in the local communities and trust their work.
WARNING: Javascript is currently disabled or is not available in your browser. GlobalGiving makes extensive use of Javascript and will not function properly with Javascript disabled.
Please enable Javascript
and refresh this page.