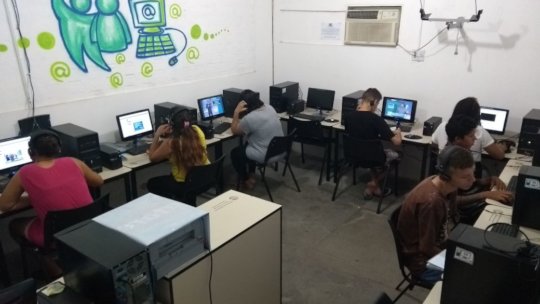 Erica is 23 and lives in Apropoanga Planaltina, Brasilia with her mother and 14-year-old brother.

Her parents are divorced; thus, Erica's mother is the sole provider for their family. As the Apropoanga community is influenced by drug trafficking, gang violence and criminal activity, Erica wants to pursue a higher education and support her family. As a recent high school graduate, Erica has two disabilities effecting her vision and ability to walk. With a prosthetic eye and shorted limb due to a dislocated hip, Erica has difficulty finding employment opportunities which accommodate her disabilities.
Despite Erica's social and economic obstacles, she has excelled professionally because of the POETA program. POETA (Partnership for Economic Opportunities through Technology in the Americas), is a regional initiative that promotes digital literacy, life skills and job readiness to advance economic opportunities for vulnerable youth; especially for at-risk youth, women and people with disabilities. PEOTA aims to bridge an inequality gap utilizing a multidisciplinary approach which helps participants develop life plans, start or strengthen social and economic ventures, secure jobs or internships and further educational opportunities. Thus, POETA operates through a network of technology centers, equipped with computers, adapted and assistive technology and learning materials.

Erica's determination and perseverance to overcome societal barriers has advanced her professional career. While taking digital training courses, Excel/Word and computer science classes at POETA, Erica was selected to participate in Banco do Brasil's Youth Candanga program.
As the Candanga Youth program is ending in the next year, Erica wants to pursue a degree in nutrition. As a diligent student, Erica passed the entrance exam, SEP Saude, but will need financial support to pursue the two-year Vocational Nutritiondegree program.
Digital and professional skills Erica acquired while attending classes at the POETA Center continue to shape her professional career and employment endeavors.

With your continued support, the POETA program can facilitate the success of determined individuals, like Erica, who would not otherwise have opportunities to participate in fields related to technology.