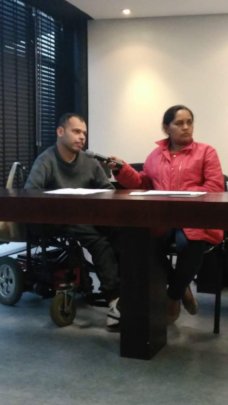 We Owe it All to You!
Dear friends,
Despite struggling with center drop-outs and students finding course material challenging, the POETA centers have proven to be very successful at attracting new students, marketing the course offerings, and connecting students with their next "big step" post course completion- whether that be a coveted new position, internship, a promotion, or going back to school.
We wanted to take the opportunity to thank you all for your generosity and support in helping Brazilian children with disabilities, like Ricardo, unlock their potential through technology and life skills training.
Ricardo is a 33-year-old student at the POETA center run by our local partner, SPDM, in Guarani, Brazil. Ricardo originally sought the POETA center in order to take courses that would teach him about wheelchair maintenance. However, once he became aware of the wide variety of courses offered at the center, he also enrolled in an entrepreneurship course.
As the course progressed, Ricardo began making great relationships with his peers in his courses and was an avid contributor during classroom discussions. His outstanding performance led to his referral to participate in a course about startups created by people with disabilities, and he even presented his project proposal during an international seminar.
By using the skills he learned at the POETA Center, Ricardo has become the proud owner of his own wheelchair maintenance company that he is today. He is already planning to expand his business in the near future.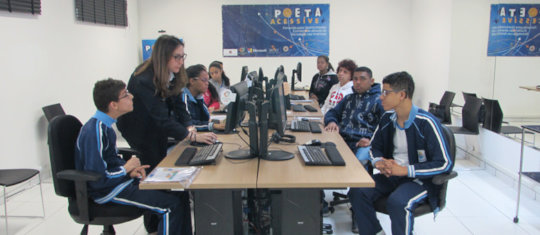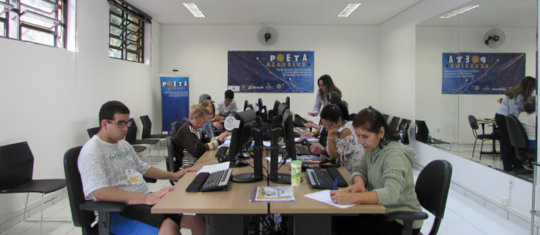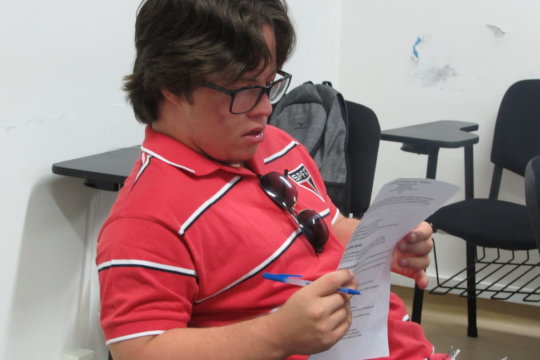 Dear Friends,
We want to thank you for partnering with us in our mission to empower youth with disabilities in Brazil through technical and life skills training by sharing a recent participant story from our local partner SPDM (Asso (Associação Paulista Para o Desenvolvimento da Medicina) in Guarani, Brazil.
Guilherme is a 21-year-old student who has Down Syndrome and Epilepsy, conditions that affect his learning pace. With the hope of acquiring new skills to obtain a job, Guilherme joined the POETA Center on January 24th, 2019, where he started taking training in Job Readiness, Digital Literacy, Health and Life Quality and Personal Finances.
As he became familiar with the content seen in class, including how to use a computer and Microsoft Office tools, Guilherme also began to develop his social skills by making friends among his classmates and increasing his self-esteem.
Guilherme's experiences at the POETA Center in Guarani and the mentorship and guidance he received from the Center's facilitators enabled him to grow emotionally and to be more prepared to obtain a job.
At this time, Guilherme is still taking part in training at the Center and, through the Center's efforts and local partnerships, he is now closer to obtain a job.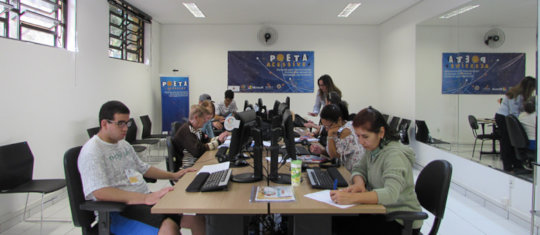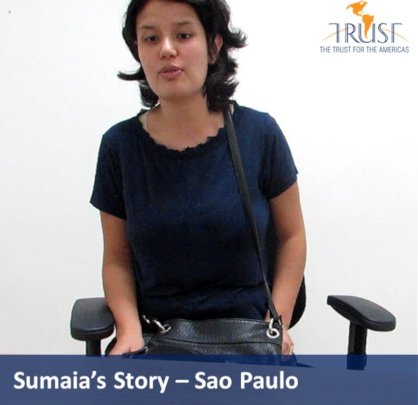 Sumaia is a 28-year-old woman that lives with her parents and her 3 brothers in Sao Paulo, Brazil a city with one of the highest violence and organized crime rates in the country. Due to an accident, Sumaia suffered a brain injury that resulted in a visual disability and Dyscalculia, a condition that makes it difficult to learn and understand numbers, arithmetic, and math in general.
Despite this challenge, Sumaia has always had the dream to become an entrepreneur and financially provide for her and her family. Understanding she had to learn basic computer abilities and entrepreneur skills to achieve her dream, Sumaia joined the POETA Center (CTI Renato Archer) in Sao Paulo. In the Center, she took courses with accessible components on how to use and manipulate PowerPoint presentations and Word documents. She also took part in the Entrepreneurship, How to Start Your Own Venture and Job Readiness courses. It was thanks to the guidance and mentorship Sumaia received from the facilitators at the Center that she felt encouraged to continue learning and enrolling in more training.
She quickly stood out as her motivation and self-esteem increased exponentially. Sumaia is now planning on opening her own business. "Thanks to the POETA Center in my city, I learned the basic tools of a computer and acquired the skills to open a business" says Sumaia.
Links:
WARNING: Javascript is currently disabled or is not available in your browser. GlobalGiving makes extensive use of Javascript and will not function properly with Javascript disabled.
Please enable Javascript
and refresh this page.