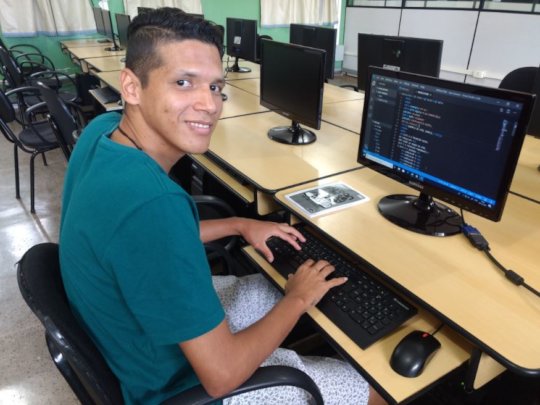 Dear friends,
Thank you for supporting us throughout 2019. We are glad to share that in 2019 we were able to reach 50 Venezuelan migrants through our POETA Center across the region. In this opportunity, we want to share the story of Juan, a young and resilient participant that, despite facing several difficulties in Venezuela, is building a bright future for himself and his brother in Brazil.
Juan is a 27-year-old originally from Maturin, Venezuela, one of the most violent cities in the world, according to the CCSPJC (Consejo Ciudadano para la Seguridad Pública y la Justicia Penal). In Venezuela, Juan was doing a bachelor's degree in Accounting and Architecture in Caracas, where he lived with his mother and worked for his family's accounting firm. As sociopolitical unrest in Venezuela and the deadly clashes between civilians and authorities rose, Juan had to witness how several of his friends were incarcerated and/or executed for political motives. Juan's family decided to migrate to neighboring countries such as Brazil, Colombia, Chile, and Mexico. Leaving all behind, Juan migrated in May 2019 to Roraima, Brazil and stayed at a refugee shelter.
Looking for job opportunities, Juan moved to Brasilia and started to craft clay sculptures. "Art has always been a part of my life. That's why I choose to study Architecture" he shares. In Brasilia, encouraged by a friend, he joined the POETA Center through OSJC. After taking computer science and digital skills training at the Center, Juan learned how to code and program Webpages. Throughout his studies at the POETA Center, he demonstrated resilience and perseverance as he had to make a long commute (50km) to the Center every day. Further, despite being away from his family and having left his life in Venezuela, thanks to the POETA Center's support, Juan was able to raise his spirit and widen his horizons regarding his new life in Brazil.
Thanks to his coding skills and the Center's guidance, Juan is setting up a Webpage to showcase and sell his sculptures and paintings. In the future, Juan expects to become fluent in Portuguese as he is taking lessons at the University of Brasilia along with other migrants and refugees. He wants to become financially independent and be able to bring his brother from the refugee camp in Roraima. He also wishes to re-start his studies in Architecture and hopefully, become a successful Architect.