A few weeks ago, we received a letter from Free Minds member RG, who wrote, "This is the network system I never dreamed of. This is growth for me. You guys are my start to become the man I wish to be for my community. Sorry if I sound so emotional when I write, but this is what comes out from my heart. I want to give back."
Like many of our Free Minds members, RG credits books, writing, and letters for pushing him in the right direction. From live discussions with authors at the DC Jail to connecting over a graphic novel about the Civil Rights Movement, we are so grateful for the power of reading and writing to change lives.
Author Visits at the Book Club
In the last few months, we've had not one but three exciting events at the Book Club!

Earlier this February, Congressman and Civil Rights icon John Lewis and his co-author Andrew Aydin visited the juvenile unit at the jail to share their graphic novel March: Book One and Congressman Lewis's extraordinary tale of courage and nonviolence. Congressman Lewis is the only surviving member of the "Big Six" leaders of the Civil Rights Movement, and the only living speaker from the famous 1963 March on Washington. The Book Club members listened intently and asked questions about coping with fear, anger, and grief. They presented Congressman Lewis with a poem they had written as a group, titled "Free Minds March." The Book Club members were deeply moved by his message of hope and nonviolence. One Book Club member, DeAngelo, described the visit as "life-changing." This event was covered by The Washington Post, Yahoo News, and ABC7/WJLA-TV. Read more on our website.

We also welcomed author and TV writer/producer George Pelecanos (The Cut, The Martini Shot, HBO's The Wire) and filmmaker Stephen Kinigopoulos to the Book Club to screen their short film based on one of Pelecanos's stories, The Confidential Informant. The teens read the short story, and they came prepared with many questions about adapting the text into a film and about the complex relationship between father and son portrayed in The Confidential Informant. Read more on our website.

Finally, Jason Reynolds and Brendan Kiely, co-authors of the award-winning young adult novel All American Boys, visited the Book Club to discuss their book about two teenagers whose lives are irrevocably altered by systemic racism and police brutality. The novel won the 2016 Coretta Scott King Author Honor Award as well as the inaugural Walter Dean Myers Award from We Need Diverse Books. Executive Director Tara Libert said, "We are so grateful for the authors not only for the amazing book and incredible discussion that it generated, but also for exemplifying hope through their personal friendship. It was very meaningful for the teenagers in the Book Club to see two people who were able to bridge the racial divide; for them to see in person, rather than just reading about it, the importance of respecting different experiences and perspectives. Jason and Brendan are two incredible people for embarking on this book project that sparked an empowering and enlightening discussion. They are also leading by example through their own friendship and fearlessness in talking about issues among themselves, demonstrating the kind of courage and compassion that we as a society can aspire to in order to bring about healing." Read more on our website.
Marching for Justice
The teenagers in the Book Club at the DC Jail are not the only ones learning about Congressman Lewis's incredible life! This month, the Free Minds members in federal prisons across the United States are reading March: Book One in our correspondence-based book club, Books Across the Miles, and the feedback has been overwhelmingly positive:
I'm just writing to say thank you for the books you've sent. I really enjoyed the "March 1 & 2" comic. They were amazing and truly depict how far we have come as a people. It was very inspiring to say the least.
-LW
I received March "Book One" and I enjoyed every last word and page in the book. I was really excited to learn about John Lewis and the revolutionary change he sought for himself and others. I learned a great way to love people and forgive my enemies is by non-violence. I feel that nonviolence is a silent force capable of putting the devil at peace with you. I hope that March reaches across this country and touches the coldest hearts out there.
-BH
One of my cellmates is reading it now. I can see the whole unit reading this by the time I'm done passing it around. I just gave it to my friend this morning & he read it in less than 2 hours.
-Ronald
I just wanted to let you know I got the comic book, and although I generally couldn't care less for comics, I took the time to read it, because one you all sent it to me, and two, it must be important if it was a gift from Free Minds. What a blessing. You opened up my eyes to what African Americans went through back in the day. I don't study up on history, well I didn't use to, but now I think I will. See as a white man, I wasn't really interested in what happened to African Americans back in the day. I wasn't racist, in fact, I have more African American friends than white, but for some reason I was never really ever interested in what African Americans had to go through. This book opened up my eyes, I now want to learn more. I couldn't believe one book could have me to open up this way. Thank you, thank you, and thank you!!!
-DK
The "Books Across the Miles" readers are also reading books of their own choosing or books that were personally selected for them by our staff. Halim wrote to us a few days ago to tell us how much he loved Flight by Sherman Alexie:
"I read it in one night, couldn't put it down...It was GREAT and it addressed youth violence in a perfect way. Thanks again for everything, for investing in me, in us, the Lost Children of DC!"
Write Night Poetry Feedback
This spring, we have hosted several On the Same Page: Write Nights and Write Lunches across the DMV area. Volunteers of all ages and walks of life have come out, rain or shine, to provide feedback on our members' poetry. Once the poems are filled with comments, we send the colorful pages back to each author. Our members are consistently amazed by the outpouring of community support, and the fact that people are taking the time out of their busy days to respond to their poetry:
"I never imagined using this medium to share my feelings and thoughts with people I've never met, then to feel such a connection with them thru their feedback! WOW!" -MH
"Really you guys were the ones who unlocked this hidden talent. If it weren't for you I don't think I would enjoy writing as much as I do. You guys gave me another way to express myself that allows me to connect with others." -IS
The Free Minds Connect: "Keeping our Minds and Hearts Open to All Possibilities"
For our January/February issue of the Free Minds: Connect, our members focused on the theme of resolutions and transformation. In preparation for the publication, the entire Free Minds family reflected on our own personal goals, from reading more books, to living every day to the fullest, and focusing on music and poetry. JG, a regular columnist, shared how he is resolving to be grateful, graceful, and content while striving toward his goals:
[By expressing gratitude] we keep our minds and hearts open to all possibilities, allowing our desires to flow smoothly into our lives unhindered. The past is done, and the future is not promised, so why not cherish the present? ...In my humble opinion, by doing this we can accept our current situation for whatever it may be at the moment, while still moving forward.
-JG
A few pages later, a Reentry Profile of Free Minds member Stephen featured his resolution to obtain his education. Stephen is currently a sophomore at the University of the District of Columbia (UDC), and is committed to becoming a Civil Engineer:
My dream is to build one of those buildings that stretches over top of a road or tunnel, like the one in downtown DC near the entrance to 395…. The hardest part about being a full-time student is staying committed to it and actually doing the work. It's not easy but it will be worth it. - Stephen
Our next issue, called "We Can Be The Change," just went out this past week to over 300 young men and women in jails and prisons across the country. We can't wait to read what our members think of it!
Free Minds Poets Honored at Scholastic Writing Awards
This year, two Free Minds members, DA and DJ, were honored at the DC Regional Scholastic Writing Awards. DJ won the Gold Key (the highest award!) for his poem, "Paradise," as well as an Honorable Mention for "Moment of Truth," and DA won an Honorable Mention for his poem "Gunfire." Neither of the poets had written a poem before joining Free Minds. Free Minds Poet Ambassador Kalef accepted the awards on their behalf as both writers are currently incarcerated. DA's mother attended the award ceremony and told us how proud she was of her son for expressing himself positively through poetry. Both young poets, although they could not be there in person, were thrilled when they heard that they had won. This recognition from the Scholastic Writing Awards represents more than just a certificate; it represents a warm welcome into a nation-wide community of writers.
Every time you donate, you are giving a young man in our program a second chance at life. Thank you for being the support and encouragement our members need and deserve in order to achieve their true potential and transform our communities for the better. We couldn't do this work without you!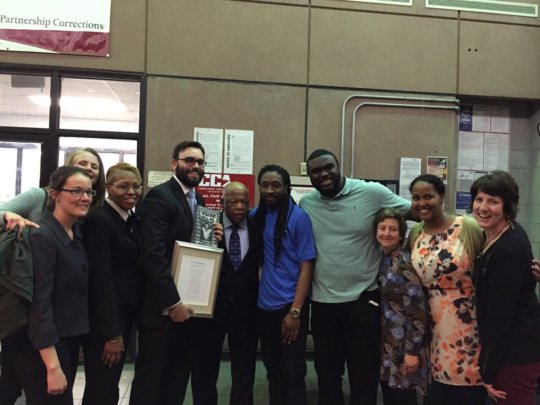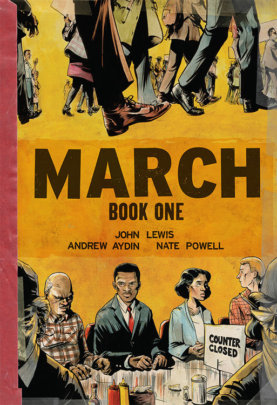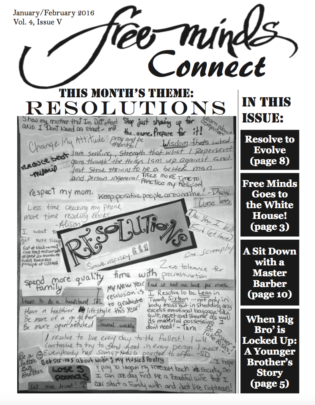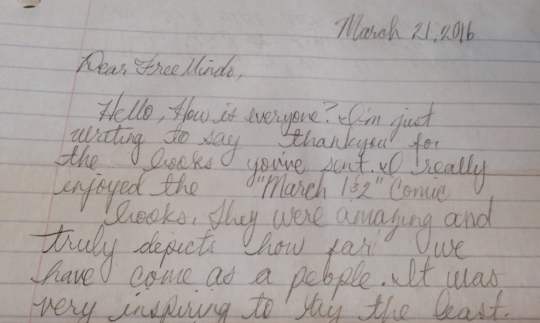 Links: