Summer is winding down, but not Free Minds. Thanks to your generous support, we had an eventful summer filled with inspirational events that have brought about peace and agency and impactful programming that has reached more youths affected by racial injustice and mass incarceration.

Free Minds Holds Their First Congressman John Lewis Fellowship Celebration
Our Congressman John Lewis Fellowship Celebration was a huge success thanks to our incredible supporters!
On July 17, Free Minds held a celebration to commemorate Congressman John Lewis's inspirational visit to our juvenile members at the DC Jail, which sparked our Congressman John Lewis Fellowship, a one-year paid position for a formerly incarcerated young adult to use poetry and lived experiences to promote nonviolence, hope, racial equity, and peace in under-served schools and neighborhoods. The fellow leads our poetry-based nonviolence and community outreach program, On the Same Page: Free Minds Poetry in the Classroom and Community During his visit, Lewis discussed his graphic novel trilogy March and shared about his life of nonviolence during the Civil Rights Movement.
Congressman John Lewis was not able to attend the celebration, but he wrote a letter to the Fellow, shared by his staff. He wrote, "I am proud to witness a new generation of bold leaders, like the Free Minds Poet Ambassadors and the first Congressman John Lewis Fellow. You are all courageous and you are leading the fight for what is fair and just."
Clint Smith, our newest Free Minds Book Club Facilitator at the DC Jail, spoke about the need for restorative healing for those enduring poverty, racial injustice, and incarceration. He read powerful poetry from his book, Counting Descent.
Andrew Aydin, who co-wrote the March graphic novel trilogy with Congressman Lewis, spoke passionately about the role reading can play in racial justice. "Reading is a liberation, an art, and a skill that can open up the heart."
James Allen, our Congressman John Lewis Fellow, shared how his own heart was opened by reading the memoir. "Reading the March series opened my eyes to the powers of positivity. I take my role as a positive, nonviolent influencer very seriously."
It was an incredible evening filled with inspiration and hope as we realized a dream--to reach more youths with the life-changing power of books, writing, and community.

Recently Released Members complete Job Readiness and Personal Skill Building Apprenticeship
This summer, Free Minds Book Club welcomed a group of young men, ages 16 and 17, into our intensive Reentry Book Club's Job Readiness and Personal Skill Building Apprenticeship, for recently released members, with workshops on topics such as computer literacy, financial literacy, job interviews, storytelling, and more.
During the apprenticeship, apprentices mapped out their life and career goals; discussed who inspires them, what they love, and what is unique about them; took a team-building trip to the National Building Museum's "Evicted" exhibit displaying the causes and effects of eviction by low-income populations; completed job applications, uploaded resumes, job searched, and created email addresses; and learned the ABC's of financial literacy (budgeting, savings, investing, managing).
At the end of the apprenticeship, apprentices unanimously expressed interest in either finishing or returning to school, establishing a career in a field of their interest, as well as sharing their thankfulness for their Free Minds family.
Our apprentice Avery shared that after the apprenticeship, he landed his first job, "I was 16 when I got locked up; I had never had a job. Without the apprenticeship, I would not have had the job readiness skills to do so well on my interviews. I knew exactly what I needed to do and I am so grateful."
We are excited to see everyone's next phase!
Free Minds Discusses U.S. Prison System with Criminal Justice Experts from Uruguay
On behalf of the U.S. Department of State, World Learning invited Free Minds to participate in a project for the International Visitor Leadership Program entitled "U.S. Prison System and the Criminal Procedure Code" on August 21. Administered for visiting detention and criminal justice professionals (who all hold key roles related to current Uruguayan prison system transformation), the project's goal was to teach visiting participants about U.S. alternatives to incarceration, federal policy-making processes, and nongovernmental perspectives on criminal justice.
In a roundtable, Free Minds shared our work, with an emphasis on the value of reading and writing. Free Minds Poet Ambassador Anthony shared his own experiences and perspective on incarceration and reentry, which led to an in-depth discussion of sentencing, human rights, youth incarceration, and reentry.
The roundtable included guests from DC Prisoners' Project (Washington Lawyers' Committee for Civil Rights and Urban Affairs), Catholic Charities of America; and international agencies Psycho-Social Treatment, National Institute for Rehabilitation (INR), Yoga and Values in Prisons (NGO), Office of Supervised Release (OSLA), and Office of Supervised Release (OSLA).
Thank you, World Learning, for creating a space to speak on the need for criminal justice reform!
Summer Reading: Reentry Book Club Members Explore Black and White

The power of reading and writing to cope with traumatic experiences is reaffirmed in every Reentry Book Club session. This summer, the Reentry Book Club members have been reading Black and White by Paul Volponi.
An ALA Best Book for Young Adults, Black and White follows best friends Marcus (black) and Eddie (white) who found the strength to break through the racial barrier by looking past stereotypes to successfully come out on top on and off the basketball court. However, when both boys face the consequences of one wrong decision, their friendship is put to the test.
Reentry Book Club members have been eagerly following the action in the book, and predicting what is to come next in the book by placing themselves in the shoes of the characters. One member stated, "Black and White is a story that describes the importance of loyalty. I could relate to the story because it reminded me of what led to my incarceration. It's easy to get into trouble, but hard to get out."
We are glad to know our members are able to relate to the characters of Black and White. We wonder whose predictions will come true!

Free Minds Partners with Bread for the City for "Poetry & Write Night"

For over 40 years, Bread for the City has been a standout non-profit for strengthening low-income and homeless DC residents directly affected by the burden of poverty and racism. On August 23, Free Minds Book Club & Writing Workshop had the pleasure of collaborating with Bread for the City for "Poetry & Write Night," a part of our community building initiative.
At "Poetry & Write Night," community members read poetry written by incarcerated Free Minds members, and listened to formerly incarcerated Poet Ambassadors share their compelling stories and original poetry.
We asked attendees to leave uplifting feedback on the poems since we send all comments back to the authors. Due to not being a state, DC does not have a prison, so the majority of our members are incarcerated in federal prisons across the country. For many of our members who have no moral support or communication from the outside, receiving feedback on their poetry can be the calm in the storm. One attendee mentioned one poem was so good "not even [Langston] Hughes or [James] Baldwin could touch that."
Such words can go a long way! Poet Ambassador Terrell shared with the group the value and helpfulness of leaving comments stating, "When I was locked up, I looked forward to the positive remarks AND constructive feedback; the constructive feedback strengthened my style and made me a better writer."
Thank you for making our work possible!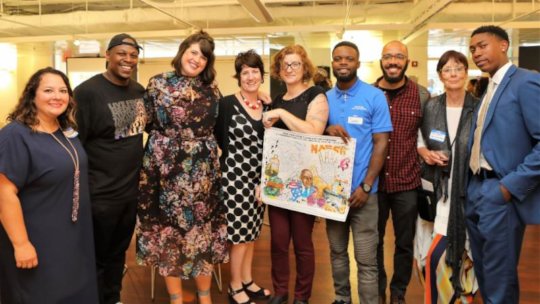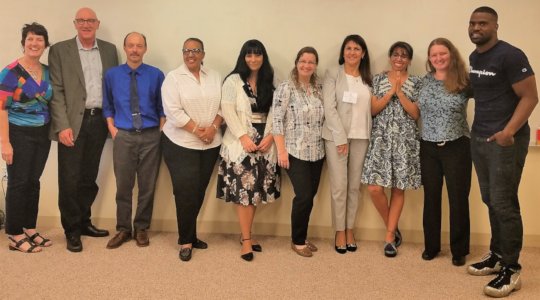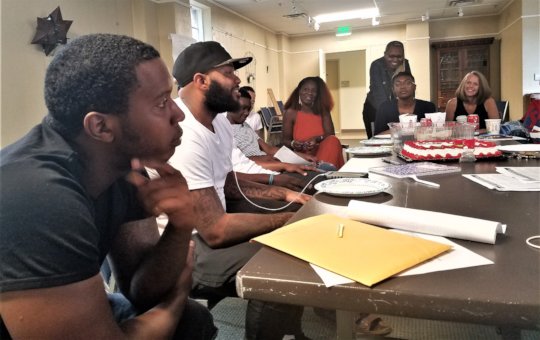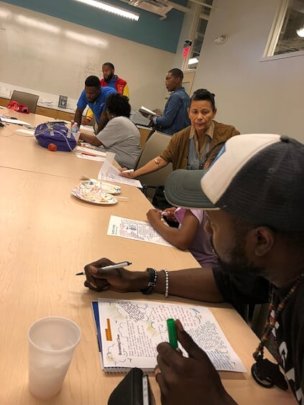 Links: