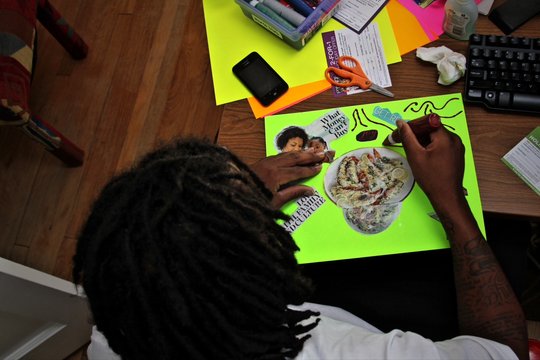 Dear Free Minds Friends,
We can't believe it's already turning into spring! Free Minds has had an active few months in the Reentry phase of our program. We couldn't do it without your support, and we're excited to share a few achievements with you here:
Since our last report, Free Minds has led several sessions of Reentry Apprenticeships, where members returning home from prison work in our office, simultaneously giving back to the community and gaining valuable job skills. Free Minds members consider it such an important opportunity that we now get letters from members still incarcerated who are planning ahead and writing to request a spot in a the next cohort of apprentices! Next week we begin another set of apprenticeships, where, among other work, they will help us with planning the book club sessions they once participated in as 16 and17 year olds.
Following the fall release of "They Call Me 299-359," Free Minds' Literary Journal, we have been using the book as a tool to reach diverse audiences across the city and even globally! Free Minds Reentry members have led readings and discussions aimed at understanding the root causes of youth violence and incarceration with international Congressional Fellows, adult GED students, teachers at the Network for Teaching Entrepreneurship, and members of the Daughters of the American Revolution, to name a few. One Reentry member called the book ""a very good way to bridge the gap between worlds," and these sessions have truly demonstrated the power of poetry to both connect and educate.
Another initiative begun in 2011, Free Minds' "Volunteer Write Night," has continued to blossom. If you're in the area, consider joining us for this monthly volunteer opportunity- email mail@freemindsbookclub.org for more information! Free Minds Reentry members gather with volunteers from across the area to write feedback on the poems of members still incarcerated, allowing Reentry members to give back and encourage fellow writers. One recent recipient of feedback wrote enthusiastically: "I would like to thank all the people that showed love to my poems. I didn't know that they were that appreciated. Thanks for the motivation I'll keep 'em coming just for y'all no question!"
Free Minds Reentry members have also been practicing increased civic engagement, attending several DC City Council hearings and writing testimony on their personal experiences of job-seeking after incarceration.
Free Minds Member and Reentry Coach Michael has continued his activism on reentry issues. He continues to coach other Free Minds members returning home, while also discussing his own life story at a variety of public speaking engagements to educate about the repercussions of charging youth as adults. He recently attended SOUL's National Youth Organizer Training in Oakland, CA, and just had a piece published in the Washington Post!
Your support not only helps us to provide opportunities for members returning home from prison, it sends a powerful message of your belief in their abilities to choose positive new life paths. We are so grateful!
You can stay up to date by liking us on facebook, visiting our website, and reading new poems every week on our writing blog.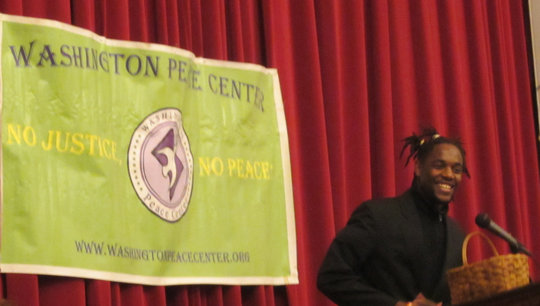 Links:
Friends of Free Minds,
Thanks to your generosity our new initiative "Books Across the Miles" BAM! has been a great success so far! A "virtual" book club for 125 of our Free Minds members, young men incarcerated in federal prisons scattered throughout the country, can now enjoy reading the same book and engaging in written discussions through our newsletter Free Minds Connect. Our members tell us that the newsletter is a lifeline for them. It tells them that the outside community cares about what they think and feel and they are not forgotten! It's a vital forum for self expression and learning. They have a voice. Here is an update of what our members have read so far:
We shipped our first BAM! selection Ruined, a Pulitzer Prize winning play by Lynn Nottage that looks at the atrocities of sexual abuse and rape committed against women by soldiers on both sides of Congo's civil war without knowing how it would be received. The subject matter was intense and could bring up a lot of painful emotions from our members. This was also the first time most of our members, including Stephen, age 21, had ever experienced reading a play. He wrote to us from a federal prison in Pennsylvania after finishing the play:

I just read "Ruined" by Lynn Nottage, and I can honestly say I just got back on this compound. I was just in that small town in Congo at "Mama Nadi's" LOL. I really did just zone out because I didn't put the book down until I finished it. At first I was gonna read a certain amount of pages and call it a night. However, the suspense kept me reading from start to finish.... I [wanted to respond before] coming down from this "high" from having a Free Mind!

Kenneth, Age 24 wrote the following in response to our discussion questions printed in the Connect newsletter.
I learned that anyone in the path of war can become a victim. The violence of war alters people's lives by breaking up their families. I think the play is called "Ruined" because what a woman has is sacred. So once it's unfitfully taken, a woman may feel "Ruined."

One of the most powerful responses we received was from JG a member who is serving time for a rape offense. He shared how much the play affected him and allowed him to see sexual violence through the eyes of the victim. He is undergoing sex offender treatment at his facility and shared how transformative reading the play was for his own growth and recovery. We were humbled and awed by the power of reading and writing to heal.

Because Ruined and the female protagonists' stories in the play had such an impact on our members we decided to expound on the theme of relationships for our next BAM!selection and chose Hill Harper's book The Conversation: How Men and Women Can Build Loving, Trusting Relationships. Our members had enjoyed Harper's two other books, Letters To A Young Brother and Letters To A Young Sister and eagerly read his prescription for healthy male and female partnerships. The book sparked an excellent response from our members who mailed us poems, articles and essays on their views on what makes a good relationship whether it's with your girlfriend or your cellmate. Darius gave us tips how he handles arguments with his girlfriend and Kevin stressed the importance of finding common ground with your "cellie". The interaction our members are able to receive by sharing their writing in the Connect newsletter builds a positive peer network of support that is so vital to their success while incarcerated and when they return home.
Receiving the Connect has become a highly anticipated monthly event among Continuing Support Members. Mike who had been transferred from a Federal Prison in California to one in Pennsylvania wrote to us to make sure we knew he had been moved "I wanted to let you know that this is the address where I'm at now," he wrote. "I didn't want to miss the "Free Minds Connect" and the opportunity to write something up from the prompts in it." Vincent who is on solitary confinement wrote recently "Getting the Connect always brightens my mood. I can feel the good energy and it makes me feel part of something good." BAM! accomplishes the goals of continuing the love of shared reading of the same book first ignited in the Book Club at the jail and strengthening the sense of community among Free Minds members.
In December we mailed out our third BAM! title Rich Dad Poor Dad: What The Rich Teach Their Kids About Money That the Poor and Middle Class Do Not! by Robert Kiyosaki. This was at the suggestion of Free Minds member and Reentry Coach Michael who gained many valuable insights about the role of money in his life after reading the book and wanted his fellow Free Minds members to share in that awareness. The Books Across the Miles BAM! project has strengthened our program on many levels and we are truly grateful for all our wonderful supporters who've allowed us to bring the power of reading and writing to our members.
We also publish our members' writing to our writing blog. Check it out and provide feedback. The new poets love it! It boosts their self confidence as writers and lets them know that their voice matters.We then print out and mail out the comments and feedback from the blog to each federal prison. Our members all tell us they look forward to this wonderful connection to the outside world.
We added another initiative because we receive so many poems and articles from our members that we needed another forum to provide feedback. We started "Write Night" which allows volunteers to gather together in one place and provide hand written feedback for our members. They comment directly on printouts of the poems. We send our members the feedback from these events for inspiration for their next poems. If you are in the Washington DC metro area contact us and we'll invite you to the next "Write Night" We'd love to have you!
Thanks again for your belief in the power of books and writing!
Links: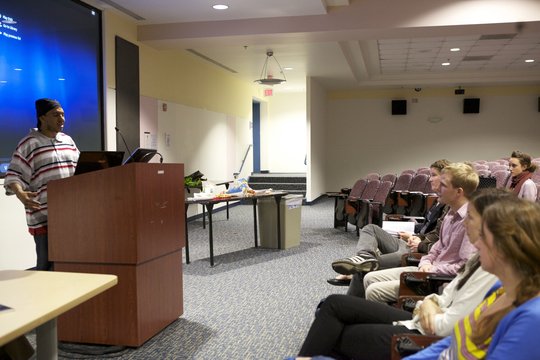 Dear Friends,
Free Minds has been staying busy this fall, with new initiatives both inside the jail and out. We want to share with you a few highlights from our Reentry Support phase, which has been supported by this project.
This fall, we were proud to release a new literary journal, "They Call Me 299-359: Writings from the Incarcerated Youth of Free Minds Book Club and Writing Workshop." To celebrate we had a "Happy Hour for Word Power," which was packed with Free Minds fans! Free Minds members read excerpts from the new book and spoke with audience members about their experiences coming home and working to create positive futures for themselves and their community.
Members, staff, and supporters gathered for a "Write Night" at the Free Minds office, writing feedback on the poetry of members still incarcerated. This regular volunteer event provides a unique way for volunteers to encourage the writing and reflection of young authors, and for Free Minds members who are home to experience a community of support.
In collaboration with Benevolent Media Festival and American University's Center for Social Media, Free Minds sponsored a showing of "The Interrupters," a powerful film about violence intervention. After the film Free Minds members spoke on a panel about how these issues related locally, sharing stories from their own experiences.
Through a collaboration with Redskins replay, Free Minds members attended a football game at Fedex Field between Maryland and Notre Dame- and loved it!
The poignant and powerful documentary "Young Kids, Hard Time," offering a rare glimpse inside the unit of a prison for youth charged as adults, was premiered at the National Press Club- and Free Minds was in the audience! It then debuted on MSNBC November 20th. Free Minds members enjoyed the film and especially the honor of being the first to see it.
As part of a collaboration with American University's "DC as a Third World City" class, Free Minds members led a poetry reading and discussion on the root causes of youth violence. Students left moved by the event, especially by the personal stories of Free Minds members shared through their poetry.
Free Minds member and reentry coach Michael will be receiving an activist award next week from the Washington Peace Center, honoring his work supporting others coming home from prison. Michael's favorite saying is "a good example is better than good advice," and we are so proud to see him living his motto! Michael also spoke two weeks ago at a DC Council hearing on reentry issues, educating others about the challenges of reentry.
Last, but definitely not least, Free Minds Reentry Support members have been working in the office doing "apprenticeships," our employment training model. In these apprenticeships, they provide program support for the very program they participated in! Through planning book club sessions for the jail, sending our newsletter to prison, and other tasks, they can give back to younger members while solidifying a new life path form themselves.
We are so grateful for your commitment and support that sustains us and makes these programs possible. Consider making a donation to Free Minds as a gift for someone this holiday season. The majority of members in our program had never read a book cover to cover before meeting Free Minds- sharing the gift of reading is a wonderful way to honor a loved one!
Be sure to like us on facebook and for more information, you can always go to our website.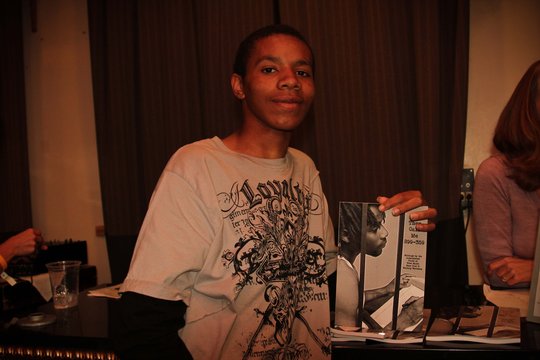 WARNING: Javascript is currently disabled or is not available in your browser. GlobalGiving makes extensive use of Javascript and will not function properly with Javascript disabled.
Please enable Javascript
and refresh this page.