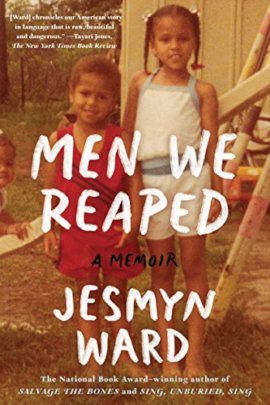 We have transitioned into the hopeful spring season, and that hope springs from knowing supporters like you believe in the transformative power of the literary arts! Our Prison Book Club program brings connection and healing to our members separated (sometimes by thousands of miles) from their families and loved ones. In our last report, we shared that we sent New Year's cards to all of our Free Minds members incarcerated in over 55 federal prisons, and we have continued our nonstop effort to ensure every member gets the coveted mail call by sending birthday cards, postcards, personalized letters, and our own newsletter, the Free Minds Connect. Thank you for making this lifeline of correspondence possible.

Books Across the Miles: Healing

Free Minds members are reading and reflecting on Men We Reaped by two-time National Book Award winner Jesmyn Ward, whose memoir contends with the deaths of five young men dear to her, and the risk of being a black man in the rural South. The book had a strong emotional impact on our members. Here are just a few of many responses we received:

"I read it in one sitting. The book is profound in its simple approach to how it is she was able to get her very personal family history and experience down, for all the world to see, without going insane. Not many of the people working this beautiful planet of ours, today, is capable of doing such. After reading Ms. Ward's memoir, I've fallen in love with writing once again. No fear or shame." AW
"I myself have never worn a memorial t-shirt. I don't think it is bad because we should remember our loved ones in a good light. Same thing with obituaries. They get padded with all kinds of accolades: church, college, job, volunteer work etc. etc. And in most cases, these are over-stated, but it is making the loved one feel good." -RJ reflecting on memorial t-shirts, a tradition referenced in Men We Reaped, which memorializes loved ones whom have passed away.
Free Minds member Antonio wrote us after receiving Assata by Assata Shakur:
"The autobiography was extraordinary. The book provided the opportunity to carefully see the orchestrated distortions of fact concerning the motivations of Assata Shakur, born Johanna Chesmard. Reading the book explained simply and vividly about the racism that permeated her childhood and young womanhood, as well as the ordinary experiences of Blacks in the United States.
"Her book led me to understand more about society and the demise of the system. Clearly, it was the racism that riddled her and made her fight. The book broke down the struggle for self-determination in the twentieth century. Assata Shakur's own words as she writes some of the most intellectually gifted poems had me in deep thoughts. She writes about her experiences not as a historical icon, seeking to crystallize the "critical life," but as one whose experiences can help another individual get through similar struggles."

Look for the next issue of the Connect, exploring the theme of "healing" later this month!

Our Jail Book Club was featured in its entirety on BookTV on C-SPAN 2!
We were thrilled viewers could witness the power of our book club discussions on national TV! Our book club at the DC Jail was featured in its entirety on BookTV on C-SPAN 2. It was incredible to see our members, along with facilitators Stacey Houston and Clint Smith, sharing their thoughts and experiences with the world.
While discussing Tim O'Brien's The Things They Carried, a collection of linked short stories about a platoon of American soldiers fighting on the ground in the Vietnam War, our members drew connections between their own experiences and the experiences of the soldiers in the novel. Free Minds member Jonas said, "Prison [Tim O'Brien] trying to express it in the best way he can and it still does not seem adequate. That's how I feel when trying to express what it's like to be in prison."
Though the segment premiered earlier this year, we are still receiving so much honest and hopeful feedback on social media! One viewer shared that the segment not only inspired her but also challenged her to consider her biases about people who are incarcerated. She said, "I forgot they were inmates and saw them as men." We are committed to changing the narrative around incarceration and elevating the voices of those directly impacted by our prison system.
We are thankful to everyone who has taken the time to listen to our members and help us spread the word that books and writing bring social change.
Click here to watch the full segment
Author Tiffany Jackson Visits Free Minds Book Club at New Beginnings
In October 2018, new legislation went into effect in DC stating that all youths charged as adults will now be housed in a juvenile detention center until they turn 18 or are released. Previously, these young people were incarcerated at the DC Jail, where Free Minds led weekly book club and writing workshop sessions. We began our book club at New Beginnings Youth Development Center in Fall 2018.A residential treatment facility for youths, the development center provides rehabilitation and planning for young people through educational services, workforce development, health care, and community engagement. Kicking off this new phase, our friends at the Open Book Foundation brought author Tiffany D. Jackson to meet and speak with our young men as well as provided everyone with a copy of her book Allegedly.
Pulling inspiration from interviewees, such as young women (ages 18-23) who lived through youth detention centers and group homes, Jackson was determined to write a book that would "spread awareness on young teenage girl issues." Her book follows the story of a sixteen-year-old girl, now living in a group home, who was convicted of killing a baby at the age of nine. Despite receiving 55 rejections of her manuscript over the course of 5 years, she told herself, "Life is all about rejections. Rejections come, but you have to keep pushing. I had to be confident in myself and perseverance is important."
While reading excerpts from Allegedly to our 16- and 17-year-old Free Minds members, Jackson took a moment to express the importance of sharing your story, stating, "I was inspired to write after attending a predominantly white high school where I experienced macroaggressions and racism. Writing became my escape. I was in my own world and could just be there. I want you guys to read about people's stories, but I also want you guys to read about each other's. I hope these book clubs inspire you to tell your own stories."
Moved by her words of advice, Free Minds member JC shared, "She inspired me to see that I can go for my goals. I want to write two books."
We can't wait to read JC's books as he joins a community joined together in the joy, healing and insight writing provides.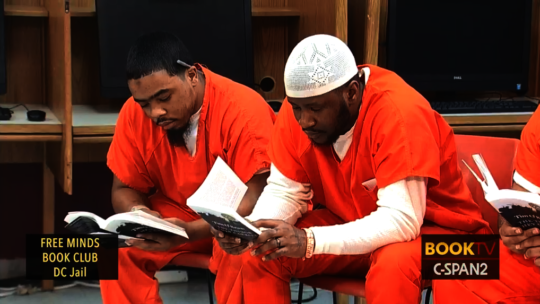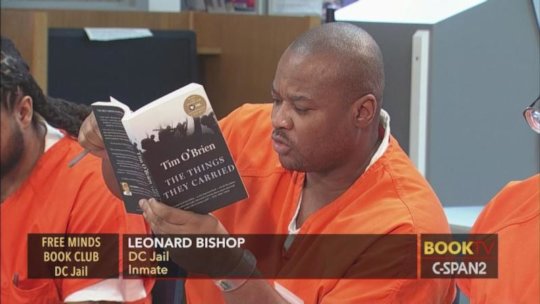 Attachments: