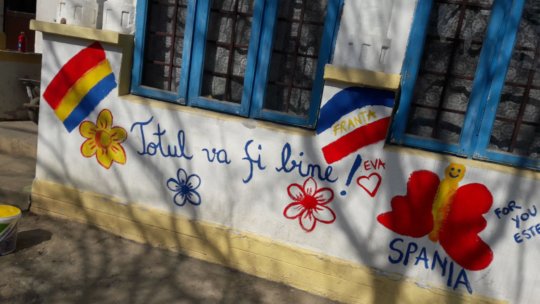 This year, the Easter period was very strange, for everyone.
In Panciu, Easter was lived with the hope that the Pinocchio Center will open soon again its doors to the children as soon as possible, and the rooms will see its tables occupied by the little smiling guests with the steaming plates in front of them, and the atmosphere will be full of screams and laughter, as before.

In fact, due to the Covid-19 epidemic spreading in Europe, the Romanian government has issued restrictive traffic measures and other directives to prevent the spread of the virus, and since 11st March 2020 schools have been closed and they will be closed until next September.
So, the Pinocchio Center has to adapt to the government provisions for the wellbeing of children and of their families. In fact, for them who live in limited and crowded spaces, in precarious hygiene and health situations, the infection is very risky. The block of movements and the reduction of jobs have made situations of poverty even more difficult.
The Center is closed but the Solidarity goes on...

Monica, the teacher, and Mihaela, the cook, together with the volunteers Agnese, Eva and Estefania are keeping the contacts with the families and the children at home. They are weekly preparing and delivering packages to the children in need with food, clothes, school and hygiene materials.
During the Easter week 14 bags were brought to Valea Brazi, where some of the poorest families of Panciu live.
Monica said "It is difficult to keep the distance: the children ran to me smiling and greetings, my heart broke and tears came to my eyes to see them in that situation, without anything and we are not even allowed to play with them in this period, it is very sad. We have to do something."
That's why we are making an extra effort and we would like to go on and continue delivering basic need issues at home to the poorest families.
We are repeating to ourselves the motto "Everything will be fine". The volunteers wrote it on the wall of the Centro Pinocchio, in Romanian: "Totul va fi bine".
We really want to thank you for your support and wishing you can tell to other friends about our project and so we will be able to multiply the Solidarity.
The epidemic is stopping many activities but the solidarity can go on!