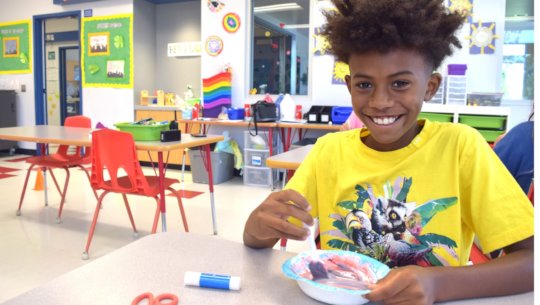 Your support is making sure that moms like Ana have one thing they can count on in these uncertain times - the Boys & Girls Club. Ana says, "The scholarship to the Boys & Girls Club does wonders for our family. We recently moved to Orange County and our rent nearly doubled! Both my boyfriend and I work 40+ hours a week. Due to the stay at home order, he was not working for two months. So, now we are getting back to normal and getting on our feet financially. This scholarship makes one less thing for us to worry about financially. We are so grateful you are open so we can each continue to work and the scholarship takes a significant load off our backs.
When we started to look for a place to care for my son while we're working, I thought of the Boys & Girls Club because I was in Boys & Girls Club as a kid. I knew my son would love it, and he does. We know that the pandemic has been hard on everyone, including the kids. But, Mason talks nonstop about the fun he is having at the Club and we want him to continue enjoying that. It feels good to know he's safe and happy while I'm at work."
From one generation to the next, the Boys & Girls Clubs of Huntington Valley is a place that families know they can always rely on. In these difficult times, that means a lot. Thank you for making a difference to families like Ana and Mason's by supporting the Boys & Girls Club.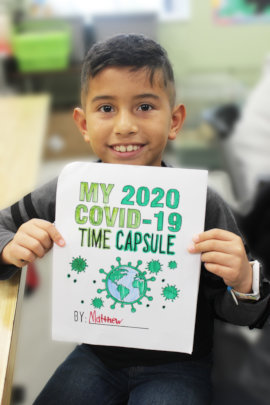 "My husband and I are both ER nurses, and we've got a one year old and a four year old, who both attend the Boys & Girls Club's Robert Mayer Preschool. I will never forget working in the ER, watching the closures of the schools in surrounding counties, just waiting for the call from the Boys & Girls Club that they were closing their doors due to COVID-19. To my surprise, it NEVER happened. I personally called every day, worrying about what my husband and I would do with our children if everyone were home not working, while we remain on the front lines working overtime. Every time I called, I was consistently reassured in a sweet, loving, and supporting way, that the Boys & Girls Club would remain open. I don't know what my family would do without the Boys & Girls Club."

Thank you for making stories like this one possible. With your help, the Club is able to stay open and keep providing care for the children of essential service providers. Part of the Club's mission is to help those who need us most. Right now, the children who need us most have parents who have to go to work each day, even in the latest lockdown. Their parents are healthcare workers – doctors, nurses, medical assistants, orderlies, and more. Their parents are grocery store workers and important parts of the supply chain that help you have all the supplies you need to stay home and stay safe. Their parents are the people that you count on to keep our community up and running, even in the worst of times.

And each of those parents that you count on? Well, they all count on the Boys & Girls Club. Instead of leaving a 7 year old home alone all day to fend for themselves, parents know their child can come to the Club. Instead of having to quit their job and stay home with a toddler, parents know they can drop their little ones off at the Club's preschool and head to work confident that their child will be well cared for.

Moms and dads know that when their kids are at the Boys & Girls Club, they don't have to worry and they can focus on the important jobs that our community needs them to do. We couldn't do that without you. The Club stays open because it's the right thing to do for the families who need us most, but each week, the funding gap between program fees and the cost of staying open is about $25,000. If you would like to pitch in to help fill that funding gap in order to make sure that the children of our community's COVID-19 heroes can continue to have a safe place to go each day, please make your gift today.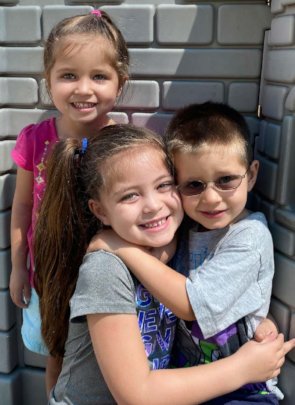 Heather is a mom of three children who all attend the Robert Mayer Child Development Preschool. She has twin toddlers and a daughter who is almost ready for kindergarten. She would like to share with how grateful she is that your support has made it possible for her family to continue to count on the Boys & Girls Club during the pandemic. She writes:
"When most other preschools closed due to COVID-19, the Boys & Girls Club's Robert Mayer Preschool stayed open. This was huge for us, because both my husband and I are essential workers. We needed to continue working and had no one else who could watch our children.
Each of my three children started at the Club at just 3 months old. It was clear from that very first day that we brought my oldest to the Club that we made the right choice. The love, compassion and care the teachers and administrators have showed to our entire family has been nothing short of exceptional.

The staff at Robert Mayer and the whole Boys & Girls Club organization have been and continue to be so important to us and we are so thankful for them. Our family has had our ups and downs and the Boys & Girls Clubs of Huntington Valley has always been there to support us. When my husband lost his job, the Club worked with us and provided some financial assistance when we needed it to ensure that the children could continue their attendance, which allowed my husband to secure a new job. We are truly grateful for that assistance!
The Boys & Girls Clubs of Huntington Valley has become family to us. And as their slogan says, 'Great Futures Start Here.' We agree with that 100%! We know our children will have great futures, and that's largely due to the great educational foundation, kindness, and care they continue to receive at Robert Mayer Preschool. Thank you so much and we are forever grateful."
Your support is what makes it possible for the Club to always be there for the kids and families who need us most. Thank you.
WARNING: Javascript is currently disabled or is not available in your browser. GlobalGiving makes extensive use of Javascript and will not function properly with Javascript disabled.
Please enable Javascript
and refresh this page.