As a school that prides itself on providing the best educational opportunities for its students, we are always looking for new ways to inspire creative learning at Arlington Junior School. That is where our new newsletter, "Mulembe Magazine," comes in.
Originally inspired by Head Teacher Sarah, our student-written newsletter has become a way for students to get a taste of journalism and artistic expression. Every term hosts different events, activities, and visitors. Students are encouraged to report on those happenings to keep our international and local supporters up to date on the latest news at AAH. In the newsletter's "Creative Corner," pupils have the chance to create everything from poems to drawings to creative stories.
The former International Coordinator Danielle, along with the librarian, Phiona, created a Newspaper Club to increase participation in working on the newsletter. After recruiting students to join and setting up monthly meetings, the club participants select student editors to edit all content. Student club members also write and edit departments on local news, visitor news, and the creative corner. The hope is that this club will inspire students to think critically of all the events that happen at AJS as well as spark interest in journalism.
Click here to read the lastest issue!
Links:
Growing up in rural Uganda and attaining a good education is a big challenge to many, especially those who come from very needy families. Overcoming this challenge has been Arlington's goal from the start.
In 2004, we opened our school and started educating 350 students in the primary level. We then expanded our program and partnered with government schools to increase our impact. What started as a small program has expanded into the Outreach Program that works with 26 underfunded public schools in Bududa and Manafwa Districts.
In 2016 we partnered with Tuckahoe Elementary School in Arlington, VA to become a sister school to one of our Outreach schools. The relationship quickly blossomed as the principal became a huge advocate for supporting education in Uganda. The Tuckahoe community has helped to fundraise for library books, the construction of a school kitchen, and the school's feeding program
This year at Matuwa Primary School, seventeen second grade students have seen their lives changed because of the sponsorship program that was introduced to their school this year. Orphans and children from very needy families were identified as in need of additional support to keep them in school and confident about their studies. The Tuckahoe community again jumped to the occasion to help Matuwa by sponsoring these students through AAH.
In addition to receiving school fees, the students were happy to get new books, pencils, backpacks, sharpeners, a pair of shoes, and a pair of stockings. They also have had their meals paid for at school and were given a new uniform. All these supplies have helped these students to stay in school and focus on their studies. The Matuwa sponsorship program wouldn't be a reality if it weren't for the strong partnership with Tuckahoe Elementary School. Thank you, Tuckahoe!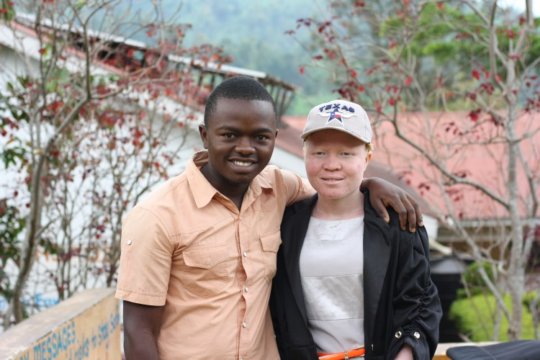 Last year Godfrey and Peninah worked hard at their secondary schools to perform well on their national exams that mark the end of their secondary schooling. They received some of the top scores in the country. Now, we are so happy to announce they have been awarded a scholarship by the Ugandan government to continue their higher education!
Godfrey and Peninah can remember how hard they worked to ensure their success. "It was hectic. I used to study all night because I wanted to get the maximum points," said Peninah. While studying hard and revising notes with friends at school, Peninah can also recall some great words of advice that helped her push through the many hours. One of her mentors at school said to her, "Don't read to just pass, read while calculating what you have invested in your education. Make sure you do well so you utilize what you've paid for this chance."
Thinking back on all of the support that her sponsors had put towards her education helped her sure she was getting the most out of her opportunity of being at school. In the fall, Peninah will be attending Makerere University to study Education and Literature.
Looking towards the future, Godfrey is so grateful for the opportunity to continue his studies at university. Godfrey will be heading to Gulu University to pursue Medicine and Surgery. This chance, "is a dream come true" for him. "I had no hope of doing this course because of the financial burden, but I am so happy to be living my dream by continuing to study medicine."
As Peninah and Godfrey prepare to make the big transition to university campuses across the country, we are nothing but confident in their future success.
Links:
WARNING: Javascript is currently disabled or is not available in your browser. GlobalGiving makes extensive use of Javascript and will not function properly with Javascript disabled.
Please enable Javascript
and refresh this page.