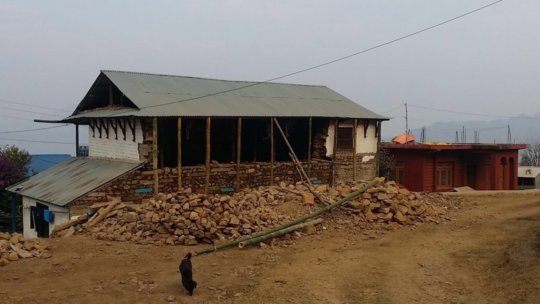 Homes in Nuwakot are being rebuilt after last year's devastating earthquakes. Mohan Raj Bhatt, National Program Coordinator for Hope for Nepal, reports six houses have been completed. Recent heavy rains have slowed construction, but progress is being made.
In addition to the efforts of our partners, each family is participating in the construction of their home by contributing finances and labor. This, says Mohan, is something the people wanted to do. They have waited so long to rebuild, it is encouraging to them to take part in the building.
Hope for Nepal has also been able to provide some counseling for quake victims, who are still suffering from the psychological trauma of the quakes.
THANK YOU for your generous support of rebuilding efforts in Nepal!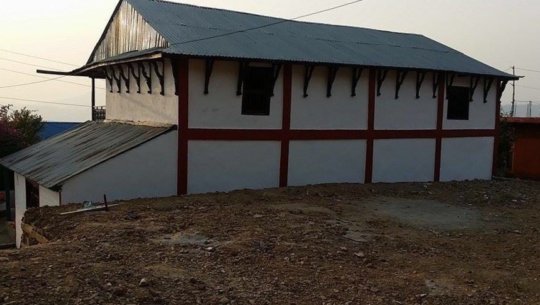 Links:
Thank you for supporting education and care for children in Uganda!
As Bridges for Children moves into a new season (see our previous update), the program is being reworked for the purpose of providing more personal, holistic care for each child. As we go through the transition, this project will be deactivated, but we're still working to help children overcome the many challenges they face.
You have helped to provide school fees, medical care, shelter, and hope to hundreds of children in the crowded Kitintale slum. Graduates have found jobs in teaching, auto mechanics, radio, retail, catering, and accounting. Thank you!
We are now in the second term of the school year. Eighteen students are in secondary school, and eight will take o-Level exams in the fall. Ninety-six children continue in primary school.
At Sara's farm, the chickens are laying, and egg sales are going well! Many chickens were lost recently due to theft, but the person was found out and things are better now. So far this year, the farm has helped to provide 196 uniforms, and food for primary students.
Thanks again for your support and encouragement!
Links:
An unfortunate reality of the world we live in is any of us could be dealing with a mental illness and even the people closest to us may not know. The most common mental illnesses -- depression, anxiety, and stress -- are experienced by people all around the globe.
In Nepal, where last year's earthquakes left over 8,000 dead and thousands more homeless, people have been living with much trauma and grief. These lives were changed forever, and the psychological toll is real and long-lasting.
Last year after the quakes, the TI mental health team trained 71 informal service providers from churches and community organizations. In September we return to follow up with those trained last year and to train more community workers. These workers are in an area where many remain homeless, and where our partner Hope for Nepal is building homes.
The workers trained last year have reported they are more confident in counseling, as they have learned about peoples' basic needs and reactions to traumatic experiences and grief.
They have been using what they learned in their roles in the community as people continue to cope with the effects of the quakes. They have been sharing what they learned with others.
Thank you for supporting mental health training in Nepal!
Be on the lookout for our next report, as it will bring an update from the field!
Links:
WARNING: Javascript is currently disabled or is not available in your browser. GlobalGiving makes extensive use of Javascript and will not function properly with Javascript disabled.
Please enable Javascript
and refresh this page.