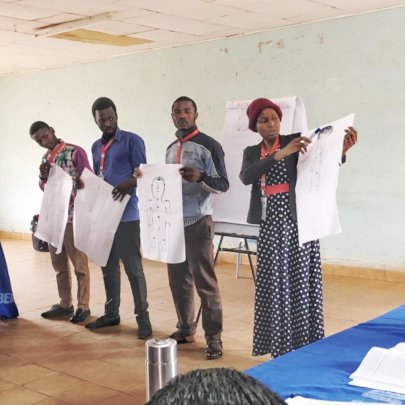 Because of you, hundreds of healthcare workers, church leaders, and other informal providers every year are being equipped to recognize and respond to mental health needs. Let me share a little about why this is so important.
Even in well-off countries like the United States, mental health is misunderstood and under-resourced. Still, we have access to information and resources which many people do not have. Many developing nations do not have enough mental health professionals. In Central African Republic, for example, there is only one psychiatrist for 4.5 million people.
Most people can be helped through counseling. Training informal providers with knowledge and counseling skills makes care available to more people. This is especially important when mental illness is shrouded in stigma and fear. Topics concerning human rights, domestic violence, abuse, are addressed. Often, a single paradigm-shifting thought prompts a participant to take action on another's behalf:
A social worker realizes the 14-year-old who wets the bed is not being rebellious, but is likely suffering extreme stress, sickness--or even abuse.
A pastor recognizes signs of dementia in his mother. According to local beliefs, the symptoms were caused by witchcraft. But now the pastor challenges those beliefs and helps families cope with the changes in their loved ones.
A community worker teaches parents of children with autism that their children are not cursed.
Training participants have prevented suicides, saved marriages, intervened to stop abuse, increased cooperation between healthcare and religious leaders, helped people through grief and trauma, and worked hard to decrease stigma related to mental disorders, epilepsy, and trauma.
Thank you for making all of this possible!
In 2019, we're excited to bring training into new areas. In Cambodia, we'll train house parents working with orphaned children, along with church leaders in two cities. Our first ever program in South America will take place in Ecuador. We continue to pursue opportunities for training in Central African Republic, India, and beyond. With your help, we will train 300-500 people this year.
Links: