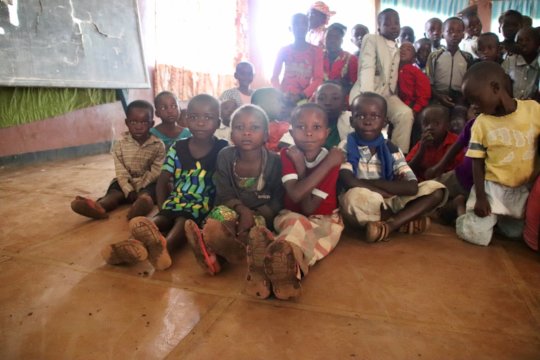 Dear friends,
Thank you so much for making it possible to use edutainment films to protect Africa's great apes and monkeys.
An estimated 3,000 great apes are lost from the wild every year, and millions of acres of their habitat disappear every month. Furthermore, the horrific and rapidly growing bushmeat trade is now considered the greatest danger to the future of Africa's wildlife. The threats to great apes are particularly imminent in the Democratic Republic of Congo (DRC), the only nation that is home to all of Africa's great apes. Recent research found a shocking decline in eastern lowland gorillas of 77 percent since 1995 and a decline in eastern chimpanzees of 22 to 45 percent.
A root cause of these threats to great apes is a pervasive lack of awareness among the people of Africa about conservation. Many are unaware that the hunting and consumption of wildlife is robbing Africa of its natural heritage, that many species are alarmingly close to extinction, and that the current rate of habitat loss will soon leave Africa without enough forest to sustain some species.
The edutainment films
The Pan African Sanctuary Alliance (PASA)'s Edutainment Films Program addresses this issue. In collaboration with our member organizations across Africa and a number of filmmakers, we are widely distributing edutainment films that are highly entertaining and engaging and contain messaging about wildlife conservation. PASA has secured the rights to distribute more than 25 films free of charge, most of which are in French as well as English. The majority were made in Africa for African audiences and address conservation issues that are highly relevant to the everyday lives of African communities. The fact that the films are enjoyable facilitates distributing them on a large scale, capturing people's attention, and producing lifelong changes in their attitudes and behaviors that affect wildlife.
The films address topics such as the illegal hunting and snaring, arrests and imprisonment of poachers, consequences of trafficking wild animals and wildlife products, the illicit pet trade, ways to resolve human-wildlife conflict, and habitat exploitation. Some of the videos provide viewers with the animals' perspective, to instill empathy and teach them that animals have the capacity to suffer. Many of the plots feature African children who make meaningful changes that protect wildlife, which inspires and motivates African youth who watch the films.
Implementation of the program
The goal of the program is to protect great apes from extinction by educating millions of people throughout Africa about the illegal hunting of endangered species, illicit pet trafficking, habitat destruction, and other conservation issues, and inspiring them to take action. Your support has made it possible to implement this program in the Democratic Republic of Congo, where lack of public awareness is a significant barrier to reducing the wildlife trade and habitat loss.
Because of your support, the program has reached 29,932 people (16,580 children and 13,352 adults) in D.R. Congo and motivated them to change their current and future actions in ways that reduce their negative effects on great apes and their habitat. Because parents act as models for their children, the program's impact is expected to persist for generations.
Each of the Pan African Sanctuary Alliance's member organizations in the Democratic Republic of Congo has a deep understanding of the local culture and has connections with school administrators, government officials, and other influential people that result from working in a country for decades. After obtaining permission from administrators in education departments and schools, PASA members largely distributed the edutainment films by integrating them into their diverse outreach and education programs in schools and in communities, using their existing program infrastructure to maximize the reach of the films.
Lwiro Primate Rehabilitation Centre (CRPL) in South Kivu, eastern D.R. Congo, is in a hotspot of biodiversity. Their staff added the films as a component of their education programs in order to provide a new approach to conservation education. They use the films to inspire teachers as well as students in 14 schools around Kahuzi-Biega National Park, as well as Roots & Shoots clubs for youth who want to protect animals and the environment. Many schools in the area lack televisions and computers, but you enabled PASA to provide Lwiro with projectors, extra batteries, and related equipment so they can show the films in areas without infrastructure.
Lola ya Bonobo is located outside D.R. Congo's capital of Kinshasa. Lola runs education programs that engage students and teachers in schools throughout the Kinshasa area, including "kindness for nature" clubs. They also hosts school groups, "kindness for nature" clubs, and other visitors at their sanctuary. Lola's community awareness programs surrounding the Ekolo ya Bonobo conservation area, which is their bonobo reintroduction site in a remote area of D.R. Congo, reach tens of thousands of people.
Lola integrated the edutainment films into all of these education and awareness activities. Their staff use projectors and batteries provided because of your support to show the films even in the absence of electricity. Around Ekolo ya Bonobo, they often show the films in village centers and markets, and many residents of all ages come out to watch. Following screenings of the films, Lola's outreach staff host discussions that reinforce the films' lessons.
Evaluation of the Program's Impact
A subset of program participants is selected to participate in the program evaluation. We use a pre-test/post-test format that consists of asking the same questions before and after the program to show changes in responses to each question. The evaluation questions were designed to assess people's actions, behaviors, and opinions, more than their knowledge, in order to determine the program's effects on wildlife. The questions include diverse topics such as consuming bushmeat, keeping wildlife as pets, and empathy for animals.
We compared the responses to each question in the pre-test and post-test. Of the 18 questions that indicate people's appreciation for wildlife and nature and their understanding of threats to conservation, respondents demonstrated increases in 15 questions, with
changes of up to 63%.
Highlights include:
• An increase from 50% to 89% of respondents who said they would never eat bushmeat from any wild animal
• An increase from 37% to 100% of respondents who said they know that eating ape bushmeat can make them sick
• An increase from 60% to 100% of respondents who said it is better to grow food than hunt wild animals
Furthermore, through conversations with leaders of the PASA member organizations, we learned about effective implementation of the program and the resources needed, which enables us to improve the methodology and increase the program's conservation impact in future years.
The implementation of the program and the evaluations are ongoing. We will conduct further assessments to determine the long-term results of the program on people's behaviors that have effects on conservation.
Conclusion
The Edutainment Films Program has already reached 29,932 people in D.R. Congo, and because PASA member organizations are continuing to show the films to large audiences, the program is expected to influence many more in the coming years. The conservation value of your support for the program will continue indefinitely.
On behalf of the Pan African Sanctuary Alliance and our member wildlife centers across Africa, I would like to thank you for your invaluable support. You have made it possible to provide innovative, engaging lessons in conservation to tens of thousands of African youth, in addition to enabling us to launch a program in D.R. Congo which will continue for many years to come.
All best wishes,
Gregg Tully
Executive Director
Pan African Sanctuary Alliance
gregg@pasaprimates.org
+1 971 712 8360
pasaprimates.org
facebook.com/pasaprimates