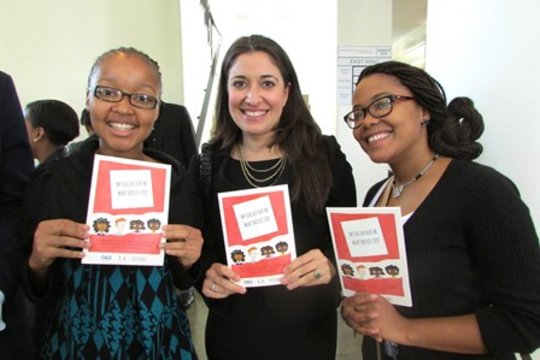 On the 11th of April 2014 Lawyers against Abuse (LvA), along with two of our partner organizations, CALS and SECTION27, launched "My Teacher Hurt Me What Should I Do?", a handbook for students, parents and communities in dealing with sexual violence. The launch symbolically took place at the Women's Jail on Constitution Hill. Once a prison for political dissidents during the Apartheid Era, Constitution Hill is now the location of the Constitutional Court and a symbol of democracy's victory over racial oppression. Although South Africa's progressive Constitution guarantees rights to all, the reality on the ground is very different and levels of sexual violence in our society remain extremely high. The choice of the Women's Jail as the venue for the launch was a stark reminder that too many women in South Africa remain trapped in their fear of violence and the knowledge that too often the system fails to protect them.
The launch served to introduce the Handbook to educators, state actors, media and other NGO's working with victims and survivors of sexual violence. The Handbook acts a guide for children, families and community members in managing sexual abuse in schools. It is written in such a way as to make it accessible to children from the age of nine upwards. In our work, we often experience how difficult it can be to navigate the criminal justice system and how reporting sexual abuse can be a daunting and sometimes impossible task for victims, especially children. The Handbook not only informs the victims of their rights but also provides information on the necessary places to go to and what they, as well as the state actors, need to do. This is the first step in ensuring that victims receive knowledge that can empower them to report incidences of sexual violence.
Representatives from four NGO's spoke about the next steps of the campaign, which include distribution of the Handbook and educating youth, through workshops, on the nature of sexual violence and their options when violence occurs. LvA has already begun conducting workshops with schoolchildren using the Handbook as a tool. Our workshops also seek to engage students on misconceptions and stereotypes that often create a stigma around sexual abuse and therefore become an obstacle to reporting. Finally, in order to ensure accessibility and facilitate distribution there are currently plans in place for translation of the Handbook into the other official languages.
The launch was highly successful with over a dozen organizations, including media, NGO's and schools, requesting copies of the Handbook. At the launch LvA's founder, Professor Bonita Meyersfeld, compared combating sexual violence to "a bus that people get on and off of", providing insight into why the problem of sexual abuse remains prevalent. Her challenge to the audience was clear: dedication and momentum are needed to create an impact and our hope is that the Handbook can serve as a starting point for action in communities and schools across the country.