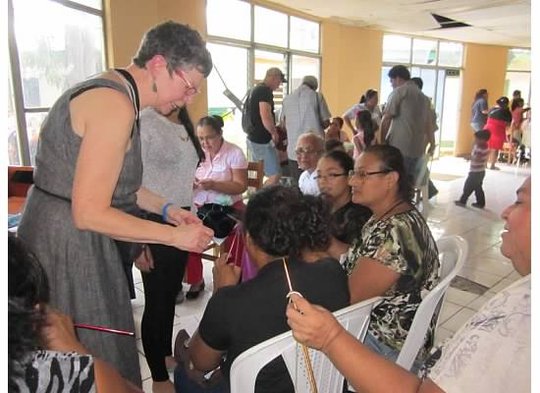 On an annual basis, Wisconsin/Nicaragua Partners of the Americas, offers a special travel opportunity (self-funded) to get an up close look at the Learning Center Project. The Learning Center Trek is a great introduction to Nicaragua, and provides a clear understanding of how "working together, does make a difference". The financial donations and in-kind support from a wide variety of people have significantly helped expand the scope of classes offered through the "Sewing Centers" turned "Learning Centers", so it is only fitting we offer an opportunity to see first-hand the Learning Center Project in action. The self-governed Learning Centers in Nicaragua have become very successful as they address the desire for continued education and learning new skills.
This past February, W/NP volunteers shared workshops at three of the Learning Centers. The following is a post-workshop report written by the women of the Erlinda Lopez Learning Center.
"For six consecutive years, we have had a pleasant visit from the people of Wisconsin in our learning center "ERLINDA LOPEZ", this visit has been a boom, since in these visits the people of Wisconsin have taught over four hundred women from Managua in different crafts (canvas, jewelry, fashion, bag making, preparation of cases, Christmas ornaments, ribbon work, weaving, glass work, etc.) The knowledge shared from each class is making each woman to improve home economy, improve their self-esteem, reproduce knowledge to other women and families, a better personal growth and even to create small businesses.
Also having a first aid course has helped us to prepare for any emergency, we are in a country in permanent emergency because of the floods, tsunamis, earthquakes, landslides, volcanic movements etc, so then to train women in first aids is more than important so that they can save lives, preserve lives, All this learning experience gives greater value to teaching received.
On Feb 26 and 27, we felt deeply grateful and blessed with the presence of the friends from Wisconsin. I'd like to point out the glass recycling class received on the 26th, we felt it was spectacular and now women are giving use to glass bottles before they throw them away, incomes are being generated for sustainability of the families. This gives us satisfaction as we are generating capacities in women who help their financial situations and personal growth. At the center Erlinda Lopez we work with 55 women but had a total of 113. That means 58 women were from other learning centers (participated). They all had the joy to participate in all the different classes taught."
Reviews of learning at Erlinda Lopez Learning Center
We appreciate your time and dedication
We are happy that you visit us every year but we'd like it to be twice a year
Thank you for teaching because it also teaches us to work
We are happy that you come and teach us crafts so that it helps support the household economy
Your visit is important for exchange and learning experience
Thank you, your visit lifts our self-esteem and teaches us to develop skills
Thank you for teaching us and share your time
Knowledge makes us free and independent economically
With the learning, we can teach other women and involve their families
Thanks for the eyeglasses
We hope you come back soon with volunteers so that we can continue to learn
Thanks friend from Wisconsin for thinking and supporting women in Nicaragua
Thanks for being a humanist, for teaching us to be better
Finally, the collective group of women would like to thank all volunteers from Wisconsin, towns, women, youth, third age people, housewives and children, -- we have hopes, dreams, goals, and together we can build a better world of entrepreneurs and peace.
By: WOMEN COLLECTIVE CASA ERLINDA LOPEZ