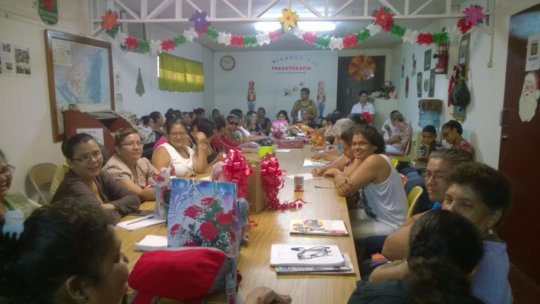 Monthly Learning Center Meeting (September 2015) by: Leonor Guerrero, volunteer coordinator
"The enthusiasm is evident in every group of women, all ready to learn and participate in activities and happy to receive the gifts which motivates them even more. The most important part of the organization's commitment is to have mutual leaders for family and community development for improved quality of life." Leonor
A very good monthly gathering with 32 Learning Centers represented including: Rosa de Tipitapa, San Gabriel de Villa El Carmen, Erlinda Lopez de Managua, Florence Willia Nellis de Samaria Sagrado corazón de Jesus de San Benito, san Antonio de Villa El Carmen, Dios con Nosotros de Sabana Grande, Guadalupano de Managua, San Judas Tadeo de Managua, Grupo Fanny de Managua, Gloria Chavarría de Managua, Unidas en un solo Abrazo Timal Tipitapa, Carolina de Managua, Las Muñecas de Chiquilistagua 2, El Carmen de La Paz Centro León, Todo lo Puedo en Cristo de Managua, Renacer de San Juan de Oriente, Isabel´s de Managua, Hossana de Masaya, Chilamatillo de Tipitapa, Madison Los Cedros /Villa El Carmen , Gracia a Dios de Cedro Galán, Brazos de Amor de Laureles Sur, San Vicente de Paull Managua, Buena Vista Piedra Quemada Masaya, Manos Solidarias de Mina Rosita, las Camelia, Achuapa, y Santa Rosa de Nueva Segovia, Esther de Acahualinca Managua.
We were asking for the assistance of everybody as part of the agenda, giving special welcome because some came from many parts very far away, they are leaders of each center. We requested that they report on the performance of the pillow course taught last month, we have taken like a rule that in each monthly gathering they report performance of their products made in the last meeting day and we can see the learning level that each one is having.
The first group will learn how to make a purse with recycled bottles from teacher Rosa. We could see how to use the plastic soda bottles, the bags were useful and beautiful to elaborate. It will be our challenge to finish the bags, and be able to present the finished bags in the October gathering.
For the angels, we formed two groups of 15 participants, one with Lea, and the other group with Leonor who taught how to decorate with foamy and different things, very nice to see their creativity and how to use as a table decoration.
In general information we shared that in October we will be doing Christmas rings and others things that have to do with Christmas Eve. It was requested to have quarterly reports ready in order to have a better idea what kinds of materials would be most useful for the classes they are teaching. A shipment of donations is now in Managua and they are in the customs process. Isabel talked again with the project leaders, how having items according to the list is helpful and we are attending the best possible with many requests from the Learning Centers. We sang congratulations to the birthday girl Eslela with the guitar and other instruments.
For the oral evaluations, we requested 3 secretaries, one at each table so they can take the following notes:
Comments from participants about today's experience:
What goals did we reach? We learned new things like how to decorate, work as a team, we learned how to do Christmas angels, integration in the learning different activities, we learned to recycle plastic, we conveyed experience, and we gather new discipline and disposition from the experiences.
Things to improve: be punctual in the class, give reports that have been asked for on time, have time to do all the activities, show how to centers and update all the center´s information.
There was a very nice environment. We took advantage of the time to do handcrafts and there´s a nice dynamic and goal to the project. We learned because will now be decorating our Christmas trees at home.
We could see and feel that we are very organized, it was very nice, the dynamics of the class because we were using something plastic that is recyclable and easy access.
We like the class, this is the first time that I came, I am very satisfied. I can see how to implement these ideas for our homes and our business.
Here we go home, very nice and happy because we have learned and we hope to go on, adding knowledge because everything has a great value we have to leave our problems in our homes.
We say thank you to the organizations and the facilitators, and God bless you a lot.
The work experience that we received was awesome and from part of one our participants was nice, it was the first time that came to the program and have the patience to do hi work.
An angel works to give peace and is a special decoration for many families that believe in Christmas.
This experience is very nice, where we have to put in practice, motivation, enthusiasm, creativity and friendliness.
We received feedback from the gathering and ideas how to improve and add things to make better Learning Centers.
Enough materials to make a good group of work.
We have to remember the next gathering will be October 31st we are going to start at 9 o´clock to 1 pm noon.
Conclusion:
All the participants have shown their ability and talent to develop all the handcraft activities. A good learning experinece to multitask everything that they have learned and will take to their communities. We have to say congratulations for their dedication and patience in all the processes that we have developed in our organization Wisconsin/Nicaragua Partners of the Americas.
Thank you for your interest and support!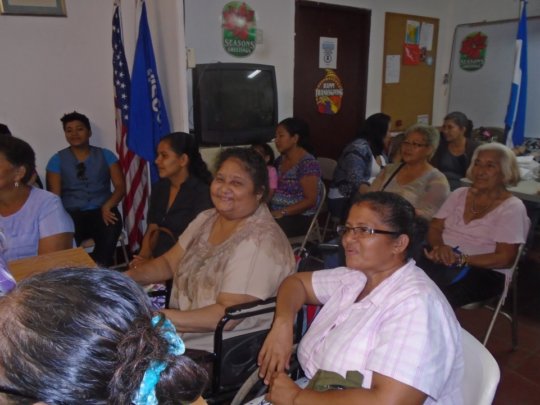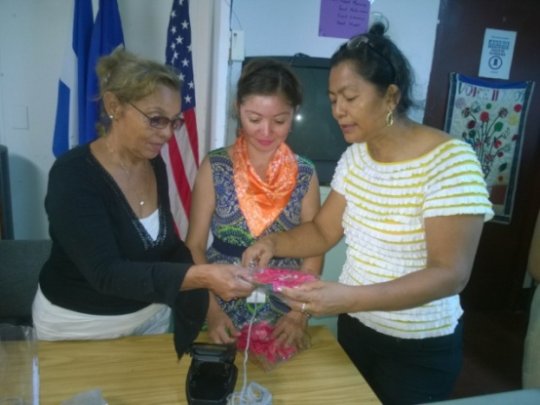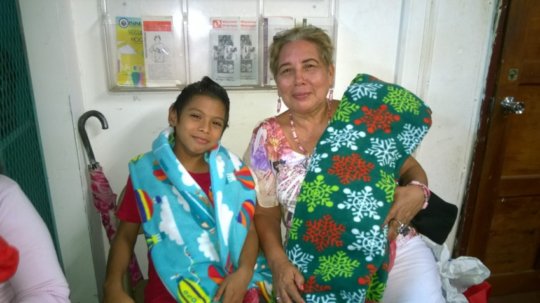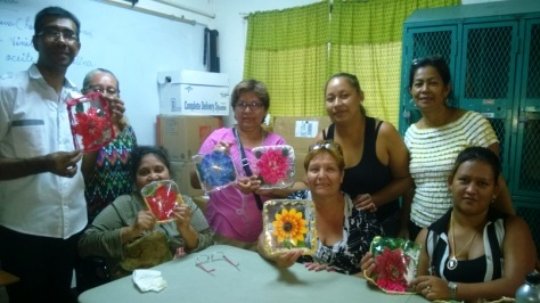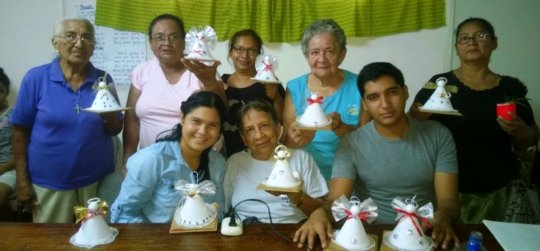 Links: