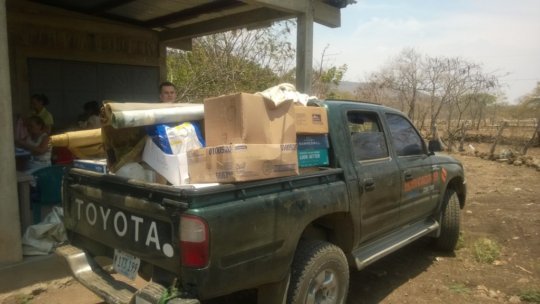 We are excited to share an update from Mirna and Leonor on the activity taking place at Llano Largo, the newest Wisconsin/Nicaragua Partners Learning Center in the northern part of Nicaragua. Many years ago the Learning Center project started as "Sewing Centers", due to the strong desire among the women to learn useful and marketable skills. Today, although other classes are offered, the sewing class remains the most popular and useful. The financial and in-kind donations help to provide much needed materials for these classes. The following is a description of a recent delivery of supplies to the Learning Center, including a brand new treadle sewing machine made possible by the Star Point Quilters Guild donation.
Upon arriving with the Learning Center supplies, we found the group of charming ladies sewing, some were making night gowns, aprons and others were making blouses (see picture of them wearing the blouses). We told them we had a brand new treadle machine, some sewing fabric, spools of threads, zippers, upholstery material for making bags and school supplies packages for the children of the community. They were really happy to hear that. They certainly are a group of enthusiastic ladies with lots of interest to learn. It really caught my attention that no one left until they were all done with their class and clean up the porch of the building.
We are happy to be able to help the community; they are very nice ladies to work with. We are glad you identified this community and told us. Llano Largo was left with 14 sewing machines in total, only one or two were left that don't work. Juan took notes of some parts needed for the repair. Please show the photo to the ladies who collected the funds to buy the five treadle machines for the Learning Centers.
Besides all the sewing supplies, the ladies at the Managua office helped put together 62 school packages (see blue zip lock bags on the picture) to take there for the children. We received a request for sports equipment and we'll be more than happy to help the men as well. We'll wait until all the sports equipment shows up while unpacking and will figure out a way to get it there. We'll also be sending them more fabric and other supplies to work with.
During our visit, we introduced craft ideas explaining how to start making a simple bag; we provided training on how to make handbags. The teacher has 15 participants and is teaching directly on fabric (some use paper first) by which all students are well interested and willing to learn. Also initiated was a project to make the first 10 school uniforms for the poorest children of the community from fabric purchased with your money. We are thinking how to find more help to make more school uniforms. The ladies belong to a cooperative and know how to be organized. In the future as they work on planting onions, tomatoes and others vegetables, they can make projects with pickled onion or tomato sauce like Salsa in jars vacuum packaged, for now it is just an idea, but dreaming is true. When people are enterprising you can do many things…..
Thank you to all who are helping to make this program possible. The women need sewing machines, especially newer models with more features in order to make items that can compete in the markets. Pedal sewing machines are always needed for communities where electricity is not available for them. Also we are in need of resources to visit the centers.
It was a great visit and we are so glad we went to meet the wonderful and humble ladies of Llano Largo!