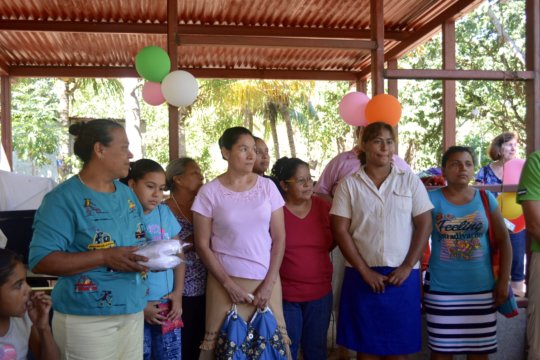 2017 Annual Learning Center Trek
Each year, Wisconsin/Nicaragua Partners hosts a travel opportunity for volunteers to see first-hand how the Learning Centers in Nicaragua function and the significant impact made in each community. February 2017 volunteers shared the following workshops during the Learning Center Trek in Managua, Estelí and Diriamba: Sewing projects; potholder, backpack, passport/money/phone holder, fabric gift bag, and sewing needle pouch. Other workshops included hand massage & nail care, paper box and card making, Tai Chi, CPR First Aid information, reading glass distribution as needed, sewing machine and book repair. The workshops are an opportunity to learn for all involved, building friendships, knowledge and cultural understanding.
Managua Workshop
86 Representatives were sent by 26 Learning Centers
20 WNP volunteers.
10 Translators.
116 Total
Esteli Workshop
65 Representatives were sent by 3 Learning Centers
20 WNP volunteers.
85 Total
Diriamba Workshop
75 Representatives were sent by 16 Learning Centers
17 WNP volunteers.
92 Total
Following each workshop, participants had the opportunity to share comments.
Marina said, " The experience was wonderful, since we can teach what we learned today in our Learning Centers.
Estela, San Benito Learning Center commented, "So grateful for learning how to make backpacks, since in my Learning Center a lot of children are in need of a backpack. Now, I am able to teach them.
Hilvia shared, "We are so glad for the learning and knowledge acquired."
Flavia from Carolina Learning Center, "Thanks to all people involved. Thanks Jasmina for letting us use her Learning Center and especially to our brothers and sisters from WI, USA. Thanks for all the energy that you bring and make us feel that we are not alone."
Ronald from Diriamba, "Having Wisconsin/Nicaragua Partners as an ally is a formidable advantage. Thanks to W/NP we have been operating through 25 years uninterrupted of helping young and elder people. In recognition to the remarkable support we have been receiving through so many years from W/NP; a decision was made to present to the Representatives from WI, USA a craft based on our City Clock, which is well known through the whole country."
Chepita from Gracias a Dios Learning Center share a very meaningful comment, "This is a chance for me to feel joyful with so many happy faces as can be seen in this room; joyfulness that comes from realizing trainer and trainees can achieve our goal, which is to learn a way to earn living by making crafts, sewing and many other abilities just like we had on this day. It is very important to state that all these achieved goals are possible thanks to Wisconsin Nicaragua Partners down here in Nicaragua and in the USA. I can tell that through 16 years I have seen many people who do not have to make laundry and ironing for other people, now they can say I work in bakery, sewing and so on. I thank you all partners, God bless you all and hope to see you all next year again."
In addition to Learning Center workshops, site visits along the way were also part of the itinerary. Villa Japon is one of the more poor communities in which W/NP has a Learning Center that empowers and encourages people to motivate themselves to find a way out of their economic and social situations through classes, workshops and projects facilitated by W/NP Managua Office. The simple black tank and pump now provides water to 250 homes for the first time.
Another part of the trip includes delivering sewing machines purchased in Nicaragua by donations from W/NP supporters. One the sewing machines went to the Esteli Fire Department upon request. Firefighters Station Chief Marcio commented, "After all we (firefighters) have witnessed, I do propose to use the building in the back for Learning Center workshops. In the name of the Benemeritus Corp of Firefighters, I thank you all from the W/NP Managua Office and to the Board Members in WI, USA for all the help (donations) sent to help us serve the Nicaraguan people. In addition, I would like to thank you for the needed and vital sewing machine donated to this fire station that we will use to fix and repair some damaged uniforms.
Incorporating international volunteerism into Wisconsin schools has been a priority for Susan, a Spanish teacher from Oak Creek Wisconsin. She has her Spanish Language class students make books (in Spanish) as part of the class curriculum, once books are completed; they are graded and donated to the W/NP lending libraries in Nicaragua. It's a win/win for everyone! The Learning Center Trek travel group hand carried the books to Nicaragua for distribution during the Learning Center Trek. Also distributed were the beautiful quiltlets (a quilt with no inside batting), made by Wisconsin Association for Home and Community Education members and other volunteer groups from Wisconsin.
Thank you for your support to the W/NP Learning Center Program and helping women like Chepita provide opportunities for women in Nicaragua to help themselves by learning new skills and have a dignified source of income.