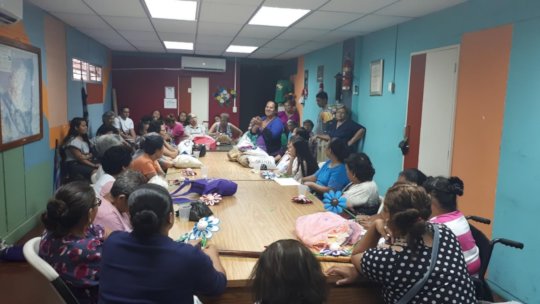 The monthly meetings for the Learning Center program are held the last Saturday of each month at the offices of the Wisconsin Nicaragua Partners of the Americas in Managua, Nicaragua. All are welcome and attendence continues to be between 40 – 50 people. The gatherings typically begin with a prayer giving thanks to God for the good things of life and for being able to participate in the meeting. Each person makes a self-presentation indicating names, where they come from and which Learning Center they belong to so that they know each other and which classes are being carried out in each community.
Highlights for the July meeting included a new leader named Brenda, who traveled 253 km a day earlier to be in Managua and participate for the first time. Ana Julia shared how to make a craft with foamy. The whole group was very enthusiastic. The participants were reminded to make their statistical chart to keep the information updated of all the training carried out in the Learning Centers, that the quarterly reports must be delivered, they must be true, with accurate information and with a few photos.
Comments from participants:
Erayda, from the Hossana center, brought two students to learn about the organization and they shared that they are very happy to have participated. At this time they are learning sewing and feel grateful for everything they learn in their community. They have a group of eight women making different items, selling them in places in the community, which makes them very enthusiastic.
Estela, I add that they are working well. There are people who think that working with children with disabilities cannot be done, but she affirms that it can, since they are taught gradually, they are cooperative and learn.
Soyla, shared how that they are doing sewing and weaving. They also think about making a project, a soup kitchen for people with scarce resources, she is happy to be able to support her community.
Highlights from the August meeting included a special class to make women's trousers taught by Janina from the APAN (Asociacion Pro-Ayuda a la Ninez Nicaraguense) Learning Center in Diriamba. All the participants committed to bringing their finished garment to the next meeting end of Septemeber. Vilma, supported by Flor de María, her daughter, taught how to make doll keychains using leftover fabric and trimmings, to recycle materials. It is a craft that can be sold easily to raise funds for your center.
Evaluations:
Marina – "The class was excellent and I liked it because the keychains will recycle little bits and pieces of fabric materials." The women also asked to reactivate the pastry classes.
Eraida – She shared her experience, sleepless and tired, "I come because these training sessions are very important and then I can multiply and sell the items."
Vilma – "It is satisfying to teach my crafts and have them reproduced in each center. The buttons are expensive, but everything works for us."
Martha – "This will be shared with parents, and our colleagues, for the different times that we work with recycled materials.
Estela – Told us that we all need to come to these meetings to exchange knowledge and support. "We have 10 years of being together and we are grateful for everything that machines and materials allow us to create. At the beginning I came and went with the materials, to do the sewing class, and now I carry the beautiful handcrafts for my children. There is a fair in October and we are already doing many things to sell there. For our promotion I am making a brochure."
Participants were reminded that the organization is non-political and does not distinguish itself from religion, race or political party and that in this way it is possible to work in harmony and for the most needy. Recommend tolerance and be more generous.
Thank you to all who continue to help the Learning Centers thrive in Nicaragua, even amidst very difficult circumstances.