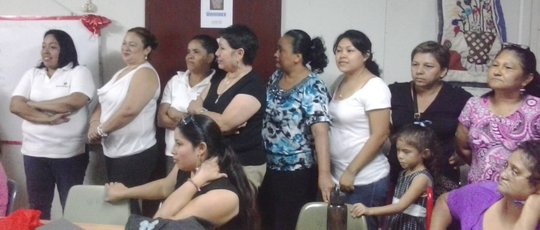 March 2013 Update from Wisconsin/Nicaragua Partners on the Learning Center Program:
The W/NP Learning Center Program is prime example of how women in Wisconsin are working with women in Nicaragua to guide the self-governed Learning Centers. Altrusa, Rotary, Women's Clubs, individuals and Home & Community Education members around the state are collecting donations and much needed sewing items that are sent to the women in Nicaragua for their classes. Monthly meetings are held at the Managua Office in Nicaragua to offer additional training and information. Each year a new committee in Nicaragua is elected, we are pleased to share with you the new Learning Center Committee for 2013.
In photo from left to right Lilliam (Rosa) Gomez - President, Suyen Cerda Martinez - Vice President, Petronila Solis - Secretary, Vilma Arauz - Vocal, Marcia Velasquez - Treasure, Guadalupe Lopez, Elizabeth Alvarado, Olga Foseca - Vocals.
Sometimes people wonder, how does the Learning Center program really make a difference?
In 2011, Petonila shared her comments with us:
I started in the Learning Center Program in 1991 at the Cedros community taking sewing courses, knitting and embroidery, in 2000, at the same center was given a course of embroidery machine with which I began to form part of the Chica Nica project, today I am president of the committee.

Four years ago I participated in the VOICE Project, in which I was trained on leadership and self-esteem. At this time we were encouraged by Mrs. Sherin Bowen to get train and be successful. Last year I started getting economical support from the Learning Center Project to start my studies in a three –year technical carrier on handcraft teaching. In addition, this year I started to study for to get my high school diploma.
I have been teaching smocking at the office for 2 years. Last year five women of my class received their diploma and hopefully I will have more women learn what I know by the end of 201since I have already started with the teaching.
I appreciate all the support Wisconsin/Nicaragua has given me and I am always willing to work and help according to my capabilities. PETRONILA SOLIS BLANCO
Two years later, in 2013, we learn that Petronila has been successfully admitted at the very prestigious National University, passing the admission test.
"One comment I would like to add somewhere or to point out is that Petronila Solis is a very real example of how Sherin Bowen´s (www.sherinbowen.com) inspiration to empower women is flourishing.
Well, Petronila, through the LC program, and as one of the oldest and best examples of volunteerism, got registered at two different national programs. One in where she would get the handcraft teacher certificate, and the other her high school diploma.
Successfully, she graduated from high school in November 2012, which will lead her get the first goal at the end of the year 2013.
Finally, she challenged herself to take the admission test to enter the National University to move on her last goal, a College degree in English Education." - Isabel
Our immense gratitude goes out to all who are helping to keep the Learning Center program alive, it is making a significant positive difference in the lives of many Nicaraguan women and we invite you to continue your support today.