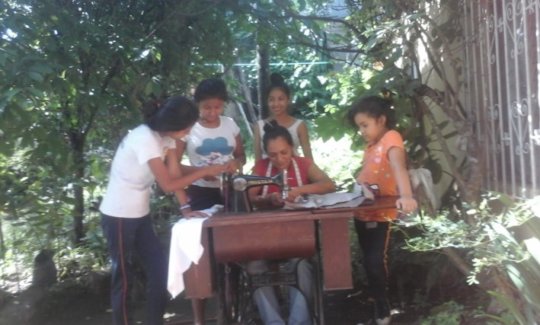 The following information was reported to Wisconsin/Nicaragua Partners from the Learning Centers in Nicaragua on their current status in April 2020 during COVID-19. The women who are coordinating these projects are a true example of persevering in a positive manner amidst very difficult circumstances. We are all adjusting to some unexpected changes in our life, and the Learning Centers are no exception.
The Zulema Duarte Learning Center in Acoyapa, Chontales is teaching a craft course with a group of 4 students, twice a week for two hours. During the week, a group of 20 students attended, 17 women and 3 men. We'll be waiting for recommendations from the local MINSA, since many Nicaraguans from Costa Rica are entering, and they asked us to cancel classes for a week until after April 20. A stark contrast from April 2019: During this second semester the Training Center "Zulema Duarte" Acoyapa, trained 344 women and men in ages from 6 to 80 years old in the urban and rural areas, offering the following courses: cloth art, decoration of cakes, wrapping or Gift wrapping, wool work, beauty and training in schools and neighborhoods with teenagers.
Gracias a Dios Learning Center in Cedro Galan has closed the center temporarily due to the virus situation until further notice. It was working with basic sewing courses with the participation of 12 women on schedule; Wednesdays from 1:00 pm to 4:00 pm and the baking class; Saturday 8:00 am 12:00 with the participation of 10 students. Chepita is restarting her garden project with medicinal plants, working on nurseries and preparing to plant some vegetables. Hope to God to be able to resume classes once the situation improves.
SMILE Learning Center (Managua) works with children and retired adults. Classes are not in session since March 16 and Yuri reports, "...my sister and I are making facemasks to donate to universities, neighbors and random people who needs them. We give short talks on virus prevention to people (children, poor families and older adults) who are given the masks with soap bars donated from Wisconsin/Nicaragua Partners. Due to Covid-19 the center will remain closed to avoid possible spread of the virus. I've been working on some nurseries with cactus as well but ants ate them. I will try again using a repellent this time."
Dulce Porvenir Learning Center, Tipitapa, due to a transition process and coronavirus is functioning from home one day a week. The Rainbow team continues to work on bio intensive program harvesting some vegetables, checking out the bee hives and also they're making aprons and other activities.
Nueva Santa Celia Learning Center in Matagalpa, students are meeting on Fridays making clothes and aprons.
Sagrado Corazón de Jesús,Tipitapa Learning Center. The center is making blouses and working an order of 100 masks. We gave temporary work to 4 people. Classes are suspended since April 3. We will try to resume classes on the 20th of this month.
At APAN Learning Center we have slowed down our attention, we are putting sanitary measures into practice. Under normal circumstances the center is serving 23 people in the sewing workshop, (5 boys and 17 women), 45 adolescent children and youth in volleyball. The office is open serving the population with an average of 30 visits a day. We are taking advantage of the sewing classes to make masks and train everyone who comes to the center.
Renacer Learning Center, San Juan de Oriente. We are open with 12 women in sewing, 6 in embroidery 7 in crafts, 4 in pastries and music classes to 12 youth. The learning center counts with 4 volunteers all week for the different activities.
Centro Milagro de Dios Learning Center of Puerto Sandino craft classes are suspended for the time being. Sewing class is being taught for 2 hours three days a week Monday, Wednesday and Friday. We only have 5 female students.
Sewing for Progress Learning Center of Nueva Guinea started sewing and technology classes mid-February and we stopped classes on March 20 due to the pandemic. We had 10 students. Then we continue for two weeks via online sharing patterns until we finish our first piece. This learning center is trying to resume classes this coming Monday but now we only have 4 participants making it difficult to give financial aid to the sewing teacher. The center has started the construction of a classroom, so space does not become an issue. Any help fundraising would be greatly appreciated.
This is only a sampling of updates, although the activities are certainly altered they are continuing despite the challenging circumstances. The Wisconsin/Nicaragua Partners Learning Centers are very effective and reflect the beauty of Nicaragua, the people have a real strength about them and the Learning Center leaders are a prime example. Hardships will come and go; and we deal with them will determine the ultimate outcome.
Thank you for your gracious financial support that is helping the Learning Centers to continue.