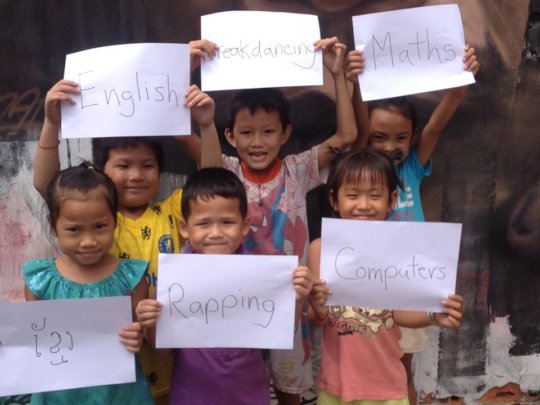 First off, a huge thank you to all of our generous supporters who have helped the Tiny Toones kids with not only an education but also the rare opportunity to be creative and have fun. This fundraising campaign was launched back in 2015 and we are very happy to say it has almost raised $30,000 keeping our lifeline services alive. We are so grateful.
We are now looking ahead to 2018 and 2019 and have launched a new fundraising campaign at https://www.globalgiving.org/projects/changing-kids-lives-with-hip-hop-education-and-art/, specifically to address our needs in the year ahead.
It's been a very exciting period for Tiny Toones. Not only did we enter our tenth anniversary year and host a very exciting birthday party featuring many Cambodian superstars (many who got their start in the music industry with us), which was covered by all major Cambodian newspapers, but we secured the core funding to cover our rent for the year ahead. Unfortunately, we now face a major challenge in teaching.
In a very competitive and uncertain environment, we are struggling to raise the money to pay our teaching staff - which is already too small. For that reason, for the rest of the year we will be focusing our efforts on a) revamping our social enterprise, The Cool Lounge, in order to bring in new income, and b) a major individual fundraising drive.
The 100 Club will be an exclusive club for individual givers who donate every month. They will receive a personal card every year written by KK (our founder), a teacher and a student. They will also receive exclusive videos and be featured on our wall of fame, a permanent art work at the heart of our Phnom Penh centre. If you already give every month then you are already part of the 100 Club and will soon be transferred into that fundraising campaign - unless you have decided you no longer want to support Tiny Toones.
If you don't give monthly, but think you can afford just $10 a month, then please sign up. Just $10 is enough to pay a teacher for a whole day and bring education to 40 kids. Check in on our website or Facebook page for the latest news.
The children that come to Tiny Toones receive little support or guidance at home, at school (for those that attend) or in their community. Meanwhile, hip-hop is immensely popular amongst Cambodian youth. Break-dancing hooks their interest because it's part of a culture that feels young, exciting and relevant to their lives. Its appeal provides the basis for all of Tiny Toones wider work on personal development, social integration and education.
Break-dancing is physically and mentally demanding. It promotes active lifestyles, inner-strength and a sense of achievement and self-worth. The change that takes place in terms of confidence and self-esteem is visibly apparent and transformative for the children involved. These children become part of a positive community.
Our dancers perform throughout Cambodia and beyond. Their achievements – both as dancers and through the education they have gained – inspire the next generation.
Tiny Toones' students are aged 5-24 and are particularly vulnerable to drug and substance abuse, sexual and labor exploitation, domestic violence, and gang involvement. A quarter of the children at Tiny Toones report never having attended school. They all face multiple barriers to attendance and progress as a result of their difficult backgrounds, the fees involved and being compelled to generate income. From as young as five many of these children are begging or collecting cans from garbage, or working as garment workers.
As the project has grown, Tiny Toones has maintained its grassroots appeal by employing former students in all of the creative teaching posts. They are perfectly placed to understand the needs of the next generation, to build strong relationships and to act as positive role models. Thank you for being part of this journey.