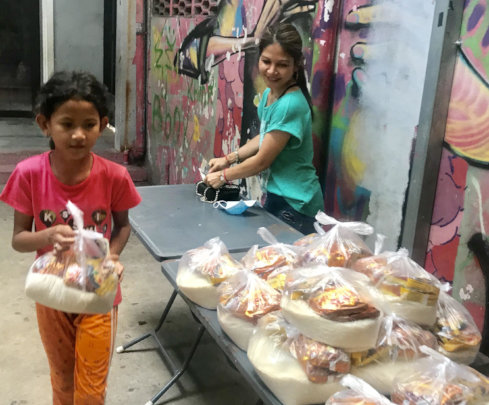 Dear Friends and Supporters
It probably won't surprise you to hear that our biggest news is the impact of COVID-19, which has had a huge and devastating impact in Cambodia as in so many other countries.
While Cambodia has had far fewer cases of COVID-19 than many other countries, it has still had to take many emergency measures to protect its citizens. This has included the temporary closure of schools and community centres like ours, as well as the restriction of almost all international travel. This has had a catastrophic impact on the economy, one which will likely be felt for many years to come.
In the short term, our focus has had to shift to keeping Tiny Toones alive so that when the restrictions are lifted the kids still have a safe place to go in our centre. We have never had a large workforce and payroll, and so we are managing to keep most of our team until we can reopen, which is essential given their years of experience. Our rent, already as low as possible in Phnom Penh, could not be reduced. Our costs are very low but we are still struggling and your support is what is keeping us going.
We have placed a lot of focus on trying to encourage safety in the communities we work in. We have promoted social distancing and mask wearing, including the use of graphics and entertaining videos, and were incredibly happy when a local business manufactured colourful, child-friendly masks and made them free for our children.

In fact, if there has been one big positive thing about all of this, it's the way Cambodians and others have stepped in to support those who are really suffering. Another local business donated food to the most disadvantaged families and we were recently thrilled when our long term friend Micaela Love, now living in the USA, encouraged people to donate to us for her birthday. She raised over $2,000, money which went directly into emergency food for the poorest and more community outreach to children who might be at risk.
The other thing we are incredibly grateful for is all of you. Everyone who is still supporting us, keeping us alive, even though we know many other people are crying out for your money and you will be going through hardships yourselves, no doubt.

You are giving our kids hope, because again and again we are hearing that they just want to come back and see their friends and learn again. Your support means we can still give them that hope. It's hard to put in words just how much this means to us.

Thank you

The Gratetul Tiny Toones Family