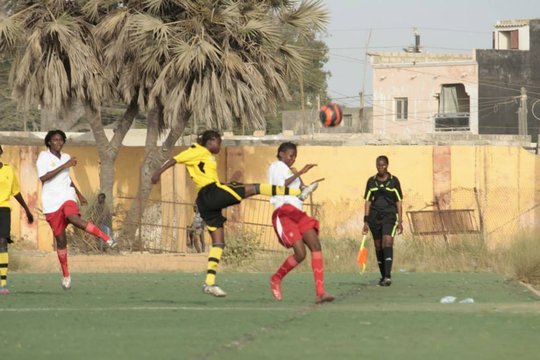 The sun was scorching and the music was blaring. This was the moment the girls (and the Ladies Turn team) had been preparing for all season: the grand finale between Médina Marmiyal of Saint Louis and Amazones de Ndoffane of Kaolack. From the stands, Saint Louis supporters held their breath as # 11, a slight, energetic player from Saint Louis dribbled down the field, outsmarting and outrunning Kaolack's (Ndoffane) defense.
I placed my camera beside me, caught up in the excitement, I stood up, clasping my hands together in front of my mouth and shouting for her to take the shot. Time seemed to stand still. She lifted her foot with finesse and strength, sending the ball straight into the net! It was a perfect goal. Nothing but net. Leaping to congratulate her, number 11's teammates threw their arms around her shoulders, holding her tight, screaming in elation. Kneeling on the sidelines, I watched in awe as the crowd behind me went wild. A group of teenage girls in the stands were chanting in Wolof, dancing, shaking their hips, their arms interlocked as they shouted out number 11's name.
Their enthusiasm caught on like fire, soon half the stadium joined in. The game wasn't over yet, and as the chanting died down, the team lined up for the kick off. I looked closely at number 11, who kept smiling, serenely. In the span of a few minutes, something about her had changed; supported by her friends and community, she had accomplished something HUGE in front of a crowd screaming her name. A spark of confidence radiated from her smile, and I just knew her life would never be the same.
Ladies Turn is about helping girls realize their potential to have an impact in their world and developing the courage to do so. Our 2013 tournament touched the lives of over 300 girls, who learned through teamwork and dedication that reaching their goal is possible. Community members saw their daughters, neighbors, friends or sisters accomplish something special, in a space, which is normally reserved for boys. The girls had fun, the crowds had fun, and women's soccer is the talk of the town. We congratulate you for your role in making Ladies Turn 2013 a success!
As our organization evolves, we want to ensure that the girls who participate in Ladies Turn have the greatest opportunity to impact their communities. We believe that providing educational support to participants, in addition to organizing a national Tournament, is the first step to making the girls' dreams a reality. We promise to keep you informed as our activities grow!
Beth, Jennifer and the entire Ladies Turn team thank you once again for helping us score!
Nio Far ( we are in it together)