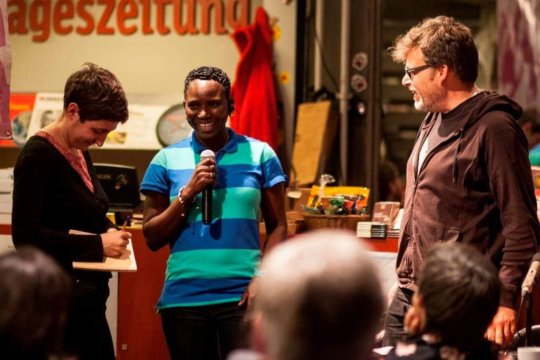 Advocacy for women's soccer is a huge part of what Ladies' Turn does. Seyni, our President, represented Ladies' Turn at the Discover Football Women's Coaches Conference organized in Berlin from November 29 to December 5, 2015. The event brought together 18 women coaches from around the world.
"Faut pas lacher- Never Give Up!" was Seyni's message to coaches and players alike. Seyni has lived by these words. She grew up playing soccer when almost no other women were, hiding her passion from her relatives who often didn't approve. She rose to become captain of the Senegalese National Women's Soccer team. In chatting with the coach from Nigeria, Seyni realized that they had played against each other 11 years earlier when both were on their national teams! Seyni's goal now is to give girls the opportunities to play soccer that she didn't have growing up. After hearing Seyni present on Ladies' Turn, the coach from Burkina Faso told Seyni that she wants to start a similar project in her country. This is magic to Seyni and our ears!
Seyni's attendance was the latest event in Ladies' Turn's strong partnership with Discover Football, an organization working to build a global network of leaders in women's soccer and promote women's soccer worldwide. In 2010, Seyni Ndir Seck and Hélène Harder, our documentary filmmaker, participated for the first time in the Discover Football annual Women's Soccer and Cultural Festival tournament which brings together women's team from across the globe. In 2011, Seyni met Angela Merkel as part of the Discover Football tournament. She also got to attend a game of the Women's World Cup. And in 2012, Discover Football invited Lycée Ameth Fall, a women's team from Saint Louis, Senegal, who helps organize the Ladies' Turn tournament to participate and screened the Ladies' Turn documentary.
We hope that by continuing to partner with organizations like Discover Football and giving Seyni, our President, a platform to share her views, we can convince more people in Senegal and abroad to get behind women's soccer and give more girls a chance to play.
Thank you for all of your support. A special thanks to those who donated at the end of 2015 to support a great year in 2016! We're excited!
Jennifer and the Ladies' Turn Team