A few days ago I received a phone call from Lala, a former 2009 and 2011 Ladies Turn participant and coach of a beginner's team in Saint Louis, Senegal. I could actually feel the excitement in her voice resonate through the telephone as she exclaimed: "we just had our first practice, we have twenty girls and the parents came out to support us. Pray for us, we're ready!"
Ladies Turn 2013 kicked off in the regions of Thiès, Saint-Louis, Kaolack and Kounguel regions of Senegal this past weekend (18th-19th of May)! Tournament games will be played every Wednesday and Saturday through the 5th of June in local neighborhoods. Lala and her team hope to make it to the play-offs, which will be held on the 12th and 15th of June, and the GRAND FINAL in Saint Louis the 22nd of June! You can follow the action through live updates, learn more about the teams, players and the regions where the tournament takes place by liking us on Facebook : https://www.facebook.com/LadiesTurnSoccer?fref=ts Or follow us on twitter @LadiesTurn
This year, Ladies Turn decided to do things a bit differently. In order to better accomplish our goal of increasing the visibility of women's soccer throughout the country, we decided to decentralize our tournament, this means playing in regions where girls playing soccer is less common than in the capital city of Dakar. After a strategic assessment of various locations, taking into account the enthusiasm of local girls and feasibility of location, we chose the urban regions of Thiès and Saint-Louis and the rural regions of Kaolack and Kounguel.
Unlike past tournaments, this year Ladies Turn is entirely reserved for beginner level girl's. We wrestled long and hard with this decision, but in the end chose to include only beginner girls in hopes of starting from the ground up to build support for the growing women's soccer movement in Senegal. We want former players like Lala to engage and take ownership in this movement, looking beyond the tournament, to the future of women's soccer in Senegal.
Like Lala shared with me, "I'm doing this because, well, I'm getting older, I'm not going to be playing much longer, the future of women's soccer in Senegal, it lies in the hands of these girls, it will just go away if we don't do something about it". Through passionate women like Lala, girls are learning to stand out in spaces where people don't think they belong. With each step on the soccer pitch, their voices grow a little bit louder. Ladies Turn is about much more than gaining soccer skills, it is empowerment in action.
Together with the girls, we thank you for being a part of our Ladies' Turn team,
Nio Far ( we are in it together)
Beth, Jennifer and all of us at Ladies Turn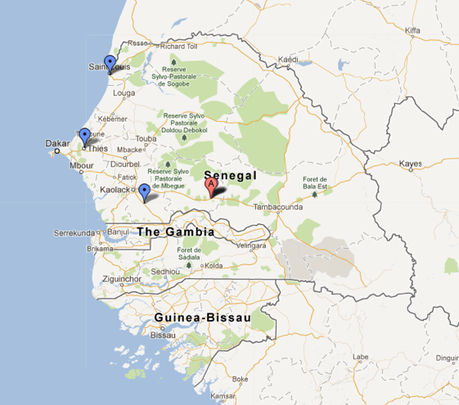 Links: