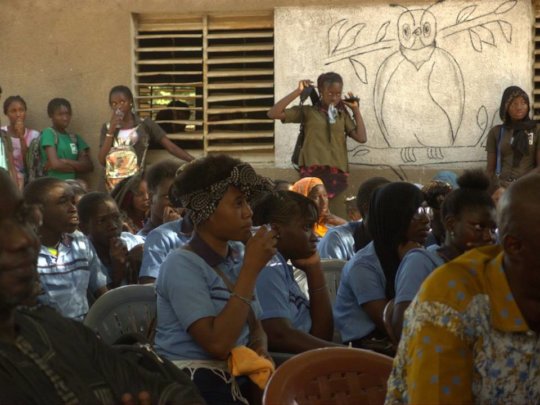 While all this soccer playing is going on, the Ladies' Turn documentary continues to reach new audiences and delight. The Ladies' Turn film returned to Senegal in February for the Film Femmes Afrique Festival (African Women's Film Festival). It was an honor to be in the same film festival as films celebrating other strong women like a Mama Colonel about Honorine, a Congolese Police Colonel who runs the child protection and sexual violence branch in Bukavu in Eastern Democratic Republic of Congo and Ouaga Girls telling the story of female mechanics in Burkina Faso's capital. Audiences across Senegal in Dakar, Kaolack, Louga, Rufisque, Saint Louis, Sokone, Thies, and Ziguinchor were treated to these feminist films. Check out their website for ideas for your next film night: https://www.filmsfemmesafrique.com/copie-de-les-documentaires
In Europe, Ladies' Turn was screened on Arte, a major channel. Every time Ladies' Turn airs on TV, we get messages from around the world from people encouraging us and wanting to know how they can help. It's wonderful. We usually direct them to this page as it's the easiest way to give us a boost- so thanks for everything you all are doing by supporting us through GlobalGiving.
Our film was also screened in France this year. After the film at the Mediathèque Grande Plage in Roubaix near Lille, sociologist Carine Guérandel led a discussion with Hélène Harder, our amazing director, Fatiha Ouali, a French national champion in racewalking, and Alycia Meermans, a rising women's rugby star. In Paris, the film was shown at La Bellevilloise for the Festival Bobines Sociales which is "Paris' social film festival for independent, activist (engagé) films". In May, Belleville Cityonne showed our film along with Burkinabé Rising in Paris for their Art of the Resistance events. With all these screenings, our documentary continues to be an important tool for promoting women's soccer and showing that Senegalese women do play, lead, and excel.
We know the Women's World Cup is just a year away, but as we wait for that, we'll be rooting for the national men's soccer team as they compete in the World Cup later this month.
Go Lions and Lionnesses!
In Solidarity,
Jennifer and the Ladies' Turn Team