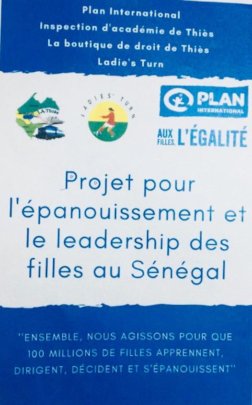 For a longtime, one of our top goals at Ladies' Turn has been to increase our work in women's leadership development and girls' education- keys to achieving lasting change. We're ecstatic to announce that on November 7, 2018, Plan International selected Ladies' Turn to be a partner in a new initiative for Girls' Leadership and Personal Growth in Thies, a major Senegalese city about 50 km inland from the capital, Dakar. Ladies' Turn and The Senegalese Legal Aid Society of Women Lawyers in Senegal will receive funding from Plan International to start a two-year innovative program with Thies School District to train future female leaders and lay the foundation for gender equality.
To start the initiative, Ladies' Turn will select 20 physical education teachers to participate in the program and start girls' soccer teams at their schools. The P.E. teachers will receive training for new coaches from the Senegalese Federation for Football. Then Ladies' Turn will work with the coaches to help their build their teams of 15 girls, run initial practices, and supply them with all the equipment they need to succeed- balls, jerseys, nets, etc.
At the end of each year, Ladies' Turn will organize a big tournament bringing all of the schools and teams together. The Legal Aid Society of Women Lawyers will hold sessions with the girls to educate them about their rights and protections under the law. Legal Aid is an expert in legal advocacy for women and children's rights and anti-discrimination law.
We are very excited about this new initiative and the new partners that we'll get to work with!
Finally, we are making a final 2018 fundraising push! Please consider making a tax-exempt donation to Ladies' Turn this holiday season. The future of women's soccer is bright and your donation makes it brighter!
Thanks again for all of your support.
Nio far, In Solidarity,
Jennifer and the Ladies' Turn Team